Himachal Pradesh: Two dead as heavy rains trigger flash floods; officials issue high alert for Kullu district
According to officials, people residing in low-lying areas in Himachal Pradesh, especially in Kangra, Chamba, Kullu and Mandi districts, are being evacuated.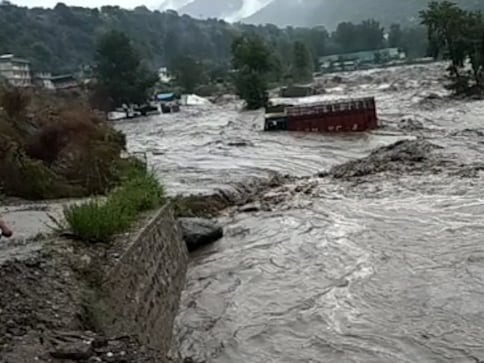 Shimla: A man and a girl were swept away in Kangra and Kullu districts, respectively, as heavy rains triggered flash floods in Himachal Pradesh on Monday with officials sounding a "high alert" for the latter district.
"As water level increased in rivers and streams following incessant rain, a man died after he was swept away in the swelling Nahad Khad (rivulet) in Kangra district," the district administration said.
"Tilak Raj, a resident of Luskwara village in Jawali tehsil, was swept away when he was crossing the rivulet Monday morning. Efforts were on to trace the body," the officials said.
"In another incident, a 14-year-old girl was washed away in Kullu's Bajaoura," state Forest Minister Govind Singh Thakur said.
The minister visited several affected areas of Kullu district and met the family members of the deceased girl to express his grief.
"Several houses were also swept away in flash floods as the Beas is flowing at a dangerous level," he said, cautioning people against going near rivers and nullahs for collecting wood, gravel etc.
Thakur also honoured Indian Air Force (IAF) squadron leader Vipul Goel and his team Moday for rescuing, with the help of a chopper. 19 people were stranded due to flash floods at Dobi in Kullu district on Sunday.
Deputy Commissioner Yunus has issued "high alert" for Kullu district.
Meanwhile, schools in most districts of the state were closed Monday as a precautionary measure due to continuing moderate to heavy rains.
According to officials, people residing in low-lying areas, especially in Kangra, Chamba, Kullu and Mandi districts, are being evacuated. "They are also being asked to remain alert due to rising water levels in rivers and streams," they said.
"In Chamba, the Ravi river is still flowing at a dangerous level and people are being evacuated from low-lying areas by the administration since Sunday," Superintendent of Police Monica Bhutunguru said.
Kangra Deputy Commissioner Sandeep Kumar has alerted officials and people residing in low-lying areas that water would be released from the Pandoh reservoir as per a message from his counterpart in Mandi.
Issuing a flood warning, the Bhakra Beas Management Board (BBMB) said excess water from the Pong Dam would be released due to high-pattern inflows in the Pong reservoir due to heavy rain in catchment areas.
The Meteorological (MeT) department has predicted heavy rains in middle hills, plains and snowfall in upper hills in the state till Monday.
"Most parts of Himachal Pradesh witnessed moderate to heavy rains," Shimla MeT centre director Manmohan Singh said.
According to data recorded at 8.30 am, Dalhousie in Chamba district experienced 170 mm rain in the past 24 hours, followed by Chamba 117 mm, Manali 121 mm, Kangra 120.8 mm, Palampur 108 mm, Dharamshala 62.6 mm and Una 62 mm. State capital Shimla experienced 23.1 mm rainfall.
Widespread rain and snowfall in higher altitudes brought down the mercury. Keylong in Lahaul and Spiti district shivered below the freezing point, according to the MeT Centre. Keylong recorded its lowest temperature at minus 0.2 degree Celsius.
"The highest temperature was recorded in Una as 27.2 degrees Celsius," he added.
The weatherman further said that light to moderate rainfall would occur at scattered places over mid and low hills and at isolated places over higher reaches of the state on 25 September, thereafter the weather would almost be dry.
also read
Entertainment
In his statement to PTI, SP Kullu Sakshi Verma also revealed, "She was rushed to Banjar Civil Hospital where the doctors declared her dead."
India
The new upgraded missile will be half in weight and size compared to the old BrahMos, but there will be no reduction in its firepower. Brahms NG can be loaded on the Tejas and the MiG-29
India
The IAF chief also emphasised the importance of developing cost effective long range weapons with formidable range and lethality