High drama mid air, stewardess braves sickness to serve
Bharti AXA's critical illness product – the Smart Health Critical Illness Insurance policy takes burden off from its policy holders.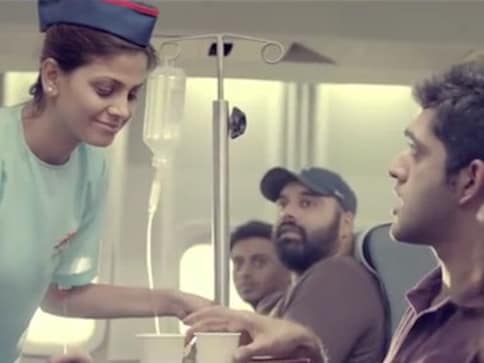 Air hostess waits on her passengers 'PATIENTly'
Mumbai: Air hostess Anju Kirloskar, 32, has been forced to continue waiting on her passengers despite being diagnosed with renal failure, a form of kidney failure, sometime last year. Despite the illness and being covered by medical insurance, she continued to work to save money for her daughter's education and her medical treatment.
Kirloskar is a single mother of a five year old daughter who attends a private school. "The fees are very high. I want her to have the best education and that means I need to work full time as I am a single parent. I have a lot of medical bills to pay and since I'm the only one who earns, I cannot take leave or take a break even if the pain is unbearable," an exhausted Kirloskar said.
A could-have-been account, Kirloskar's unreal story may be a reality for many young bread-winners in India today. The younger generation has a stressful life owing to growing standards of living and the pressures that come with it, This entails long working hours, pressure at work, lack of physical exercise, irregular meal patterns, junk food habits, alcohol consumption and smoking habits and eventually life-threatening disease. All this leads to increased levels of stress and the result is the incidence of critical illnesses. Statistics also reveal that critical illnesses strike people in the age group of 30-40 and 40 plus years.
Given this scenario, it is imperative that young professionals today are aware about the health insurance policies that help provide relief from the burden of working while ill.
Bharti AXA's critical illness product – the Smart Health Critical Illness Insurance policy takes this burden off from its policy holders. Its lump sum compensation that can not only be used for medical expenses, but also to cover life's expenses. It basically allows the insured to use the lump sum as he or she deems fit.
Also, Bharti AXA GI's Cirtical Illness plan is unique because -
- Comprehensive coverage for 20 critical illnesses
- Cover available on 'lumpsum benefit' basis and 'indemnity basis'
It offers lump sum compensation that can help in meeting day-to-day expenses and covering hospitalization costs; it pays a lump sum compensation equivalent to the sum insured in your plan.
Along with kidney failure, the policy covers a total of 20 critical illnesses, namely:
Cancer
First Heart Attack
Coronary Artery Disease
Coronary Artery bypass surgery
Open Heart replacement
Surgery to Aorta
Stroke
Kidney Failure
Aplastic Anemia
End Stage Lung Disease
End Stage Liver Failure
Coma
Major Burns
Major Organ/Bone Marrow Transplantation
Multiple Sclerosis
Fulminant Hepatitis
Motor Neurone Disease
Primary Pulmonary Hypertension
Terminal Illness
Bacterial Meningitis
To know about exclusions, click here. You can also get your FAQs answered here.
How to get the Critical Illness insurance?
In four easy steps, one can avail the critical illness claim by
1. Signing up the claim form along with attending physician statement
2. Submitting a photocopy of the discharge summary and final bill
3. And a photocopy of the investigation report which confirm the diagnosis, e.g. CAG report in case of Coronary artery disease/ Bypass Surgery or biopsy report in cancer cases.
4. Also, a medical certificate which states details of the treatment and fitness.
Key benefits of the plan include:
No medical checkup up to 45 years
Lifetime renewal
Tax benefit under section 80 (D)
24x7 claim assistance and easy claim settlement process
5% renewal discount every year maximum up to 25% on a progressive scale
Visit our Inclusions & Exclusions tab to view the complete list of critical illnesses covered.
Bharti AXA recommends Comprehensive Health Insurance and Critical Illness cover for those who do not have any health insurance.
For more information on Bharti AXA's Critical Illness policy, click here. Bharti AXA also has some informative and interactive campaign videos which can be seen at its Facebook, YouTube and LinkedIn pages and here.
Before investing, please read the policy wording document carefully here.
'For more details on risk factors, terms and conditions please read sales brochure carefully before concluding a sale'
Insurance is a subject matter of solicitation
Part number: adv6/ci/pr/14-02-14
Reg. No.: 139
India
Arvind Kejriwal announced a compensation of Rs 10 lakh each to the kin of the deceased and Rs 50,000 for those injured in the fire
India
A large number of drugs in the country are easily available at pharmacies without a prescription from a doctor, but India's drug laws do not define OTC medicines
Health
Uncontrolled Hypertension, a common disorder, is associated with increased long-term risk of several severe health conditions