Heard at last: Delhi HC relief for suffering govt school students
As per the court's order, if pending electricity bills are not paid by schools within a week of being given notice, the school officials will be held for contempt of court.
In a major relief to 25 lakh students who study in Delhi's government schools that are often without even basic infrastructure such as toilets and drinking water, the High Court has come down heavily on the government for shutting off power supply to schools.
The High Court's order comes in response to a petition by civil rights activist and advocate Ashok Agarwal who had argued that by disconnecting power supply to schools the BSES had acted in violation of the Right to Education Act.
As per the court's order, if pending electricity bills are not paid by schools within a week of being given notice, the school officials will be held for contempt of court.
Despite a 2001 Delhi High order that it was the "bounden duty of the authorities concerned to provide electricity, potable water and decent toilets in schools," ten years on, students in government schools continue to languish in the heat during summer months without fans and drinking water.
Agarwal filed the petition in court following phone calls from distressed students who complained to him about the dire conditions in their school.
"Students telephoned me that there is no electricity in their school and that no studies were happening. Now, electricity is back in their school. This is a good message for the whole system, not just Delhi but for all India, " said the senior advocate.
Agarwal drew the court's attention to Delhi Government-run Zeenat Mahal Senior Secondary School in East Delhi where 9000 students were forced to attend classes in rooms that were dark and humid after the electricity department cut off power supply following school's failure to pay up bills amounting Rs 22.4 lakh.
Explaining the conditions the students had to put up with, Agarwal in his petition to the court said: "Nearly 9000 girl and boy students are studying in this double shift school. The girl students are studying in morning whereas boy students attend classes in the afternoon shift. In the absence of the electricity in the school, the students are facing difficulty in studies as the classrooms have become darkrooms. The present humid climate has further added to the woes of the students as in the absence of electricity, fans are not functional."
In a scenario where court orders have been ignored in the past, will this latest order have any impact?
"Without interventions by the court, we'll be nowhere. Court orders definitely have an impact. The Delhi High Court has said that school authorities will be hauled up under contempt of court act if they don't pay the bills… This is a strong message. Students made a complaint and now they have power in their schools. So it teaches students the importance of raising their voice," said Agarwal.
Lack of proper lighting, poor ventilation and dysfunctional fans in the classrooms are a common complaint by students in government and MCD schools.
"Schools are being run by people who are utterly insensitive to the needs of children. Heartless people are running these institutions. And it is in total violation of Constitutional and statutory duties. The government wants to introduce computers in schools. How will computers run without electricity?" asks Agarwal.
Children raising the voice and demanding their rights is the only answer to government' apathy says Agarwal. "Only public's actions can bring about change. Children are the only hope."
Find latest and upcoming tech gadgets online on Tech2 Gadgets. Get technology news, gadgets reviews & ratings. Popular gadgets including laptop, tablet and mobile specifications, features, prices, comparison.
India
While it is encouraging that the grant of bail has been prioritised in some cases, a number of other journalists are languishing in prison, with the top court doing little about their plight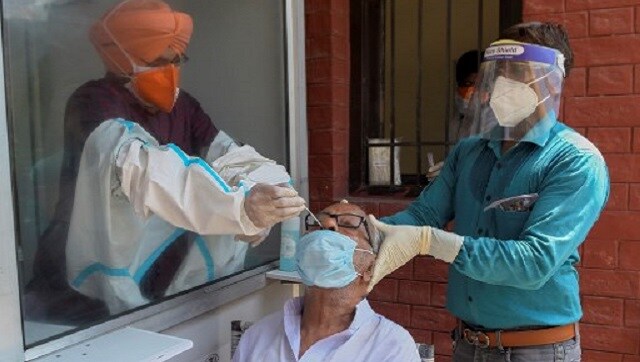 India
With 44,489 more testing positive in a day, India's coronavirus caseload on Thursday increased to 92,66,705 while the toll mounted to 1,35,223 with 524 new fatalities, said the Union health ministry.
Business
The court order restricts Poonia from accessing WhiteHat Jr's internal communication channels or making any of its information public until 6 January.