Health ministry's new sex education manual enters as-yet untouched territory of sexuality and gender
At the end of the day, if the government is serious about acting on its own manual, it must immediately initiate legislative action in Parliament to decriminalise homosexuality.
In an interesting move, the Union Health Ministry has put together a radical resource manual on sexuality and reproductive health which is to be circulated among over a lakh of adolescent peer educators. Designated 'Sathiyaa', these educators are tasked with engaging the country's adolescents in conversations on forms of sexuality, sexual practices, gender-based behaviour, and issues of reproductive health.
Keeping in mind the fact that India still continues to criminalise homosexuality, the liberal perspective within which the manual locates subjects like same-sex love and reproductive health, attracts special interest. The resource material's focus on the importance of consent and respect in sexual relations, as well as its highlighting the need for changing gender behaviour is also significant to note.
Government documents are known to skirt such subjects and stick to hackneyed generalities which dodge addressing the real needs and challenges of adolescents. This particular document appears to be an exception.
Prepared by the Health Secretary CK Mishra, in collaboration with the United Nations Population Fund, this document marks a welcome departure from the conservative official norm of self-imposed censorship. Unveiled on Monday, the resource kit is going to be circulated among states as part of the government's adolescent peer education policy.
Citing the manual, a report in The Indian Express states: "Yes, adolescents frequently fall in love. They can feel attraction for a friend or any individual of the same or opposite sex. It is normal to have special feelings for someone. It is important for adolescents to understand that such relationships are based on mutual consent, trust, transparency and respect."
It goes on to say, "It is alright to talk about such feelings to the person for whom you have them but always in a respectful manner… Boys should understand that when a girl says 'no' it means no."
The importance of such a document in a context where conversation about sexuality or sexual relations continues to be tabooed, and masculine aggression and violence continue to spiral, can hardly be overstated. That sex education is still not part of the school curriculum in most parts of the country, is a telling and worrying comment on India's social prudishness, its inability to engage in a much-needed conversation about sex, or even reproductive health. Serious public and official discourse on these issue is rare, if not absent altogether.
In her blog post for the Wall Street Journal last January, author Shanoor Seervai quotes Anju Kishinchandani, a sex educator in Mumbai, as saying: "In India we don't hesitate to have sex, but when we have to talk about it, it's against our culture." Kishinchandani further argues that government is "abdicating its responsibility" by outsourcing sex education to non-profit or private organisations.
Refreshingly, this new Health Ministry-sponsored manual goes beyond sex education, and even touches upon the social construction of masculinity, discussing how boys and men are expected to behave in a certain manner, and to not express supposedly effeminate emotions stereotypically associated with women – like crying for example. It underlines how men and women are expected to conform to gender-based stereotypical roles. By highlighting the linkages binding these issues, the document serves an important purpose in advancing the discourse on masculinity, gender, sexuality, choice and consent.
For instance, the manual says: "A boy can cry to give vent to his feelings. He can also be soft-spoken or shy. Being rude and insensitive is not a sign of masculinity. It is alright for boys to like things like cooking and designing that are normally associated with girls; adopting the role of the other gender does not mean that he is not male. The same applies for girls who talk too much or like to dress like boys or play games like boys. It is wrong to label such people as 'sissy' or 'tomboy.'''
That's not all. After furnishing detailed information on sexually transmitted diseases and contraceptive options for girls and boys, the manual identifies masturbation (which is highly stigmatised in Indian society) as a desirable option for practising "safe sex."
On the one hand the document deals with a range of hard and practical information on reproductive health. On the other, it ventures into territories of sexual activity and gender sensitisation that few, if any, government policymakers and politicians are willing to enter. A number of Health Ministers, men and women alike, have in the past leveraged social backlash as a plea to stall the incorporation of sex education in school curricula.
At the end of the day, if the government is serious about acting on its own manual, it must immediately initiate legislative action in Parliament to decriminalise homosexuality.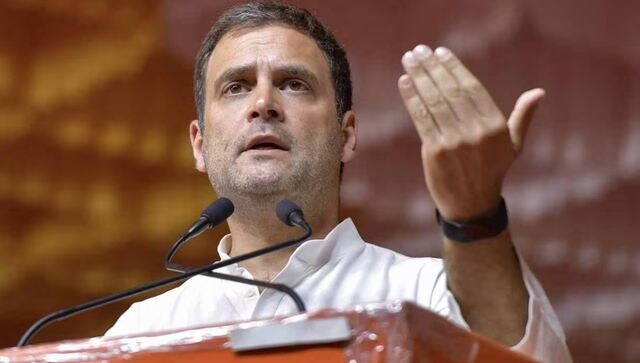 India
Taking cognisance of social media posts, police had sent a questionnaire to the Congress leader and asked him 'to give details about the women who approached him regarding sexual harassment'
Explainers
Opposing the legal recognition of same-sex marriages, the Indian government has said that 'they will cause havoc'. The matter now lies before the Supreme Court. As the debate continues, we look at how nations have approved such unions
World
The Casey Review, published by Baroness Casey and commissioned by the Met, looks into the standards of Britain's biggest police force. This year's report disclosed practices of mismanagement within the police force