Health Ministry eats its words, deletes tweet after social media outrage over use of 'fat shaming' image
The Ministry of Health and Family Welfare (MoHFW) removed a tweet that asked people 'What's your choice?' based on a photo that displayed two women — one overweight, depicting non-veg and processed food items and the other lean with fruits and vegetables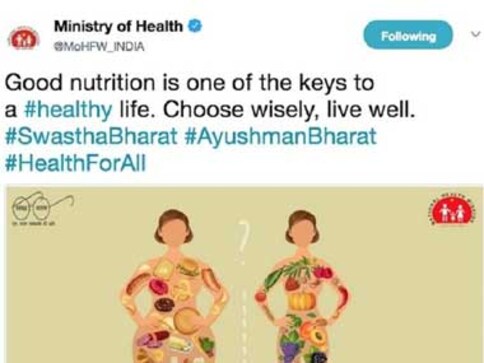 New Delhi: In an embarrassment for the government, the Ministry of Health and Family Welfare (MoHFW) on Monday removed a tweet that asked people "What's your choice?" based on a photo that displayed two women — one overweight, depicting non-veg and processed food items and the other lean with fruits and vegetables.
Twitterati immediately slammed the tweet, some calling it "stupidity at its highest" while others "fat shaming".
While the fat woman depicted food items such as sausage, poultry, meat, burger, donuts, french fries, cola and alcohol, the lean woman showed fruits and green vegetables, along with the tweet from the ministry: "Good nutrition is one of the keys to a #healthy life. Choose wisely, live well".
"Both veg and non-veg can be healthy or unhealthy depending upon their origin, methods of production, distribution, storage etc and in this country, the less said the better about those standards. That's what you should be focusing on @MoHFW_INDIA," reacted one user to the ministry's tweet.
Another user said: "This is fat shaming. Now that you've posted it, hope your women Ministers take the lead and set an example!"
"Stupidity at highest! Is egg?? and cheese ?? unhealthy? which scientific study proved it? Moreover, where do poor Indians get kiwi/avocado fruits and berries? Or is it meant to be for RICH people? As far as all scientific study all packaged foods are bad or unhealthy," tweeted another user.
One user went further and found the source of the image. "So, Ministry of Health @MoHFW_INDIA picks up a stock photo which portrays eggs, poultry, meat and bread as unhealthy and tweets that as health advice," the user tweeted.
The photo, copyrighted to Tatsiana Tsyhanova from Belarus, was taken from www.123rf.com which offers millions of stock photos but with copyright. "And they've quietly deleted their tweet now," the user added.
A recent study from the University of Eastern Finland, published in the American Journal of Clinical Nutrition, said that a relatively high intake of dietary cholesterol, or eating one egg every day, are not associated with an elevated risk of coronary heart disease.
A University of Connecticut study suggests that eating eggs may actually have favourable effects on good cholesterol metabolism in men and women with diabetes and heart disease.
India
As the elephant cub is too small to endure the current, the mother rescues it with her trunk and gently escorts it to the land below her legs. In some moments, the baby manages to stand on its feet and crosses the river with the help of its mother.
India
The video posted by a biologist named Milind Pariwakam is a bit longer and shows the helplessness of the leopard. It seems scared as the driver takes the car back and tries to attack in anger. But right after getting free from the situation, the injured wild cat flees away.
World
Since being uploaded on 20 June, the adorable video clip has received over 2 lakhs views and garnered thousands of likes so far. Users across social media have congratulated the couple and wished them a peaceful and happy future ahead.