HCU's schism between quest for global excellence and political discords is a cat with many lives
The protests has less then 10 percent of the students on campus joining in, while a large number of them support their fellow students, they want it to end
Hyderabad: If Charles Dickens had ever sought to create a university campus in India for a novel, his heightened imagination would have more likely created the Hyderabad Central University (HCU); with raging social battles as a theme for the grand canvas, and its two faces – Dr. Jekyll is rated forth among the top 10 universities in the country, while Mr. Hyde reveals deep rooted caste and political divide across all sections of this academic paradise.
In true form, the varsity was in news in the last week with over five episodes of the ongoing saga – students protesting in anticipation of a varsity move to demolish a 'Rohit Smarak Stupa', being named by a Union HRD survey as number 4 in top 10 universities, its Vice-Chancellor Appa Rao Podile's papers revealed as plagiarized and continued conflict at the gate, with the police disallowing outsiders into the campus and students continuing to seek the sacking of the V-C.
Yet again, last afternoon and evening were tense on campus, with Prof Appa Rao conducting an Academic Council Meeting, where the Controller of Examinations, Prof V Krishna, resigned from his post in protest and police held students.
Transformation of campus
A group of seven alums, which passed out over 25 years ago, and whose members hold a wide range of impressive positions in life, invited me for an informal coffee meeting, expressing sadness over the developments.
"We had political differences and belong to various castes, including Dalit. We had our kind of student politics – we would meet on the lawns and different students would speak at a makeshift podium, bringing out issues. People voted for issues. Nobody pressurized anyone. No parties dominated the narrative. Open dissent was possible to popular viewpoints. And we did not call names for those who disagreed with us," they explained. "We feel sad that our university is being dragged into controversies and confrontation. We can't say who is right or what should be done, but surely, this must end."
An alum with over three decades of connection in various capacities, including student, visiting faculty and faculty, narrated her connection, "Ask anyone who has been at HCU; they will reiterate this. It was a campus of academic, intellectual and personal freedom and space. We could choose our groups, or be alone, and do any kind of work. Look at the great work done at HCU, department by department, school by school," she said, without wishing to be named. "We had the highest standards of academic discourse. Our exams are standards in integrity. Our classrooms are an answer to how education must be in our country."
She is partly disillusioned today. "I have seen both sides of the conflict. Another faculty member showed me a hand-written proposal of a project Rohit Vemula wanted to pursue had the incident not happened. It was brilliant. When people say students come and party and mooch tax money – it is disgusting. Ask them to come and read Rohit's proposal."
When questioned about discrimination against Dalit, she is definitive. "A lot of it is because of lackadaisical attitude of the administration staff, which routinely delays processing fellows requests and closing on scholarships. But it is not based on caste. Increasingly, caste is being politicized – today faculty are afraid to mark a Dalit student as absent because they will come and start a protest. When every transaction and action comes under such colored scrutiny, we will lose the much needed freedom to instruct, develop, and give feedback."
Barsha Panda, who leads Communications for Yahoo in India & Southeast Asia, said, "HCU was and I believe, continues to be the best of universities in India. My experience was transformational. I chose to join it, when I also had an admission in another prestigious institution. In our communication school, we saw our stream as a culmination of arts and thought - not cynical criticism or spin doctoring. We learnt the power of language, the impact of images. We presented case studies, made documentaries, worked in project teams. We also learnt approaches to acknowledging complex issues and problem solving, a learning which remains useful, even when applied beyond communications to business and life decisions. The faculty, across different schools and departments, was outstanding. Many, with global credentials – published and respected across campuses and countries. By teaching us an approach to thinking, and not necessarily prescribing what we think – I think the HCU campus prepared us for life. "
Caste discrimination narrative is Janus-faced
The narrative of an upper caste dominated university, driven by a saffron agenda to wreck and end the Left domination to seat the ABVP as force numero uno and reverse the uprising and awakening of the underprivileged, especially Dalits, which finds maximum media seconding, and coverage; 'covers-up' another side of how caste awakening and assertion has also become a political tool for a radicalized fringe seeking to become mainstay.
"Caste-based discrimination is too obvious a reality. We cannot deny it, nor wish it away. What has sidestepped past steps to normalize and neutralize such trends is a radicalization based on caste as a political agenda, which does not belong in an educational institution of excellence. Over the last decade, scholarly approach to debate, intellectual and ideological differences, and positions has been replaced by a more militant identity assertion, which perceives every transaction of life through its prism," said a political analyst, who did not wish to be named.
"Several of the Dalit scholars come from state-run social welfare residential schools reserved only for Dalits, which despite its merits, creates a segregation as well as alienation. These kids grow up unable to interact with people from other castes, even backward castes. They attribute every single reversal in life to discrimination and protest as the only way to redress problems," the analyst said. "The Dalits, who are part of Left or right parties, like SFI or ABVP, are different in that they work with or are willing to fight it out with others based on situation. These groups are losing a sense of society where we must all live together."
V-C fiasco
Another senior faculty member, accused outside political interference as the principal cause of the changing scenario.
"Students will have political views; and differences. It is our asset – intellectual, social and political diversity. But once political leaders from outside begin to make interference – first the BJP leaders like Bandaru Dattatreya and MLC Ramachander who intervened in a pure-student matter, and then Rahul Gandhi and Arvind Kejriwal arrived to take mileage. The big mistake was to make Appa Rao the V-C – he has neither academic stature, as demonstrated by the 'slight and normal' plagiarism he is guilty of and justifies; nor administrative astuteness – proved by his efforts to fortify an idyllic campus. He is a disgrace and his exit alone can begin any restoration of normalcy. Honestly, I have been here for most of my life – he is a disgrace."
Student leader Dontha Prashanth, who was recently arrested and has been a key member of the agitation, is both a charismatic youth leader and a brilliant student. Quoting extensively from a wide range of historic and political contexts, he articulates the complex scenarios of the campus with dexterity.
"We are not stuck with assumptions; for example, unlike in FTII, we were not opposed to Prof Appa Rao from the start. Only after his guilty role became obvious in Rohit's suicide, we are seeking his removal. Unlike a V-C or government, we students cannot afford a standoff – we need to move on. Our commitment to restoration of normalcy is paramount. But it cannot be at the cost of our dignity or justice. Remove the V-C, enact the Rohit Act and remove the cases against the students – normalcy will come not crawling but running," he said.
Kerala connection
Several people hold the growth of the students from a particular region from Kerala as a foundation of disquiet.
"Campus violence by radical Left is a normal tradition in Kerala. When students from a region in Kerala started coming to HCU in ever-increasing numbers, the campus began losing its narrative of excellence. It is sick to paint a large community in one color – but a large section of these students have resorted to creating a constant situation of strife. Tea in the morning is not hot enough – protest. Water supply is low – protest. Vandalize and protest. And create a constant victimhood in those who are struggling to come out of social divides with academic excellence."
It is often these radicals who have attacked and humiliated non-teaching staff, creating a simmering discontent.
A Dalit staffer in the mess spoke of a truth no one cares to report. "I am also a Dalit, and a Malbari student leader abused and spit on my face. Everything is an ammunition for politics for them. We don't intervene about these things, but now they are accusing our strike of being motivated by a quest for land or benefits the VC may give us. We have served the institution for so many years, and in the past students were respectful and affectionate. When alums come back, they still come and meet us first."
"Can I not register cases against them under the Prevention of Atrocities against SCs/STs? We have suffered enough thinking – after all, these are young people, hot-blooded and hot-headed. But for how long?" he asked. "We have never looked at students as different because they are from different places, but is it wrong to expect to be treated well for our age and service? Now some of them call us Dalit Drohi for speaking out."
Silent majority
The protests and the movement has less then 10 percent of the students on campus joining in – and while a large number of students support their fellow students, they want it to end. Three Dalit students who spoke to Firstpost from the sciences stream, supported the protests being led by the humanities and social sciences stream, but feel they have to move on.
"What happened with Rohit is very sad but we have to move on. Student have a political right but we have an equally important right in wanting to refocus on pursuit of excellence we are known for. We are silent because we are in the labs and classrooms, not at the gate talking to the media hawks. First, you guys go away. Normalcy will come if you stop making headlines out of everything."
With over 95 percent attendance, exams around the corner, the police keeping out outsiders, including the media and politically-inclined trouble-spot-tourists, HCU is working hard to find balance, with significant caste and social issues to solve; and to restore a nation's faith that nothing but quest for academic excellence shall reign. No matter how deep the controversy of the day, alum after alum express faith the varsity will rise up and above soon.
"There are few easy solutions," said the political analyst. "Inviting alum back to speak to the students would be one good way - after all, no matter what the divide, they will all possibly listen to their seniors."
Sriram Karri is the author of the acclaimed bestselling novel, Autobiography of a Mad Nation.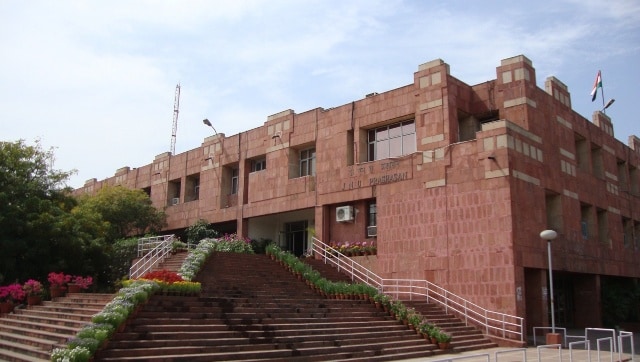 India
JNUSU has dismissed ABVP claims, saying the sanitisation and mess workers have been observing a strike against the administration and the student union has not prevented anyone from entering the mess area
Politics
To demand justice for the family of the accused, ABVP members sat on the Kukatpally main road
Politics
The state Congress unit is preparing for a grand meeting of almost five lakh supporters in Warangal that will be attended by Rahul Gandhi during his visit on 6 and 7 May