Haryana violence: Robert Vadra asks Chief Minister Manohar Khattar to take responsibility, resign
Haryana Chief Minister Manohar Lal Khattar should resign taking responsibility for the violence that followed the conviction of Dera Sacha Sauda sect chief Gurmeet Ram Rahim Singh
Haryana Chief Minister Manohar Lal Khattar should resign taking responsibility for the violence that followed the conviction of Dera Sacha Sauda sect chief Gurmeet Ram Rahim Singh, Congress President Sonia Gandhi's son-in-law Robert Vadra said on Sunday.
"Panchkula is burning with 36 dead and 250 injured. My heartfelt condolences to the families of those affected Khattar, the CM of Haryana, the nation wants you to take responsibility of security lapses and resign," Vadra tweeted.
Vadra lauded the Punjab and Haryana High Court order to compensate for the losses suffered in the violence by auctioning the Dera chief's property.
He also accused the Bharatiya Janata Party government in the state of questioning his integrity and harassing him. Vadra said it was the time for the state government to prove its integrity and take responsibility for the "massacre".
"I appreciate the Punjab and Haryana High Court for pulling up Khattar government (for) letting the situation escalate," he said.
"Time and again, Khattar government has witch-hunted me, questioned me and my integrity, harassed me, without basis. Today, I ask them to prove their integrity and take responsibility of a glaring massacre, which happened under their nose," Vadra said.
"The whole country is shocked. India's image across the world has taken a setback. Citizens need to unite and protect each other. I request the central government to give us our basic right of feeling safe and secure, ensuring such incidents of rioting do not occur again," he said.\
Click here for LIVE updates.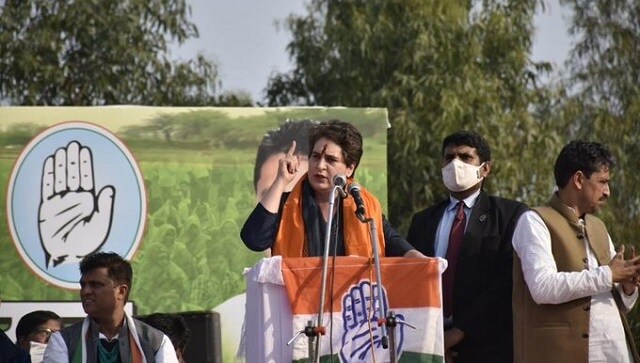 Politics
Her attack on Adityanath came as on this day, last year, the horrific Hathras incident took place in which a young Dalit woman was raped by four men.
Politics
Earlier on Saturday, the home ministry reduced Supriyo's security category from the 'Z' to 'Y' category
Politics
Addressing the foundation day of the All India Mahila Congress, Gandhi said that the ideology of the Congress was completely opposite of the BJP-RSS and only one of the two ideologies can rule the country.