Haryana registers highest number of gangrapes: Skewed sex ratio, access to porn behind sexual assaults, say experts
The alarming rise of rape cases in 2018 in Haryana shows a society imploding from its very roots. Take the statistics.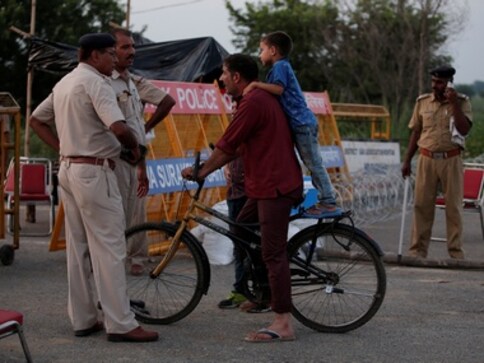 "Go to a porn website and witness the tremendous brutality that is being shown towards the women. Group sex is happening on the screen repeatedly with women being shown with their hands and feet being tied, enjoying orgasm after orgasm with multiple men. Young, vulnerable minds who watch these sites for long periods can end up with serious personality and perceptual disorders."
This is the opinion of Dr Rajesh Kumar, heading the Society of Promotion of Youth and Masses and working with juvenile delinquents, rapist and murderers at the Tihar jail.
Kumar was commenting on the sharp increase of rape cases in Haryana, often committed by school boys between the ages of 14 and 16. He said, "The time has come for us to introduce porn filters in order to deny young people access to pornography. With free data streaming into their homes from their mobiles, they are downloading information 24x7 which is distorting their lives."
He further said, "They do not know the difference between a friendship and a relationship with a girl. In my interactions with RSS leaders, I have requested them to put a block on porn sites as this is distorting the minds of the youth. If China can ban Google, surely the time has come for our government to put a ban on pornography."
Kumar also believes parents are no longer attending to the needs of the growing child. He said, "Both parents are busy earning, the schools are not imparting a culture-based value education, especially those schools that are catering to the poorer sections of our society. The moot point then is: Who is going to prove a role model for these young boys ?"
"When I asked convicted rapists in Tihar jail (where his organisation is presently working) why they committed these crime, they expressed a sense of regret. Their narratives were so different and society needs to pay greater attention to these," Kumar added.
Certainly, the statistics about crimes against women suggest that it is time all members of society step in to address this serious problem. The National Crime Records Bureau (NCRB) states that while 2014 saw 9,019 crimes being committed against women in Haryana, by 2015, the number had gone up to 9,511 and by 2016, it had risen to 9,838.
But the alarming rise of rape cases in 2018 in Haryana shows a society imploding from its very roots. Take the statistics. Eight rapes in six days, one more heinous than the other. Haryana tops other states in having the highest number of gangrapes in India.
An 11-year-old Dalit girl was gang-raped by two neighbours in a village in Panipat district on the night of 13 January. After the gangrape, the girl was murdered and then her assailants allegedly committed necrophilia for over four hours. The two accused, identified as Pardeep Kumar (27) and Sagar (22), were arrested and booked for the murder and gangrape under various sections of POCSO Act.
One day later, a 50-year-old man was arrested for allegedly mutilating the private parts of a 10-year-old girl by inserting a wooden object. This happened near Pinjore.
On 16 January, a 15-year-old boy allegedly raped a three-and-a-half-year-old girl in a colony in Hisar district.
On 18 January, a 20-year-old married woman was raped by two men at a village in Fatehabad district who the woman alleged were her neighbours.
And in yet another horrific reminder of the December 2012 gangrape, a minor girl's brutalised body, with her private parts mutilated and liver ruptured, was found in Haryana's Jind. Her body was found near a canal in Budhakhera village of Jind's Safidon town on 13 January. Police said the victim has been identified as a resident of Jhansa village in Kurukshetra. She went missing on 9 January.
The body was found without any clothes in the lower parts. It was sent to Post Graduate Institute of Medical Sciences, Rohtak, for postmortem and Dr SK Dhattarwal, who heads the forensics department, pointed out that the "damage to her private parts seems to have been done after she was drowned and murdered. This was the work of more than one person who failed to sexually assault the victim while she was alive."
In Gurugram, a 24-year-old man was arrested for abducting and raping a college student on 15 January. She was abducted by two men, who forced her into a car and then raped her while driving it around. In a similar incident, two men were arrested  for abducting and raping a woman in a moving car on Saturday.
These incidents have triggered a nationwide outrage, putting the spotlight back on crimes against women in India and how government after government has failed to stem the wave of violence.
Jagmati Sangwan, state chief of AIDWA working out of Rohtak, also blames excessive pornography as being a key factor in school kids committing these crimes.
"Growing crime, especially rape and sexual crimes being committed by the young, are happening only because these kids have free access to pornography. There is no one around to monitor their viewing and this combined with patriarchy has let hell loose, especially against young, vulnerable women," said Sangwan.
At the nationwide level, she questioned the steps the central government had taken to control these viewership habits. "There is big money at stake here. Porn websites attract large amounts of advertising and money is changing hands at many levels," Sangwan maintained.
Psychologists also confirm that excessive pornography viewing has an adverse impact on a child/adolescent mind. Clinical psychologist Dr Pulkit Sharma pointed out, "Pornography viewing by young adolescents, and I believe even by adults, is harmful because it makes them treat women as sex objects. Youngsters can be very impulsive and while most of us keep our impulses under check, this is not the case with these people who also can combine extreme narcissism with a complete lack of empathy for others."
The unequal sex ratio between men and women has created a scarcity of marriageable women and sociologists believe that is also part of the problem. The Haryana BJP leaders, when they came to power, had promised they would 'import' brides from Bihar. Unfortunately, large number of unemployed men find there are no women available for them to marry.
Enakshi Ganguly, co-director of HAQ, feels that as a society, we continue to address the symptoms but not go to the root causes of why society is witnessing increasing levels of violence against women.
"After the Nirbhaya case, we tightened the law, looking at it from the victim's point of view. But we also need to know what is going on in the minds of these boys who are committing these crimes."
"The older answer of blaming patriarchy is not enough. Nor is it enough to invest in technologies and try and put CCTV cameras everywhere. We need to understand what is happening to our boys and how we can help them during their adolescent years," said Ganguly.
Police incompetence in Haryana is matched only by the political incompetence of the chief minister Manohar Lal Khattar whose skills as competent administrator are in serious question.
The breakdown of official machinery during the Jat agitation in February 2016, in which 30 lives were lost, showed a lack of intelligence failure. Khattar's conspicuous softness towards the Dera Sacha Sauda followers because the BJP is beholden to Gurmeet Ram Rahim Singh for its Haryana victory was shocking, given that Singh is now being tried for committing rape by the women in his Dera.
The only silver lining is that the women of Haryana are determined to fight for justice as has been shown in the Varnika Kundu case. Kundu was not intimidated when she went ahead and insisted the police file an FIR against Vikas Barala who is the son of the Haryana BJP president Subhash Barala.
Sports
Each time Nupur enters the boxing ring she carries with her the burden of expectation that comes with being a third-generation boxer. Her father Sanjay Kumar is also a multiple-time national champion
World
Uyghur Times recently reported that to eradicate the Uyghurs, the Chinese authorities are now openly executing Uyghurs but the world is not taking action against China. The author warned that soon the world will face what Uyghurs have been going through.
World
Poland, a predominantly Catholic country, forbids abortion in almost all cases, with exceptions only when a woman's life or health is endangered or if the pregnancy results from rape or incest.