Haryana girl's 'mann ki baat': Nine-year-old writes to Narendra Modi, gets nod for pucca road to get to school
Inspired by Mann Ki Baat radio programme, 9-year-old Khushi Sharma, a Class III student from Haryana, wrote to Prime Minister Narendra Modi describing the difficult commute from her village to her school in the absence of a proper road. Her letter forced the PMO to order construction of a pucca road in her village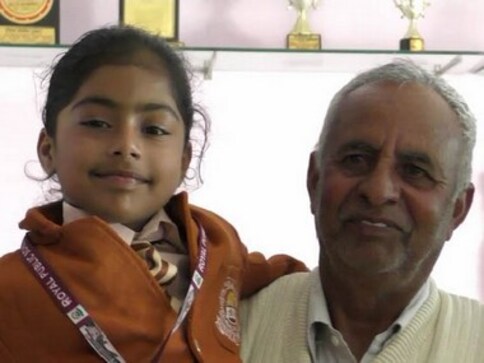 Hisar: For as long as she can remember, nine-year-old Khushi Sharma from Ratta Tibba village in Fatehabad district of Haryana has been trudging through slushy kutcha paths cutting across farm fields, her school clothes and school bag splattered with specks of brown muck, to get from Dhani Teja (an agricultural settlement) to her school in nearby Bahbalpur village.
On some days, she takes the school van, which makes for a bumpy, uncomfortable, and risky ride. This is how 25 other children from nearby villages go to school as well, every day.
It is a common practice in this northern district of Haryana for farmers to settle close to their agricultural land. Dhani Teja, the agricultural settlement where Khushi's family lives, is three kilometres from Ratta Tibba village and six kilometres from Bahbalpur. Over 300 people who live in Dhani Teja use the kutcha route to go to Ratta Tibba for various purposes. Ratta Tibba is about 20 kilometres from Fatehabad district headquarters.
The problem is precipitated during the rainy season, with slush and mud making the kutcha roads virtually inaccessible, and the children often have to miss school.
"Last year, during the monsoon, Khushi's school van got stuck in a deep rut caused by the wet ground giving way to rainwater, and it had to be pulled out with the help of tractors," says Khushi's grandfather Chottu Ram Sharma, a farmer by profession.
That day, Khushi, who had to miss school, did not eat or sleep, and kept asking her family for a solution to the daily commute problem, says her father Vikas Sharma (30), who works as a lineman in the government electricity department.
According to a paper on the status of infrastructure in Indian schools, 88.30 percent of all primary schools in the country are approachable by all-weather roads. For upper primary schools, the percentage is 92.74, whereas it's 89.18 percent for elementary, 94.99 percent for secondary, and 95.91 percent for higher secondary schools.
About 10 months ago, Khushi, inspired by Prime Minister Narendra Modi's Mann Ki Baat radio programme on Sundays, decided to take the matters in her own hands and urged her grandfather to write a letter to the prime minister on her behalf.
"I asked my grandfather to write a letter to prime minister Modi requesting him to get a road constructed from our village to my school. He motivated me to write the letter myself," says Khushi.
She had earlier asked her father and some teachers in her school to help her write the letter, but they didn't bother with her request as they didn't think it would help. She then decided to write the letter herself.
Armed with a pencil and a notebook, she wrote a letter to the prime minister describing her difficult commute from her village to her school in the absence of a proper road.
"The matter has been brought to the knowledge of the Haryana government by the Gram Panchayat, but in vain. We, students, pin our hope on you to intervene and get it done to save us from the difficulties met by us for going to school," she wrote to the prime minister in her letter dated 17 January.
She then handed over the letter to her grandfather, who posted it in the name of prime minister Modi, New Delhi. On 15 February, Khushi was pleasantly surprised to hear from the local Public Works Department (PWD) officer that the Prime Minister's Office (PMO) had sent a response to her letter, asking the PWD to take action with regard to Khushi's request. Khushi is bubbling with excitement over the response and the attention her deed got her from the villagers.
According to the findings of a 2016 Annual States of Education Report (ASER) survey, cited in this Firstpost report, around 3.5 percent children in the 11-14 age group and 13.5 percent in the 15-16 age group (over 25 percent children in Classes I to VIII) were absent from school on the day a team visited the school. Although India has a high rate of enrollment (over 96 percent), that doesn't necessarily translate into attendance. One of the reasons cited for dropouts in secondary schools is access (such as "school is far", especially, for girls). The survey included over 560,000 children between three and 16 years, in 589 districts of India.
Fatehabad PWD (Building and Roads) department sub-divisional officer RK Mehta confirmed that they have received a letter from the PMO about the grievance raised by Khushi.
"She has requested the PMO to ensure construction of a three-kilometre road from Dhani Teja to Ratta Tibba," he says. He adds that his department will prepare a proposal along with an estimate for construction of the road and get the approval of the state government to embark on the project.
This Class III student's letter managed to address an issue that the Ratta Tibba Gram Panchayat had not been able to draw attention to in over a decade.
Bhola Devi, sarpanch of the village, says the village panchayat members met the district administration officials many times in the past year and submitted memorandums demanding the construction of a pucca road cutting across the agriculture fields of Ratta Tibba.
"When it rains, villagers either remain marooned in their houses with no way to step out either on foot or by vehicle or have to travel through the slushy roads in case of emergencies," she says.
The village panchayat had even passed a resolution for a cemented road and submitted their demand to the deputy commissioner, Fatehabad, but they're still awaiting a response from the district administration," says Devi.
Khushi's father says the hard-working, simple people of the village probably didn't even think such change was possible, and are thankful to his daughter, who has brought attention to this problem.
"We don't even have access to basic amenities like schools, healthcare centres, etc, as they are located far away from our villages," he informs.
Notably, a 14-year-old girl named Harpreet Kaur from Ajit Nagar village, 20 kilometres from where Khushi lives, had hit the national headlines in 2015 after she wrote to the PMO to change the name of her village, which was previously called 'Ganda', meaning 'dirty'. The name of the village was changed to Ajit Nagar following the approval of Haryana government.
(The author is a Rohtak-based freelance writer and a member of 101Reporters.com, a pan-India network of grassroots reporters.)
also read
India
"The country has resolved to become a developed India by 2047. In the next few years, we are going to be the third-largest economy... In this period, every government employee is going to play a huge role...," said PM Modi while addressing new recruits during 'Rozgar Mela' via video conferencing
India
"After Independence, it was Congress rule in MP for a long time. The Congress turned a prosperous state into 'bimaru' state. The youths of the state have not seen the deplorable law and order condition during the Congress rule," said PM Modi while addressing a 'Karyakarta Mahakumbh' in Bhopal
India
The historic bill was passed in Lok Sabha on day 3 of the Special Parliament Session. It will now undergo another litmus test today in Rajya Sabha before formally becoming a law