Haryana CM Manohar Lal Khattar has a history of being incompetent; RSS-BJP experimentation with pracharaks must stop
RSS pracharak Manohar Lak Khattar's schooling into a chief minister has come at the cost of dozens of lives lost in the experimentation
A story about Humayun says he once anointed a bhisti (water carrier) called Nizam as the emperor of India for a day for saving his life in the Battle of Chausa.
Repaying personal debts with such whimsical decisions were the hallmark of Medieval India during the reign of kings and emperors. Haryana chief minister Manohar Lal Khattar should be grateful that the Humayan-esque tradition has continued in post-Independence India, and like several before him, he is one of the biggest beneficiaries.
Apart from Indian politics, there are very few places in the world where an apprentice starts at the highest level in an organisation. But, as an old saying goes, when khuda becomes meharbaan (benign/kind), anybody can become a pehalwan (wrestler). Ergo, Khattar finds himself at the helm of the Haryana government at the beginning of his career because of the meharbaani of the ruling monarch of BJP.
It was important to go to Khattar's backstory because of his recent, but now familiar, claim that he did his best to save Haryana in the aftermath of Dera Sacha Sauda chief Gurmeet Ram Rahim Singh's conviction for rape. Rejecting demands for his resignation, Khattar argued on Wednesday that he was satisfied with his own performance. "Whatever we did was right. Now there is peace in Haryana," Khattar said.
Only Khattar could have taken credit for peace after sacrificing the lives of at least three dozen people, watching hundreds of citizens sustain serious injuries and twiddling his thumb while Dera followers turned Panchkula into Dunkirk, a city at the mercy of rampaging assailants. Only Japanese emperor Hirohito would have sounded more convincing if he had argued that the Hiroshima-Nagasaki bombing was handled well because now there is peace in the world and calm in Japan.
Khattar has a history of handling crises with trademark ineptitude.Whether it's violence in ashrams of godmen like Rampal; followers of Ram Rahim holding Haryana to ransom; or Jats going berserk during quota stirs, his government just freezes. Like the South African cricket team, Khattar's government just chokes on its own inaction.
Destiny rarely springs a surprise on Khattar. So far, things have generally spiralled out of control gradually in Khattar's raj. Perhaps, aware of his inexperience, fate conspires to give him adequate warning of any impending crises. But, his government has somehow acquired the knack for ignoring what is evident even to the lay man.
Violence in Rampal's ashram, during the Jat agitation, and in the aftermath of Ram Rahim's conviction in two rape cases, was not just foretold but even forewarned. In every instance, it built-up over a period of a few days to a week. In Gurmeet's case, he even had the advantage of the high court giving him timely reminders and a veritable free hand. Yet, the Khattar government couldn't find a way to deal with the aftermath.
Khattar appears to be a disciple of the school of thought that teaches the best decision to take is not to take any decision at all. So, like many Indian stalwart politicians who have allowed violence and arson under their watch, he too prefers to step aside and let the fury of people — and elements, like when Gurgaon came to a halt during last year's monsoon — run their course.
Once the madness subsides, when people are killed, cities destroyed, and the bestiality of mobs is satiated, he comes out and does his "I did my best" gig.
In essence, Khattar's strategy in every crisis is to minimise the damage to himself through inaction, to wait and watch, to imitate Nero, Hamlet, or whichever stuck-in-the-headlights rabbit you can think of.
It is futile to blame Khattar. Before he became the chief minister of Haryana, his only claim to the job was a lifetime serving the Rashtriya Swayansevak Sangh. But, the problem with the tutelage of the Sangh is that it rarely prepares its karyakartas for an administrative job. Most of the Sangh workers are brought up on a mishmash of early morning drills and parades in what the Sangh proudly calls its ganvesh (uniform), and training in wielding a lathi and discourses in the cultural supremacy of the Hindus and Hindustan.
With some luck, of course, he could still learn on the job, acquire the traits of an able administrator, turn into a model apprentice who got his first job as a CEO. With time, even he may prove himself to be worthy of the job that was thrust on him. Unfortunately, his schooling has come at the cost of dozens of lives lost in the experiment of turning a pracharak into a chief minister.
The cost of Khattar's loyalty has been paid by the victims of rampaging Jats and followers of fake godmen.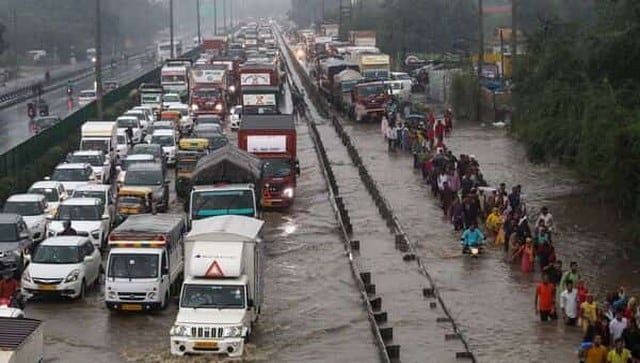 Photos
The incessant rainfall has led to the death of 13 people in Uttar Pradesh and thrown life out of gear. The India Meteorological Department has issued an orange alert for the Delhi-NCR region. Schools are shut and employees have been advised to work from home to avoid traffic congestion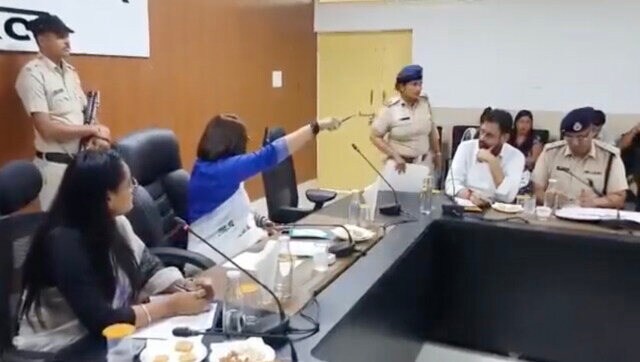 India
The alleged incident took place on Friday in Haryana's Kaithal during a meeting of the state women's panel chief Renu Bhatia with police officers
India
"If they want to protect criminals then why I am working this hard to catch them at the first place," he said adding, "I don't work for money as I don't need it, I joined force to serve my people