Haryana chief minister's flying squad arrest over 200 in raids on illegal business across state
As many as 204 persons were arrested as a special team of the Haryana chief minister's flying squad conducted raids at 604 places across the state in a crackdown on various offences
Chandigarh: As many as 204 persons were arrested as a special team of the Haryana chief minister's flying squad conducted raids at 604 places across the state in a crackdown on various offences.
The raids were conducted since Tuesday to clamp down on the manufacture of spurious products, including illicit liquor, illegal plying of passenger and transport vehicles. Cases were lodged against those found involved in such illegal activities.
As many as 160 criminal cases have been registered by the team at different police stations, and 210 persons were arrested, Inspector General of Police (CID) Anil Rao said in Chandigarh on Wednesday.
He said the team had raided 68 places and seized 30,000 kg of adulterated desi ghee, 22,000 litres of adulterated palm oil and 56,000 litres of adulterated mustard oil. Besides, samples have also been collected from factories manufacturing various food items and sent for lab testing.
A total 353 illegal gas cylinders were also recovered from various districts during the raids, he added.
Rao said the team also busted a gang in Karnal involved in illegal trade of black oil and recovered 61,000 litre of black oil, 2,000 litre of waste black oil, 108 drums of tar and 45 bags of bitumen from them.
The team also conducted raids at 56 places on those stealing electricity. Raids were also conducted at 111 locations and 1.50 lakh bottles of illicit country-made and Indian Made Foreign Liquor (IMFL), and beer were seized.
The flying squad team also impounded 243 vehicles, including buses, maxi-cabs, overloaded trucks and dumpers during surprise checks. These vehicles were plying in an unauthorised manner.
In a drive to check hospitals functioning without authorisation, the flying squad team arrested 10 quacks during and took action in 54 cases which are being investigated by the local police.
The team also raided several places in connection with illegal mining and also seized vehicles involved in it, Rao said.
Cracking down on the drug trade in the state, ten locations were raided and cases were lodged against the accused.
India
The minister said that the probe would include an IAS officer's controversial remark and a police lathicharge on farmers that has triggered a sit-in outside the district headquarters by protesting farmers
India
The farmers' main demands centred around the suspension of then SDM Ayush Sinha, who was caught on tape allegedly telling policemen to "break heads" of farmers if they cross the line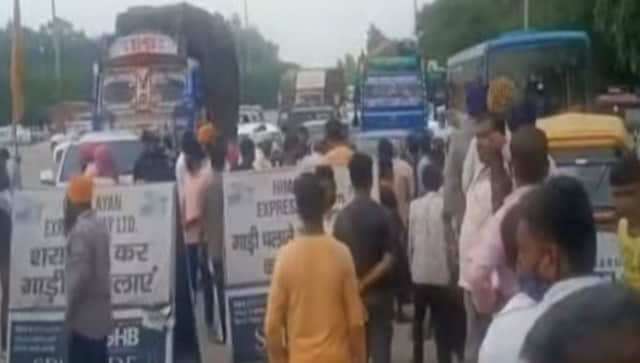 India
Security arrangements have been beefed up in Karnal as the farmers have planned to gherao the mini-secretariat.