Haji Ali and Muslim women's fight for dargah entry is much more than just a gender issue
To view the victory of women activists, both Hindu and Muslim, in their fight for access to inner sanctum of places of worship as merely a fight for gender equality belittles the bigger message concealed within the development.
Who said religious traditions were immutable? No one, barring the lot which has a vested interest in keeping them going. It goes for all religions, most of which have arbitrary interpretations of the scared and the profane, what is acceptable to the community and what is not; and in-built ideas of exclusion, gender and otherwise, and of hierarchy. Fossilised in time, the traditions derive their legitimacy from ancientness, not from pragmatic judgment, which could have been the case when they took shape originally.
Stop a bit. Did someone just reply that the rules of conduct for religious communities are cast in stone since our holy texts sanctify those? The high court's verdict on Friday provides the answer to that. The Haji Ali Dargah Trust quoted verses from the Quran to argue that its ban on women entering the sanctum sanctorum was justified on religious grounds. The court held that there's nothing in the verses that says that prohibition of women was integral to Islam. Earlier, in the Shani Shingnapur case, the court had ruled that there's no law that prevents women from offering worship at the temple. Both men and women had equal rights.
In these cases it was arbitrary interpretation of religious text and dogged adherence to age-old practice by people who have to gain in some way by perpetuating old beliefs. That religions have to evolve keeping pace with the times and in response to changing dynamics within the community is generally lost on this lot. That the challenge to them comes from women, discriminated against in both religions, is interesting. When did you see similar courage to stand up and defy in men of both religions last? But that's a different story.
To view the victory of women activists, both Hindu and Muslim, in their fight for access to inner sanctum of places of worship as merely a fight for gender equality belittles the bigger message concealed within the development. It's a victory for women alright, be it in the Haji Ali Dargah case or in the case of Shani Shingnapur temple, but the real message pertains to change. Significant change in social, religious and other spheres is possible if there's drive for it within the community. Secular institutions such as courts can play facilitator but only when there is robust initiative from the communities. If deeply entrenched religious traditions can change, everything can.
As this piece is being written, the television plays the news on the burkini controversy in France. Whether burkini, the swim suit covering the whole body, was devised to mark Muslim women as separate from others or to facilitate their integration to the French life is still open to debate, but the point one seeks to make is if at all the swim-wear reeks of discrimination against women, the French police can hardly do anything without inviting a backlash. If the demand for discarding it comes from Muslim women then it becomes easier for secular institutions to move in.
Such efforts are critical at a time when fundamentalists are trying to strengthen their grip over religions and helping breed radicalisation. They have been stressing on faith to assert their dominance. The increasing control of such forces is smothering liberal, sober voices and driving communities to an insular and mutually hostile existence. A partnership involving secular institutions and free voices within communities can go a long way in bring down the escalating communal tension everywhere, particularly India.
A genuine democracy allows all sections of its population to open up and express themselves. Despite its many flaws, India is one. Hindu and Muslim women would not be taking on very powerful sections in their community if they had no faith in the institutions of the country. It's time others derived the right messages from their struggle.
Find latest and upcoming tech gadgets online on Tech2 Gadgets. Get technology news, gadgets reviews & ratings. Popular gadgets including laptop, tablet and mobile specifications, features, prices, comparison.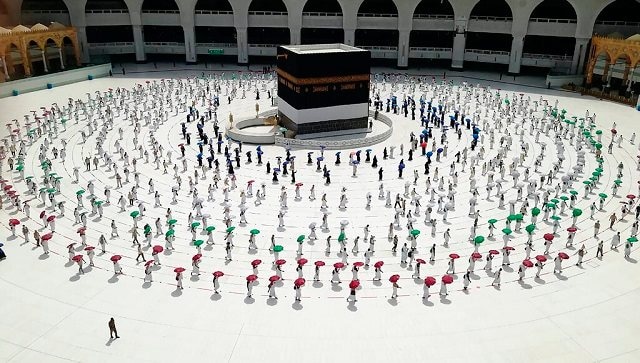 World
The 1,000 pilgrims selected for Hajj this year were seen standing apart and moving in small groups of 20
India
Presently Muslims don't feel represented, which makes their insecurities graver. They feel that they have been struggling for 'respect' and 'acceptance' all the while, but now their struggle is reduced to mere survival.
World
India has joined a long list of countries in which concerns have been raised about whether such institutes are propaganda arms of the Chinese State