Ryan International School's website was hacked on Wednesday by a team of hackers who call themselves Team Kerala Cyber Warriors or GHO57_R007. However, the website is no longer accessible.
The website was hacked on the same day when the Bombay High Court granted relief to Augustine Francis (73) Pinto, founder of the Ryan International School and his wife Grace Pinto, managing director of the Ryan International Group of Institutions in connection with the murder of a seven-year-old boy.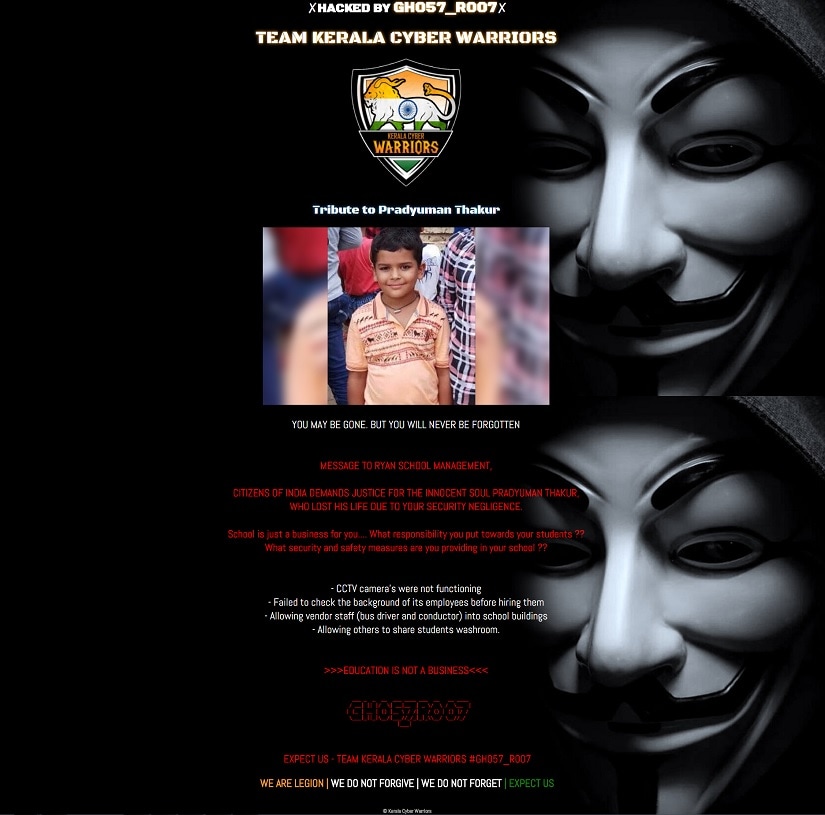 The Class 2 student's throat was slit allegedly by a bus conductor in the school's men's room. Though the conductor confessed to his crime immediately, recent investigation has shown that the crime scene was tampered with by the school authorities.
A message on the website says, "You may be gone. But you will never be forgotten". It further blames the school for not taking responsibility for its student's safety.
The hackers demand justice for the death of Thakur, the Class II student of Gurugram's Ryan International School who was killed on Friday.
They also blamed the school authorities for not installing CCTV cameras and for failing to check the background of employees before hiring them. Furthermore, it criticises the school for allowing vendor staff into school buildings and students' washrooms.
The group hacked four websites: ryaninternational.org (the official website of the group), ryaninternationalschools.org (of Ryan International School), ryanglobalschools.com (its global website) and iceplex.tv (website of Ryan TV).
In April 2017, the same group had hacked the homepage of Pakistan Academy for Rural Development's (PARD), Peshawar to protest against the death sentence given to alleged Indian spy Kulbhushan Jadhav by a Pakistani military court, according to a report by News18.
Updated Date: Jun 08, 2018 17:39 PM