Gurugram shooting: Judge's 18-year-old son shot at by security staff dies; family donates organs
Mahipal Singh, the accused, whose services were terminated is currently in Gurugram's Bhondsi jail.
Gurugram: Gurugram's Additional District and Sessions Judge Krishan Kant's son, who was lying 'brain dead' in Medanta-The Medicity hospital after being shot at by the judge's security guard on 13 October, was declared dead by the hospital on Tuesday.
"A very critical Dhruv was on life support since he was admitted to the hospital on 13 October. He died around 3 am on Tuesday. The family of the deceased donated his organs," AK Dubey, Medical Superintendent of Medicity, told IANS.
Ritu (38) and Dhruv (18) were shot and injured by their guard Haryana Police Constable Mahipal Singh (32) at the busy Arcadia market in Sector 49 on 13 October afternoon. The judge's wife had died late that night.
Police had said that Singh had shot at Dhruv and Ritu in a fit of rage.
Deputy Commissioners of Police Sumit Kuhar and Sulochana Gajraj had addressed the media for the first time after the incident on 17 October. According to them, the victims had gone to shop at the market. When they returned, Mahipal Singh was not near the car.
"Upset over his absence, Ritu scolded Mahipal Singh while Dhruv asked him to hand over the keys of the car. Angry over their behaviour, the guard first started beating Dhruv who was seated on the passenger seat. A few minutes later he shot at him twice," Kuhar said.
"The accused also beat up the judge's wife before shooting at her," the officer had said earlier. Mahipal, whose services were terminated, is currently in Gurugram's Bhondsi jail.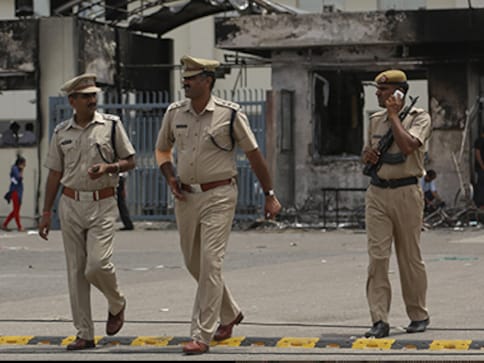 India
A 12-year-old girl returning with her minor sister from her father's work place was allegedly kidnapped in Haryana's Gurugram district
India
CM Manohar Lal Khattar said the allegations levelled against the Haryana Police in connection with the Pradyuman Thakur murder case were being investigated.
India
Two officers from Haryana Police on Tuesday questioned staff at the Ryan International School in Kandivali in connection with the the murder of a boy in the institution's premises in Gurugram.