Panchkula violence as it happened: Death toll rises to 38; Ram Rahim Singh case verdict to be announced at 2.30 pm
Maverick self-styled godman Gurmeet Ram Rahim Singh was on Friday convicted of rape by a court in Panchkula, triggering widespread violence in Haryana
Auto refresh feeds
Maverick self-styled godman Gurmeet Ram Rahim Singh was on Friday convicted of rape by a court in Panchkula, triggering widespread violence and arson in Haryana where 30 people were killed and over 250 injured after which curfew was imposed in Panchkula and several other places.
Arson by the frenzied followers of the head of Dera Sacha Sauda was also witnessed in Delhi, Punjab and Rajasthan within a few hours of the pronouncement of the judgment by the CBI court here in the 2002 case.
CBI judge Jagdeep Singh held Ram Rahim, the 50-year-old flamboyant chief of the Dera, guilty of rape in a case that was registered on the basis of an anonymous written complaint in 2002 that he had sexually exploited two female followers.
On the basis of the report, a case was registered against him in December 2002 by the CBI on the directions of the Punjab and Haryana High Court.
The quantum of sentence against Ram Rahim, who enjoys 'Z' category security, will be pronounced on 28 August, CBI counsel HPS Verma told reporters outside the court.
The punishment can be a jail term not less than seven years but may even extend to life imprisonment.
Ram Rahim travelled to the court from Sirsa, about 260 km from Chandigarh, in a huge convoy of vehicles which had his security guards and several followers.
As the news spread and his thousands of followers gathered near the Panchkula court went on the rampage, Ram Rahim was taken by a helicopter to a jail in Rohtak.
His followers, ironically called 'premis' (who believe in love), unleashed violence and set afire a large number of vehicles, buildings and railway stations in Panchkula, otherwise a peaceful city on the outskirts of Chandigarh, as well as in Sirsa, where the Dera is based, and in Punjab.
Media persons and assets were among the main targets of the mobs.
Police and paramilitary used force, including firing and lobbing teargas shells, to control the volatile situation created by the Dera followers who had gathered in thousands defying the prohibitory orders like Section 144 of the CrPC, which bars assembly of more than four people at one place.
"Seventeen people are dead and at least 200 are injured," said Vivek Bhadu, Chief Medical Officer at the civil hospital in Panchkula. He said most of the deaths were due to bullet injuries.
Haryana police chief BS Sandhu, however, said on Friday night that only six people had received bullet injuries.
Addressing a press conference, he said 60 policemen, including two SSPs, were also injured in the violence.
He said 550 people have been rounded up and three rifles, three pistols along with live cartridges have been recovered.
He said curfew, which was clamped in Panchkula in the evening, has been lifted but certain restrictions are still in place.
The DGP said Panchkula was now peaceful and all Dera supporters have moved out even as some restrictions were still in place. Flag marches will be carried out in Panchkula by security forces, he informed.
He said that except for Sirsa, where the sect is headquartered, situation in rest of Haryana is under control.
Another seven deaths were recorded at PGIMER hospital in Chandigarh and four at Government Medical College in Chandigarh, officials said. Two deaths were reported from Sirsa where seven were injured.
Prime Minister Narendra Modi condemned the violence, terming it as "deeply distressing" and urged everyone to maintain peace.
Modi, who reviewed the situation with National Security Adviser Ajit Doval and Home Secretary Rajiv Mehrishi, said the law and order situation is being closely monitored.
"Urged officials to work round the clock to restore normalcy and provide all possible assistance that is required," he tweeted.
Haryana Chief Minister Manohar Lal Khattar, under attack over the situation, on Friday night admitted that there were lapses but asserted that appropriate action was being taken.
"This should not have happened... Lapses have been identified and we are taking appropriate steps," he told reporters, responding to a volley of questions.
"All those who have taken law into their hands will be punished. We have identified some culprits including those who fired (from the mob at security forces), some of whom have been nabbed and action will be taken against them," he said.
The government will assess the damage, he added.
Khattar ducked a question on how thousands of Dera followers managed to reach Panchkula despite Section 144 being imposed much earlier.
He said the damage caused to some media personnel's equipment during the violence in Panchkula will be taken care of by the government.
The state government will provide full compensation within a week to those persons whose property was damaged today, the chief minister said.
At least 32 incidents of violence and arson were reported from Malwa region of Punjab, police said. However, no casualty was reported.
Punjab Chief Minister Amarinder Singh said curfew has been imposed in 10 districts of Malwa region as a precautionary measure and appealed to the people to maintain peace.
"The Army is staging flag march in the curfew-bound areas of Punjab to restore the confidence of the people," he said.
In Punjab, Malout and Balluanna railway stations were partially torched, Northern Railway spokesperson Neeraj Sharma told PTI.
The Northern Railway had cancelled 211 trains to and from Haryana since 23 August up to 27 August. Of the total number of trains cancelled, 91 are Express trains and 120 are passenger trains.
The railways has also short terminated/short originated 24 trains.
"In all, the services of 236 trains have been affected one way or the other due to the law and order situation in Punjab-Haryana," Sharma said.
The unrest reached even Delhi where two coaches of a stationary train were set ablaze at Anand Vihar Railway Station, after which prohibitory orders were promulgated in 11 districts of the national capital.
In neighbouring Loni in Uttar Pradesh's Gaziabad district, a bus was set afire.
A vehicle was also set on fire by a group of people in Rajasthan's Sriganganagar, the birthplace of the Dera chief.
Following large scale destruction by the mobs, curfew was imposed in Panchkula, Sirsa and Kaithal in Haryana and Punjab's Mansa, Bathinda, Ferozepur, Patiala, Sangrur and Barnala and Faridkot, the areas considered as stronghold of the Dera followers.
Six columns of the Army, comprising a total of 500 to 600 soldiers, were deployed in Panchkula.
The Punjab and Haryana High Court, meanwhile, ruled that the losses caused due to the violence will be recovered from the Dera.
Hearing a PIL, the full bench of the court also asked the state to use force and weapons, if needed, to maintain peace.
The court will have further hearing in the matter tomorrow.
Union Home Minister Rajnath Singh called up chief ministers of Haryana and Punjab to take stock of the situation.
Singh, who rushed to his office directly from the airport after arriving from Kyrgyz Republic, assured them all assistance in restoring peace.
Singh also held a meeting with top officials and directed the central agencies to monitor the situation and apprise him regularly, said a home ministry official.
With inputs from agencies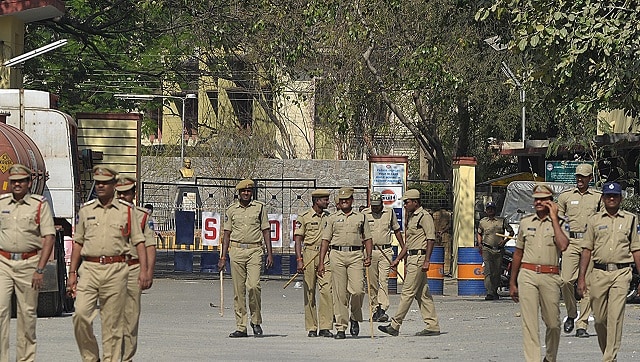 India
A video, which has gone viral on social media, shows the 16-year-old girl and the accused tied with ropes, being beaten and forced to walk in public amidst slogans of "Bharat Mata Ki Jai"
India
While the Gujarat govt had declined prosecution sanction against the three cops, the court in its order said that there was nothing on record to suggest that the victims were not terrorists
World
The Keukenhof lost an entire season last year to the pandemic as the first deadly wave of infections swept over the Netherlands. Its scheduled 20 March opening this year never happened because of the country's strict virus lockdown.