Gujarat polls: In Narmada's tribal belt, a rudimentary public health system struggles to battle deadly sickle cell disease
Firstpost drove into the depths of Gujarat's Narmada district to find out how the public health system is protecting a population of 89.12 lakh against this deadly disease
For some, death begins at birth. In Purvi Patti, the eastern tribal belt of Gujarat, that stretches from Ambaji in Banaskantha district in the north to Ahwa in Dang district in the south, the National Health Mission has mapped the prevalence of at least 9,00,000 sickle cell traits and 70,000 sickle cell disease patients.
As per an Indian Council of Medical Research (ICMR) survey, among the primitive tribes of Kolcha, Kotwadia and Kathodi, 30 percent of the children inflicted with sickle cell disease die before the age of 14 and the remaining 70 percent die by 50.
Firstpost drove into the depths of the Narmada district to find out how the public health system is protecting a population of 89.12 lakh against this deadly disease. In here is a tiny town, Rajpipla, where Dr Shantikar runs a 20-bed hospital. Less than 30 kilometres away from the Sardar Sarovar Dam, where Sardar Patel's statue is rising pillar over pillar to touch the skies, there's not a single Intensive Care Unit (ICU) in Rajpipla.
"In fact, there is no ICU in the entire Narmada district. I have seen many people die of sickle cell anaemia. Five years ago, when I was at the Civil Hospital, three girls in their early 20s died shortly after delivery because they developed antenatal pulmonary embolism, a complication sickle cell patients are susceptible to," he said, adding that along with the primitive tribes, the disease is also prevalent among all major Gujarati tribes like the Dhodias, Gavits, Chaudharys, Halpatis, Dublas, Kuknas, Varlis and Koknis.
Sickle cell disease describes a group of inherited red blood cell disorders; the patient inherits two abnormal haemoglobin genes, one from each parent, which causes the person's body to make Haemoglobin S. In this condition, red blood cells have a crescent or sickle-like structure that causes them to break down quickly and clog blood vessels. People who inherit one sickle cell gene and one normal gene have "sickle cell trait", which is not life threatening, and these people don't exhibit any of the symptoms of the sickle cell disease. But they do stand the risk of passing on the trait on to their children if they marry a partner with the same trait.
On his visit to Kyoto University in 2014, Prime Minister Narendra Modi had sought help from Japan on finding a cure to the deadly disease that was also claiming the lives of tribals in Madhya Pradesh, Maharashtra, Karnataka and West Bengal.
He had discussed the issue with Shina Yamanaka, who was awarded the Nobel Prize for Medicine in 2012 for the discovery that mature cells can be converted to stem cells.
In 2006, when Modi was Chief Minister of Gujarat, the Sickle Cell Anaemia Control Program (SCACP) was started in five districts of south Gujarat on a public-private partnership, and in 2011, a Gujarat Sickle Cell Anaemia Control Society was formed to integrate efforts of different departments. Finally, in 2012, a five-year screening campaign was launched.
"The screening programme is now in the fifth year, but the problem is that the government merely diagnoses, hands out folic acid tablets and moves on. There are nearly 2,000 patients in tribal areas who are living without medication. And when they're serious, there's no facility where they can go and be treated," explained Dr Pradip Garasia, who heads the Samast Adivasi Samaj in Gujarat and has been raising such concerns with different government departments since two decades.
Garasia confirmed that even in Anaval village in Mahuva tehsil, there isn't an ICU. He stressed on the need for central-line oxygen, infusion pumps, blood warmers, syringe pumps and trained medical attendants. "Currently, emergency cases are sent to bigger hospitals in Surat and Vadodara, even Ahmedabad (320 kms away from Anaval)," he said.
Sickle Cell Awareness Mission
With an aim to reorient the energy of doctors in the tribal belt towards sickle cell anaemia, Dr Dexter Patel started the Sickle Cell Awareness Mission in 2013 from Bharuch district of Gujarat.
Nearly 200 doctors who are part of this network conduct regular screening and awareness camps across districts in the tribal belt. What makes this group special is that these are clinicians and therapists who trace their roots to the tribal belt. The problem is that these people aren't consulted and agencies from outside are hired to visit.
Local doctors ask why aren't they integrated into the government's mission, at least in an advisory role. "Right now, we function as a small social service group, when we can do much more for our Adivasi samaj. It's not just our group, there are also doctors from different Adivasi groups, like the Chaudharys, Dodhias, Gamits, etc. Another problem with the government's mass screening programme is that the reports and explanations of its implications aren't shared with patients," he said.
Dr Patel explained that cards are handed out to patients: A white card for those who test negative, a white and yellow card for those with sickle cell traits, and a yellow one for those who test positive for sickle cell disease. "The private agencies working with the government on these projects need to ensure that everybody not only gets a card because those with the disease are entitled to free blood at the government blood banks. If they spend from their own pocket, a unit of blood can cost between Rs 800 to Rs 1,200," Dr Patel said.
As per data available with the government of Gujarat, 55,10,494 tribals have been screened under this programme, out of which 5,20,770 have been found to have sickle cell trait and 29,584 have been detected with sickle cell disease.
Another problem he pointed out is the lack of software testing life cycle (STLC) facilities. "In the civil hospitals at Narmada and Bharuch, there are no STLC machines. Such machines are far away, in Navsari, Valsad and Bardoli," he said, further recommending that the equipment to conduct the critical Haemoglobin Electrophoresis test be placed in every district.
"Walk into villages like Dediyapada, Sadbara, Rajpipla, Kevadia (which is right next to the Sardar Sarovar dam) and start screening the villagers, and you'll find that hundreds were born with this condition and others inherit this disease due to consanguineous marriages in tribal communities," Dr Patel said.
He said that it was unfortunate that the entire Adivasi samaj is fighting a fatal disease that isn't talked about half as much as dengue and swine flu which urban Indians experience. The life expectancy of those affected by the disease was about 35 earlier, and it's about 40 now, say the doctors associated with the sickle cell awareness mission. Sickle cell F affects life expectancy in newborns, who start showing signs after six months.
Running a 15-bed general hospital in Vyaara district is Dr Suresh Chaudhary. "The mortality is higher in those with acute chest syndrome. If patients aren't given oxygen on time, they slip into hypoxia, a state of deficiency in the amount of oxygen reaching the tissues. By this time, red blood cells are ruptured. If these people are given supportive treatment at earlier stages, many lives can be saved," he said.
Dr Chaudhary revealed that almost 60 percent don't even hit adulthood. "In the Tapi district alone, from what I've seen, about 10 to 15 people die each year," he said, adding that he'd seen families with three to four cases.
No format to measure vulnerability
Dr Kiran Patel, district health officer, Narmada district, told Firstpost that there's no format to measure which group should be considered vulnerable. "There should be at least one ICMR centre in Gujarat," he said.
He explained that doctors can only discuss and debate what is clinically preventable, but to back claims and conjectures about the origin and eradication, research is essential. What the people here need is intensive and sustained counselling; families don't come out since it affects marriage propects. There are 12 counsellors in the district and the focus group is pregnant women.
In the remotest of villages, the State makes its presence felt through police posts. Professor Praful Vasava is contesting from Vaghodia from Chotubhai Vasava, on a Bharatiya Tribal Party ticket.
Vasaya holds a PhD in mental health and occupational stress of the police employees from Gujarat University. "Every police department should have a psychologist. If the image of the police changes to that of a positive agent of change, then people won't fear reaching out to them for help," he said, adding that once the police is freed from political pressures, it will be able to focus on community development activities.
The Mukhyamantri Amrutum Yojana, and its extended version Maa Vatsalya Yojana, launched during chief minister Anandiben Patel's tenure, guarantees those below the poverty line free medical treatment. This covers 544 medical procedures. But unless the beneficiaries are aware of the disease, it is unlikely that they'll be searching around for treatment options available to them.
To win over the trust of the tribal belt, where 16 out of 27 seats belong to the Congress, the ruling party will have to ensure better implementation of healthcare policies in order to meet its goal of 'no childbirth with sickle cell disease by 2020'.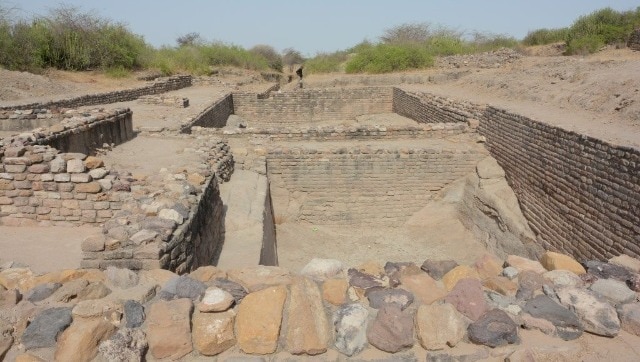 India
Dholavira is one of the two largest Harappan sites in India and the fifth-largest in the subcontinent
India
Meanwhile, if candidates are unhappy with their marks, they will get a second chance to appear for the examination. However, the special exam dates have not yet been announced. Also, the registrations for the same will commence at the official website shortly
India
The reaction tweet of Modi has been liked over 62,000 times, with thousands of people commenting on it