Gujarat migrant crisis: Uneasy calm in Ahmedabad as violence stops, but rumours fuel fear among 'outsiders'
Police claim that things have returned to normal and no new incidents of attacks on the North Indian community have been reported in the past seven days but these migrant vendors are not yet fully at ease.
Editor's Note: The rape of a 14-month-old girl by a migrant labourer from Bihar in Idar town of Sabarkantha district on 28 September gave way to the persecution of migrant labourers in seven of the 33 districts of Gujarat. This incident ignited anger against migrant workers whom the locals believe are the real reason for unemployment in the state. This multi-part series will examine issues concerning migrant workers and the animosity they face from locals.
Ahmedabad: Sitaram Kewat, a 19-year-old fruit seller originally from Gazipur in Uttar Pradesh, is spending sleepless nights in fear and uncertainty.
He is one of the scores of non-Gujaratis who sell fruits and vegetables in Shastrinagar, close to Chandlodiya market which witnessed at least two incidents of attacks against migrants from Uttar Pradesh and Bihar. Several vehicles were torched and damaged by a sloganeering mob just near the market on 3 October during which one person from Uttar Pradesh was injured. Eleven people were arrested in connection with this incident and another 17 were arrested for attacking migrants sleeping on the footpath, apparently in retaliation to the alleged rape of a 14-month-old Thakor girl by a Bihari man in the village of Dhundhar in the northern district of Sabarkantha on 28 September. Thousands of UP-ites and Biharis spanning industrial workers, farm labourers, construction labourers, vegetable vendors and auto drivers left after a week of violence following the arrest of the rapist.
Police claim that things have returned to normal and no new incidents of attacks on the North Indian community have been reported in the past seven days but these migrant vendors are not yet fully at ease. The police have arrested 100 people in Ahmedabad and 600 across the state in connection with the attacks and threats that led to an exodus of sorts, forcing police and administration to man bus stands and railway stations to persuade fleeing migrants to stay back.
Many of the vegetable sellers, including those who had witnessed the violence in their neighbourhood, are still fearful. They agree that the situation has eased up but say things have not gone back to normal. Despite commendable efforts by the police to normalise the situation and check rumour mongering, the word-of-mouth rumours of fresh attacks have also not completely died down yet.
"The situation is such that we are afraid to even sleep outside our chalis despite such warm weather. Mahaul kabhi bhi garma sakta hai (The situation can get tense at any time). Alpesh Thakor has said that he would resign after 15 October and after that, I am worried anything can happen," Kewat says. Thakor is a Congress MLA and Thakor Sena leader who is facing allegations from ruling BJP of instigating the attacks through his incendiary speeches.
Kewat's worry soon turns into frustration and anger. 'Yaha par humlogon ki koi sunwai nahi. (We are not heard here). We are pardeshi log (outsiders) and have come from outside to earn our bread. We don't want to indulge in any fighting. They don't know how strong we UP-Bihari waale are. If you are throwing us out then also remove those security personnel from Uttar Pradesh and Bihar who are deployed at the borders of Gujarat. If all of us migrants were to leave, there won't be anything left here. Uttar Pradesh aur Bihar ki wajah se yaha badhiya mahaul bana hua hai aur log yaha khate pite hain (It is because of those of us from Uttar Pradesh and Bihar that the people of Gujarat are able to earn a living too)," he rages.
A lingering miasma of fear
Every day he hears rumours about fresh incidents where his fellow UP-ites continue to be beaten up, and he believes these to be true. He argues that if everything was alright and there really is no fear now, why people are still leaving their jobs and businesses in Gujarat for their homes.
"We fear that the attacks and threats are still going on. Most of the people in our slum have left and now only 2-4 of us remain. The police and administration also do not seem to be doing much. On the one hand, they go to railway stations and ask people to not leave Gujarat and on the other hand, the violence hasn't stopped. Yah kaisa hai? This is shocking. For now, the situation seems okay but it might heat up again any time," he says.
Devendra Pratap Singh (41), a native of Jaunpur in Uttar Pradesh, has lived in Ahmedabad since 1991 and apart from driving an auto-rickshaw during the day, he also sells vegetables in the evening in Chandlodiya market. He says that he had never before witnessed such an open hate for non-Gujaratis. "During the day, it's alright but when the night falls, we try to get back home as soon as possible," he says. He also says he does not believe in the rumours of recent attacks. Besides he has to stay back because his children are in a crucial phase of their education here, he says.
Locals come to their aide
The 31-year-old Gopichand Shivkumar, a native of Sultanpur in Uttar Pradesh who sells potatoes and onions in the same market, has been living in Gujarat since he was a child and was in Surat before he moved to Ahmedabad. Many of his relatives have left Gujarat but he has no better options back home as he has no property there or any means to make a living. Given the circumstances, he is thankful to some of the locals who came forward to support him when his need was dire.
A local Gujarati Patidar, Bhavbhai Patel (61), lives in the nearby Chandlodiya Gaam locality which is dominated by Thakors, many of whom are known supporters of Alpesh Thakor. He says he offered his shop to Gopichand when he had to shift his cart away from the market fearing violence. "Attempts to throw non-Gujaratis out of Gujarat is bad," he says hinting at hidden reasons behind the incidents of attacks and threats. He said before a couple of days before the violence near Chandlodiya market, a fight had broken between two groups of non-Gujaratis over a moneylending dispute. The commotion caused by these migrant men had peeved the local community and might have been a precursor to the attacks, he says.
While many of the men here believe that those who have left would return after Diwali if the situation continues to remain peaceful, some feel that only those who have established businesses in Gujarat would have any incentive to return. A Gujarati vegetable seller in the same market, 32-year-old Dilip Vaghela concurs, "There is anger among the locals against outsiders who have grabbed some of their businesses completely. I think only those who have lived here for long and have properties here would return," he says.
The author is an Ahmedabad-based freelance writer and a member of 101Reporters.com.
Subscribe to Moneycontrol Pro at ₹499 for the first year. Use code PRO499. Limited period offer. *T&C apply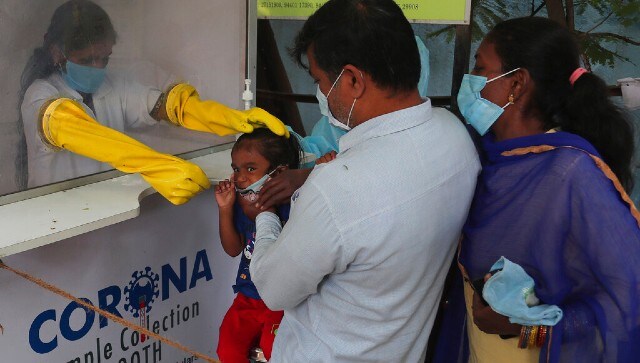 India
It is important to reiterate that the argument of 'natural herd immunity' remains largely a thereotical one, and cannot be relied on to mitigate the disease, especially with millions of vaccine doses ready
World
Activists and workers say migrant workers in Pocheon work 10 to 15 hours a day, with only two Saturdays off per month. They earn around US$ 1,300-1,600 per month, well below the legal minimum wage their contracts are supposed to ensure.
India
However, Opposition leader Ram Govind Chaudhary shot back at Yogi for using 'unparliamentary language' and forgetting basic etiquettes