Gujarat migrant crisis: Odia migrants recall exodus after Babri Masjid demolition when lakhs fled to Odisha
The rape of a 14-month-old girl, allegedly by a Bihari factory worker in Gujarat's Sabarkantha district last month, had led to attacks on migrants in several neighbouring districts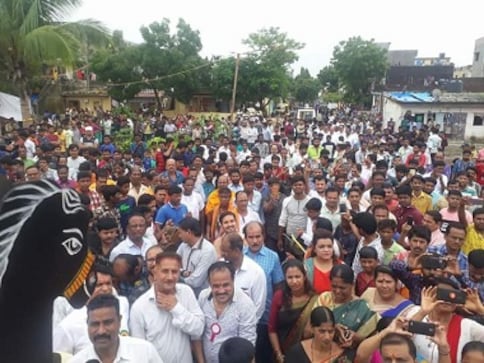 Editor's Note: The rape of a 14-month-old girl by a migrant labourer from Bihar in Idar town of Sabarkantha district on 28 September gave way to the persecution of migrant labourers in seven of the 33 districts of Gujarat. This incident ignited anger against migrant workers whom the locals believe are the real reason for unemployment in the state. This multi-part series will examine issues concerning migrant workers and the animosity they face from locals.
Surat: The rape of a 14-month-old girl, allegedly by a Bihari factory worker in Gujarat's Sabarkantha district last month, had led to attacks on migrants in several neighbouring districts. News reports suggest that close to 60,000 workers from Uttar Pradesh and Bihar fled from the northern parts of the state over the next few days, prompting the police and administration action to clamp down on attacks and reassure these guest workers. The impact of this on Gujarat's industry and economy is yet to be realised, but the consensus in Surat is that this incident pales in comparison to the exodus Surat witnessed 26 years ago, which halted production across the power loom sector for almost half a year.
Following the demolition of the Babri Masjid on 6 December, 1992, Surat had witnessed one of the worst communal riots in its history during which 150 people were killed and over 20,000 had to be given shelter in relief camps. As the riots unfolded and rumours fuelled more violence, frightened Odia migrant labourers fled to their home state in large numbers. Single men labourers were especially vulnerable as the curfew imposed across most of the city stranded them without food or money. This had forced at least seven lakh workers to leave Surat, according to community leaders, crippling the power loom industry where most of them were employed. For almost three to four months, textile factories in and around the city, that were cumulatively operating some three-and-a-half to four lakh power looms, were compelled to pull down their shutters. The state government constituted a committee led by Surat MP, the late Kashiram Rana, secretary SK Nanda and other officers who visited Odisha to convince workers to return to a now-peaceful Surat.
Bhagirath Behera, who heads the Surat Odisha Welfare Association, says he was among the members of the committee that was sent to Odisha on this mission. "As far as I remember, most of the bachelor workers had fled the city fearing food and money scarcity, and the rumour mill was churning overtime that the riots would continue for longer and soon there would be no food at all. The news of allegedly systematic killings and lootings of certain communities also forced the labourers to flee for their safety," he says.
In April 1993, the team visited Odisha for 15 days, covering many villages in the Ganjam, Puri and Cuttack districts. "We conducted meetings with returning labourers and appealed for them to return to Surat, as by then the situation had returned to normal. We convinced them that there was no curfew and that factories were operational. They need not stay behind and continue to lose their incomes," says Behera, adding that they had to make the workers realise that if they didn't return, factory owners would start hiring others. "Even, after that, it took at least two months for normalcy to be restored and the power loom factories to once again start functioning at 90 percent of the installed capacity," he says.
On the contrary, most of those who had families and had been living in Surat for a while prefered to stay back during the chaos towards the end of 1992, and even during the suspected plague in 1994 and in 1997 when there was panic and exodus after an astrologer predicted damage to the Ukai Dam on the Tapi River, some 97 kilometres upstream of the city, according to Bideshibhai Sahoo, an elder in the community. "I was around 27 in 1992 and working as a salesman with a leading processing unit in Surat. Daily, thousands of labourers were boarding trains bound towards Odisha and all appeals for them to stay back were going in vain, particularly because bachelors were finding it hard to even get food because of the curfew," adds Sahoo.
In 1992, Srikant Raut was just a 12-year-old school-going boy, living with his family in Surat's Bamroli area. Yet, Raut vaguely remembers that due to communal riots, his family and neighbours had given shelter to a few Muslim families on the rooftop of their shanties. They were provided food for at least three to four days, after which they had returned to their homes. Sahoo's family, that was settled in Surat, did not think of fleeing the city when many others from the Odia community were rushing back home.
However, this time around, since the attacks were concentrated in north and central Gujarat and focused primarily on people from Uttar Pradesh and Bihar, Odia migrants in Surat did not feel affected, says Behera. "The community has gelled well with Gujaratis since its first foray back in the late 1980s. There were one or two isolated cases of harassment in Kapodra area but other than that, Odia labourers did not face any trouble in the city and surrounding areas," he says. In Surat at least, Odia migrants have rarely been involved in confrontations with locals over more than two decades, according to him.
Explainers
In 1999, lawyer Tungnath Chaturvedi was charged Rs 20 extra by a clerk at Mathura cantonment railway station. Now, 22 years and more than 100 hearings later, a consumer court has ruled that the Indian Railways must pay him Rs 15,000 and refund his money with interest
Explainers
The aim of the strategy, also known as 'asymmetrical warfare', is to make Taiwan's defence so secure that any attacker faces a ruinous cost. It also focuses on weapons that are easily concealed such as portable Javelin and Stinger missiles over expensive and easy-to-hit tanks, warships and naval ves
Explainers
The Indian Army takes in Nepalese soldiers under the tripartite treaty signed between Nepal, India and Britain in 1947. India currently has 43 Gorkha battalions serving in seven regiments