Gujarat Election: At Narendra Modi's hometown Vadnagar, residents disillusioned by lack of jobs
The makeover of the station and the iconic tea stall aside, the condition of Vadnagar troubles residents, who complain about garbage-strewn roads, open drains and lack of jobs
Vadnagar (Mehsana): The station has come up in a tearing rush, but there are no tracks for the trains.
The renovation of the Vadnagar railway station, where Prime Minister Narendra Modi is believed to have worked at his father's tea stall as a child, was complete within four months, says Arvind Kumar, a civil engineer associated with the redevelopment of the station.
"We started in June and by September, work was largely over. We were made to work till 2 am into the night. But I wonder why, considering there are no signs of tracks being laid. Even the construction of platforms, being handled by another contractor, is witnessing no such hurry," he says.
The facade of the station appears to have been given touches of a palace with rounded columns and lattice patterns. Two parking lots have come up, for two-wheelers and cars.
Inside, there are sprawling waiting rooms, including some built exclusively for women passengers, all with central air-conditioning. There is an exhibition room as well.
But the catalyst behind the ambitious redevelopment project is placed in a quiet corner.
The single-tin stall, battered by age, which a local says was until recently stored in a warehouse, today attracts people from far and wide in this sleepy north Gujarat settlement, half-village, half-town.
The run-down structure looks like an ancient precious exhibit ensconced in a glass chamber, like in a museum, from a distance.
A tiny signboard informs visitors in Gujarati that "Bal Narendra used to sell tea here".
Inside, there are jottings in red, accompanied by sketches of a cup and a saucer. The writings refer to the menu, a local kid, eager to relate the history of the place, points out.
It's not hard to find locals, including children, doubling up as tourist guides and apprising people of the significance of the structure.
They are of considerable help to visiting news channel crews. As Vadnagar votes on 14 December, the race to get an exclusive shot of the tea stall is increasing by the minute.
Kumar says the station will cater to a broad-gauge line, which is coming up as part of the conversion of the Mehsana-Taranga Hill meter-gauge line.
The makeover of the station aside, the overall condition of Vadnagar troubles residents, who complain about garbage-strewn roads, open drains and, most important, lack of jobs.
Though two bus terminals, shopping complexes and a medical college have come up, residents are not impressed.
"Have you seen the complexes? The shutters are mostly down. Even the medical college has been opened in a rush ahead of the elections. It does not have adequate facilities," says Uttam Bhai Patel, the local chief of the Sardar Patel Group, from which Hardik Patel broke away to form the Patidar Anamat Andolan Samiti.
The area adjoining a local school, where Modi was enrolled as a student, has a sizeable presence of Muslims and Thakores. Until recently, Modi's elder brother Somabhai Modi used to stay in the neighbourhood.
A group of women, returning home after buying vegetables, walks into the local Congress office to air their grievances. Party workers try hard to convince them that if voted to power, all their complaints will be looked into and problems set right.
After the customary complaint on price rise, Urvashiben Salat, Pannaben Mare, Sumanben Vaid raise the more pressing issue of jobs.
"None of our sons or daughters have a job. It is okay for stations to be built and we are indeed proud that Modiji belongs to our town, but at the end of the day we have to think about the future of our children and their well-being," Sumanben, whose daughter has completed her MA and BEd, says.
The Vadnagar taluka falls in the Unjha constituency of North Gujarat's Mehsana district, where BJP candidate Narayanbhai Patel, who is seeking a sixth straight term, is pitted against the Congress's Ashaben Patel.
Click here for detailed coverage of Gujarat Assembly Election 2017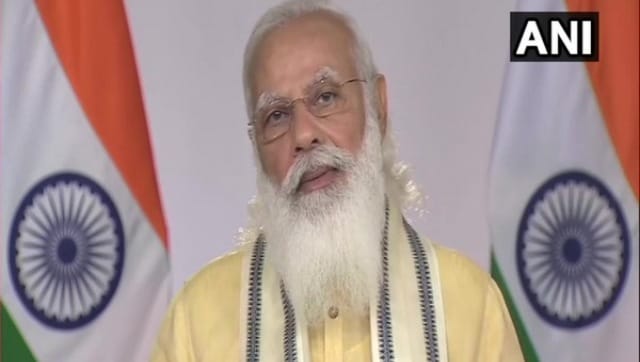 India
While the prime minister's address was no doubt a full-frontal political attack, it was in retaliation to sustained politics of slander
India
The Centre will take over from states, which were supposed to be carrying out about 25 percent of the country's vaccination work, and continue with its ongoing inoculation efforts
India
Apart from Sibal, G-23 leaders Shashi Tharoor and M Veerappa Moily have also slammed Prasada for switching to the BJP