Govt making criminals out of students, says Adoor Gopalakrishnan as FTII hunger strike begins
Three students of FTII went on an indefinite hunger strike on Thursday as the agitation for removal of Gajendra Chauhan as its chairman entered the fourth month even as noted filmmaker Adoor Gopalakrishnan hit out at the government for trying to make 'criminals out of students.'
Pune/Mumbai: Three students of FTII went on an indefinite hunger strike on Thursday as the agitation for removal of Gajendra Chauhan as its chairman entered the fourth month even as noted filmmaker Adoor Gopalakrishnan hit out at the government for trying to make "criminals out of students."
As the agitating students of the prestigious Film and Television Institute of India (FTII) in Pune got a fresh wave of support, Gopalakrishnan said a memorandum demanding removal of Chauhan, an actor and BJP member, signed by 190 people including Bollywood star Vidya Balan, had been sent to President Pranab Mukherjee.
The memorandum would also be sent to the Prime Minister and the Minister for Information and Broadcasting, Gopalakrishnan told reporters in Mumbai. "Our fast is indefinite. The three students — Hiral Savad, Alol Arora and Himanshu Shekhar — if they are hospitalised, will be replaced by another batch of protesters," FTII Students' Association (FSA) representative Ranjit Nair told PTI in Pune.
Addressing a press conference in Mumbai, Gopalakrishnan said, "It is important that the chairman of the governing body (of FTII) is governed by eminent people from different fields like theatre, painting, arts, etc. The current chairman cannot claim to govern the institute because he does not even understand his roles."
He also said a memorandum demanding Chauhan's removal, signed by 190 people including Bollywood actor Vidya Balan, had been sent to the President. It would also be sent to Prime Minister and the Minister for Information and Broadcasting.
"Even others (members of FTII council) have made no contribution to the society. This is a premier film institute which needs someone who can sail it through difficult days," said Gopalakrishnan, who himself has been its director in the past.
Further, sending police to the campus to conduct midnight raids only showed that the government intended to "make criminals out of students", he said. "They, it seems, want to make criminals out of students. Students are being called to police stations at odd hours. This is only to intimidate and demoralise them," he said.
FTII director Prashant Pathrabe, when contacted, said, "We have informed the police and medical personnel about the hunger strike after receiving a letter by the students to that effect." Union Information and Broadcasting ministry officials, too, have been informed about the hunger strike by the protesting students, Pathrabe said.
In a letter to the FTII administration, FSA said that while they are seeking "immediate resolution of the present crisis", the students had no option but to go for the hunger- strike because of the government's "apathy" to the issues raised by them.
Union Minister of State for Information and Broadcasting Rajyavardhan Rathore, however, said negotiations with students failed due to an "extremely hardline" stand taken by them. "Unfortunately the students have taken an extremely hardline stand. We are ready to resolve all issues. We have had multiple talks with them," he told reporters in Panaji.
Well-known documentary maker Anand Patwardhan said attempts were being made to saffronise the educational institutions and the only qualification most members of FTII body had was they "belonged to saffron agenda".
Filmmaker Dibakar Banerjee said the government was adamant on not removing the present chairman because it feared a loss of face and thought it would set a precedent. "They only want to be seen as someone who does not succumb to pressure. If they respond to us, it will show them in a much better light. It (the Union Government) will gain much more and establish its democratic credentials," he said.
Banerjee also said that fear among people was that this government was "authoritarian" and "fascist" and this was in fact a good opportunity for the government to prove the people wrong.
PTI
India
Apart from Sibal, G-23 leaders Shashi Tharoor and M Veerappa Moily have also slammed Prasada for switching to the BJP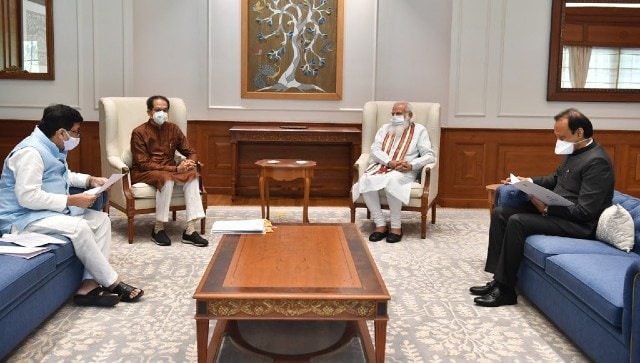 India
Maharashtra deputy chief minister and senior NCP leader Ajit Pawar and senior Congress leader Ashok Chavan also accompanied Thackeray during the meeting with the prime minister
India
Meanwhile, a slew of BJP leaders including JP Nadda, Rajnath Singh and Smriti Irani praised the prime minister's announcements and said the decisions showed the government's committment to the public