Google Doodle celebrates 45th anniversary of the Chipko Movement remembering the women who protested against deforestation
In the Google Doodle women in traditional Garhwali attires can be seen under the moonlight, linking hands with each other to protect the trees from deforestation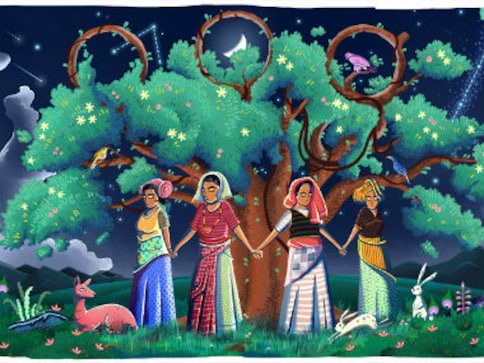 Google Doodle is celebrating the 45th anniversary of the Chipko Movement where the women of Uttarakhand protested against the cutting of trees in the regional forest. The account of the Chipko Movement first appeared in the 1970s in the writings of the Indian poet Ghanasyam Raturi.
The Chipko Movement took place in the 18th Century. Under the leadership of Amrita Devi, 363 women from 84 villages of the then Uttar Pradesh (now Uttarakhand) took to themselves to protect khejri trees from being cut down at the order of the king of Jodhpur. The resistance was important for these women since deforestation would have directly affected the supply of firewood. The king later decreed an order that the trees would be left unaffected.
In the Doodle, women in traditional Garhwali attire can be seen under the moonlight, holding hands with each other to protect the trees from deforestation. The background in the doodle gives a picture of the flora and fauna these women were fighting for.
This movement is one of the earliest eco-feminist movements where women linked their hands together to save the forest. Some even hugged the trees from being cut down. Initially, this movement was known as "angalwaltha", a Garhwali word which means "embrace". It was later termed as the Chipko Movement.
The efforts of these women inspired several environmental protests since generations. It is also known as the Chipko Aandolan.
Svabhu Kohli and Viplov Singh are the illustrators of the colourful doodle.
Ghanasyam Raturi had once quoted in his writing about the movement. He said, " Embrace the trees and, Save them from being felled; The property of our hills, Save them from being looted."
The Doodle is available on in India and you can check the process of making the Doodle here.
Find latest and upcoming tech gadgets online on Tech2 Gadgets. Get technology news, gadgets reviews & ratings. Popular gadgets including laptop, tablet and mobile specifications, features, prices, comparison.
News & Analysis
Notably, the Google Pixel 4a 5G and the Pixel 5 will not be sold in the Indian market.
News & Analysis
One of the most futuristic features to be rolled in is auto Low-Latency mode for gaming, which will be an Android 11 exclusive.
News & Analysis
Google has stated that it uses recordings that have been saved to improve its audio recognition technologies.