Ghatkopar plane crash: Shiv Sena rues Mumbai's lack of open spaces, highlights need to study aircraft movement
The Sena said lack of open space in the financial capital makes it difficult for a big aircraft to land safely in case of an emergency.
Mumbai: The Shiv Sena said Saturday crashing of an aircraft in a crowded suburb here two days ago raises a lot of questions about maintenance of planes by private firms and lack of open spaces in the metropolis. The Uddhav Thackeray-led party suggested undertaking a study of the city's geography and aspects like increasing population and cramped buildings with respect to the movement of aircraft in the metropolis, which houses the country's busiest airport.
Five people — four crew members, including two pilots, and a pedestrian — lost their lives when a 12-seater chartered plane crashed into an under-construction building in suburban Ghatkopar on Thursday.
The Sena said lack of open space in the financial capital makes it difficult for a big aircraft to land safely in case of an emergency. "The plane which crashed (in Ghatkopar) was small in size. However, if a big plane needs emergency landing, where is the open space for it? "If the pilot (of such an aircraft) does not find open space, in future then can be a bigger mishap," an editorial in the Sena mouthpiece Saamana warned.
"The Ghatkopar incident should be considered as a warning for an impending danger. Mumbai's geography, rising population, cramped and tall buildings needed to be studied with respect to the movement of aircraft and their security." The crash has brought several questions to the fore and highlighted issues like laxity on the part of private aviation companies in maintaining planes.
The Marathi daily pointed out that the ill-fated plane was 22 years old and had taken the first flight after a period of six years and post undergoing Rs 8-crore repairs.
"Mishaps cannot be averted 100 percent, but remaining alert to prevent such incidents is in our hands. Was UY Aviation (the company which owned the plane) cautious enough to take necessary steps to prevent an accident? "Deceased pilot Marya Zuber's family has claimed the crew was forced to undertake the test flight despite bad weather," it said.
"If the claim is true, the company sent all the four crew members in the jaws of death intentionally. Also, lives of hundreds of residents, who stay in cramped localities in Ghatkopar, was put in danger," the party said. If media reports, that the company did not have an air-worthiness certificate for the plane, were true, it shows sheer negligence on part of the private firm and also puts the local administration in the dock, the Sena publication said.
It pointed out that UY Aviation had also provided the helicopter that barely averted a crash when Chief Minister Devendra Fadnavis was about to board it in adjoining Raigad district last year.
Photos
The 10-day festival will see muted celebrations owing to the COVID-19 pandemic
India
The word Ganesha is formed by combining two Sanskrit words, with 'gana' meaning a multitude of people and 'isha' meaning lord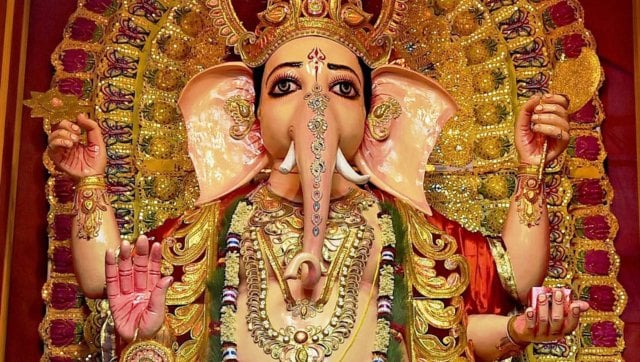 India
Narendra Modi wished the country, asking Lord Ganesh to bring "happiness, peace, good fortune and health" to everyone