Ghar Vapsi: Civil society needs to challenge RSS's conversion agenda
As the RSS goes ahead with its communal agenda by raising issues like love jihad and ghar vapsi, civil society needs to acknowledge these problems and fight this hateful agenda.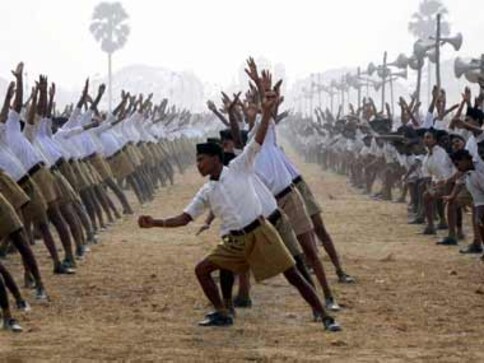 New Delhi: There's a definite pattern to the activities of the Sangh Parivar across the country, say political observers but no one expected these to start so early after the new government came to power.
Professor Sudhir Panwar, a political analyst based in UP, told Firstpost, "There is nothing surprising in the recent spate of hate mongering (from 'Love Jihad' to 'Ghar Vapsi'). It was bound to happen with the Sangh Parivar getting stronger with the new government at the Centre. I would say it is a beginning, but we had not expected that it will start so early."
When asked why he is accusing the BJP, which maintains that it is against forced conversion, he replied, "The BJP is a party that speaks in multiple voices. On one hand it says it does not support forced conversion while on the other, its MP from Aligarh (Satish Gautam) told the Lok Sabha on Thursday that conversion events will happen in his city as well. In fact, the saffron party wants to pursue two kinds of politics simultaneously – the politics of aspiration and the politics of Hindutva."
Amid a high drama in both houses of Parliament on Thursday, Aligarh MP Satish Gautam had said in the lower House, "We have been doing this (conversion) for several years and will do it again on December 25. This is not a conversion but 'ghar vapsi' (home coming)." He, however, denied reports of luring people with below poverty line cards to convert people. At least 85 Muslims were allegedly converted to Hinduism by an RSS offshoot by force and allurement in Agra a few days back.
Asked why UP is the centre of communal controversy most of the time, Panwar, who was a member of the Planning Commission and is also associated with the farmers' movement in his state, said, "Although the BJP won 71 of the 80 parliamentary seats in UP due to the Modi wave, the state is still out of its influence. In 2017, when the state will go to the polls to constitute a new assembly, there will be anti-incumbency for the ruling Samajwadi Party as well as the BJP as the former will complete its five-year term in the state and the latter will complete two years at the Centre with full majority. And only polarisation can help the BJP to neutralise the effects anti-incumbency."
Adding further why PM Modi is silent over the entire issue, he explained, "Sangh wants Modi to behave as an administrator like Sardar Patel, a philosopher like Jawaharlal Nehru and an icon of development and youth aspirations. And therefore, the prime minister keeps himself away from all controversy by choosing to remain silent. The other leaders of the party have been given a free hand to go ahead with RSS agenda."
Dubbing the term 'ghar vapsi' a "deceptive metaphor" of the ideology of the RSS, eminent political scientist Shiv Vishvanathan said, "There is no notion of home coming. It is a rectification of history."
Talking about the future, he said there is no way out but to fight "communalism with iron hand".
"Civil society, which appears to have given up after rise of Modi, will have to fight with the regime as well as the diaspora to protect human rights. Human rights activists, social movements and the civil society have to challenge the RSS for an open debate because the cultural activity is no longer its prerogative," he said.
"The RSS is now mentoring elections, organising struggles and wants to help the BJP retain power for at least a decade. It gives future directions to the current regime and therefore, the battle now is clear," he further explained.
Reacting on the issue of "forced conversion", noted social scholar Abhay Dubey, who directs CSDS Indian languages programme, said, "There are two types of communal unrests – large scale violence, which took place in Gujarat in 2002 and Muzaffarnagar in west UP in 2013, and low intensity conflicts, which was engineered recently in Trilokpuri and Bawana in the national capital. Since the BJP has realised that it is difficult to defend large scale violence, it is giving patronage to the low intensity conflicts to propagate Hindutva or Hindu hegemony. By creating fear psychosis, it wants Muslims of Uttar Pradesh, Bihar and West Bengal to live in the spaces so that they cannot dare to raise demands for their due rights in every spheres of life."
Lambasting PM Modi for not coming clean on such issues, he said, "The prime minister made a statement (in both houses of Parliament) on Sadhvi Niranjan Jyoti's abusive remarks only to end the deadlock as he had to get many bills passed and the Opposition was not allowing the House to function. "
However, political analyst and writer Anand Pradhan is against making the "nonsense of ghar vapsi" an agenda of public debates. "Instead of talking about important issues like elimination of poverty, creation of jobs, development and bringing back black money which were the prime minister's pre-poll promises, we are discussing nonsense like 'love jihad' and 'ghar vapsi', which are lowering public discourse. It is most unfortunate and even dangerous. All these controversies are being fuelled with an aim to divert people's attention from the promised development," he said.
Asked what the BJP and Sangh affiliates like Bajrang Dal want with this "decisive politics" in UP, he said, "After winning Lok Sabha polls, the BJP and RSS want to consolidate its victory and repeat the same performance in the state assembly elections."
According to Pradhan, there are advantages and disadvantages of this "divide and rule" policy.
"One can observe a kind of communal overtone in the general masses after the BJP came to power but at the same time, the hate politics has exposed Modi's development farce. The humiliating defeats of the ABVP (students wing of the RSS) in student body elections in KS Saket PG Degree College in Faizabad, Allahabad University, Kashi Vidyapeeth in Varanasi and Rajasthan University show that youth are not interested in communal politics," he said.
On the BJP's win in Haryana and Maharashtra, he said, "The right wing forces are rising because of the failure of secular politics. The secular parties will have to reach out to poor, youth and other section of the society with progressive agenda. They don't need to go clerics and khap panchayats for support."
India
The exchange will facilitate efficient price discovery with the assurance of responsible sourcing and quality, apart from giving impetus to the financialisation of gold in India
India
In the past, some widows have visited the prime minister's residence to tie him rakhis on Raksha Bandhan
India
The ties between India and the Maldives have been on an upswing since Solih took charge of the top office in November 2018. Prime Minister Modi attended the inauguration ceremony of president Solih