GES Hyderabad 2017: Highlight of Ivanka Trump's visit should be India's burgeoning gender gap in workforce, not biryani​
It is heartening to see the amount of interest generated in India over the visit of Ivanka Trump for the three-day Global Entrepreneurship Summit (GES) in Hyderabad.
Public discourse in India often misses the woods for trees. It is heartening to see the amount of interest generated in India over the visit of Ivanka Trump for the three-day Global Entrepreneurship Summit (GES) in Hyderabad. Sadly, the media coverage is disproportionately focused on her attire, menu on the plate, security bandobast or vacuous political debates over whether or not the prime minister should have attended the event.
For an 'entrepreneurship' summit that has as its theme 'Women First, Prosperity For All', it's a great opportunity to focus on two key chronic ailments that plague India and hampers its growth story — lack of jobs and the burgeoning gender gap.
This is the White House advisor's first visit to India, and she's leading a 350-strong empowered US delegation of largely female entrepreneurs, innovators, administrative officials and ecosystem supporters for the eighth edition of GES. The motto, ostensibly, is to raise awareness about women as drivers of world economy with a special emphasis on developing economies such as India. In Ivanka's own words: "If India closes the labor-force gender gap by half, your economy could grow by over $150 billion in the next three years." These are not random figures.
It'd be worthwhile, therefore, if instead of discussing details of the five-course dinner, some of the media attention and scrutiny is diverted towards discussing why India — which is hosting the event— has fallen an abysmal 21 spots to 108 in World Economic Forum's 2017 Gender Parity Index, the findings of which were published last month. Bangladesh, in comparison, is placed 47th, while China is ranked 100th.
In 2016, India was placed in 87th spot. The current ranking is 10 points lower than in 2006, when the WEF began assessing gender gap in world economies. The focus areas for India, according to the survey, are 'Economic participation and opportunity', where the country is placed 139th among 144 nations, and 'Health and survival' where it 'adorns' the 141st spot.
The WEF report, as summarised in The Hindu, said: "In India, the workplace gender gap is reinforced by extremely low participation of women in the economy (136 out of the total 144 countries covered) and low wages for those who work (136th ranking for estimated earned income). On average, 66 percent of women's work in India is unpaid, compared to 12 percent of men's".
There has been a dramatic withdrawal of female workers from the labour market in the past few years. According to data from World Bank, female percentage in labour force participation fell to 27 percent in 2017 from 36.7 percent in 2005.
Researchers have noted the steep decline in female labour participation in rural areas, mostly among women who were involved in agriculture. Strangely, as this Livemint article argues, the withdrawal "has occurred during a period of sharp rise in wages that women earn. The gender gap in wages of casual labourers declined nearly six percentage points between 2004-05 and 2011-12 to 31 percent."
The burgeoning gender gap has real costs for India's GDP growth. In a 2013 piece for The Atlantic, Brookings India fellow Dhruva Jaishankar had calculated that "true parity" in employment between men and women in India could have added four percentage points to India's annual GDP in the past 10 years, which means India could have grown at 11 per cent plus instead of an average 7.7 percent.
These findings are corroborated by various other studies. For instance, a 2013 Global Employment Trends report by the International Labour Organisation pointed out that India's labour force participation for women had fallen "from just over 37 per cent in 2004-05 to 29 per cent in 2009-10" that placed India 11th from the bottom among 131 countries from where data was collated. This, according to ILO economist Steven Kapsos, was happening "across all age groups, across all education levels, and in both urban and rural areas" and sits at odds with India's "very rapid economic growth in recent years".
The reasons behind a sudden drop in female participation in labour resist easy analysis. It is will be wrong to put all faults on the door of the governments at the Centre, or societal and cultural issues, though each of these reasons have an important part to play.
Analysts have also pointed toward a U-curve in correlation between increasing affluence of household and decline in female participation.
Quoting Harvard University economist Claudia Goldin, Justin Fox in Livemint wrote that women's involvement in wage-based employment follows a "U-shaped curve as countries develop. First, participation drops as incomes grow, production moves from homes and farms to factories, and girls stay in school longer". The second movement comes as "better-educated women enter the workforce. Most of the female participation decline in India has been in rural areas, so that may actually be an indication of increasing affluence." The author also pointed out that "girls have closed the gap with boys in primary-school enrolment, and reduced it in secondary and university education. So things could start getting better soon."
It is important to remember that these theories represent a part of the picture, not the full one. Patriarchal mores in Indian society also play an important role in preventing women from accessing gainful employment. Quoting a 2011 research paper by economists Mukesh Eswaran, Bharat Ramaswami and Wilima Wadhwa, Bhattacharya and Deshpande argued in their above-mentioned piece that "the amount of time a woman spent working outside her home is lower for higher-income groups and higher castes."
India is on course to hit the demographic sweet spot with a huge young, working-age population and relatively lesser ageing citizens. However, with more than a million youth joining the workforce each month, this is also a double-edged sword if the growth remains essentially jobless and gender balance in workplace remains hopelessly skewed.
"This is where entrepreneurship comes in. Entrepreneurs can take an idea and create whole new industries in fields never previously imagined," Alyssa Ayres, a CFR senior fellow, pointed out in her piece.
For a meaningful discussion on how balancing the gender gap is not just a social but also an economic responsibility that leads to all-round prosperity in nations, we need to get over our fanboy culture in public discourse. Let policymakers learn the right lessons from GES.
World
It may signify a vast expansion of China's nuclear arsenal — the cravings of an economic and technological superpower to show that, after decades of restraint, it is ready to wield an arsenal the size of Washington's, or Moscow's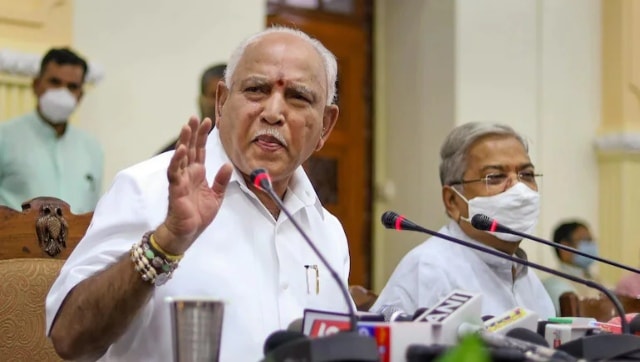 Politics
The BJP high command, with one eye on the upcoming 2023 Assembly polls in the state, has shortlisted a few notable names as possible replacements as chief minister
World
The fact inversion about the siege is the latest in Trump's contorted oeuvre of the 'big lie' compendium, the most specious of which is that the election was stolen from him, when it was not