Gender pay gap is real in India: Here are the numbers to back it up
Trouble convincing someone that the gender pay gap is real in India? We have fresh numbers to back it up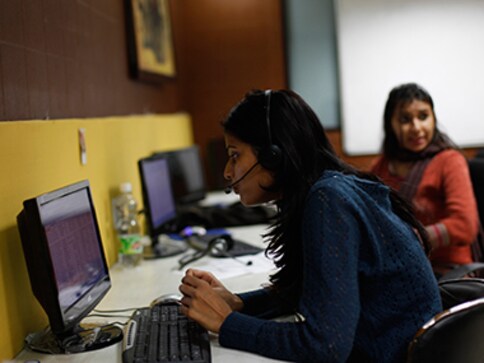 By Jahnavi Reddy
If you've ever had trouble convincing someone that the gender pay gap is super real in India, you don't have to meet with a dismissal of your anecdotal evidence anymore. We have fresh numbers to back us up. The latest Monster Salary Index report is out, providing a wage analysis based on a dataset covering the years 2013, 2014 and the first three quarters of 2015.
The report is based on data collected from the paycheck.in salary calculator and the Monster salary index across eight different sectors. And guess how many of these sectors have a gender pay gap skewed against women? All of them, you guys, all of them.
On the whole, the report finds that the gender pay gap in India is 25.4 percent. This means the median hourly wage for a woman is 25.4 percent less than the median hourly wage for a man. This happens in all the eight sectors analysed. The monstrosities we found in the Monster Salary Index report are below.
Yeah. Take a nice, long look at that. The gap is a maximum of 34.9 percent in manufacturing, with IT following very closely at 34 percent.
Now let's move beyond this report. The pay gap exists in the movie business too. Aindrita Ray recently spoke up against unequal pay for male and female actors in the Kannada film industry, saying women aren't paid even 5 percent of what male leads are paid. It's the same plot with a different cast and crew in Bollywood too. Aindrita also accused producers of discrimination in terms of facilities, claiming that she had to change behind trees during shoots in her initial days. The reason behind this, according to another Kannada actor Shruthi, is that "heroines [are] not getting roles with substance that are on par with that of the male lead." So the discrimination in pay happens because of discrimination in the lead roles written for men and women. The screen can't contain all that sexism, so it spills over into the real world.
Next stop: Sports. Squash star Dipika Pallikal has boycotted the National Squash Championship for the last three years, protesting unequal prize money for men and women, in spite of the PSA World Series tournaments starting to offer equal money.
But celebrities are not like us. Let's look at the commoners then. According to a National Sample Survey Office (NSSO) study titled 'Informal Sector and Conditions of Employment in India' for 2011-12, the gender pay gap was 19.78 percent. This study covered all occupations except crop-based farming. In farming, the scenario is so much worse, with women not only receiving unequal pay, but also not owning land in spite of doing most of the farm work.
The Munnar Plantation Workers, who protested for better wages and working conditions last year, also claimed that they were paid the same amount as men in spite of performing tougher chores. And I think we've all cried ourselves hoarse about unpaid domestic labour enough times already.
It isn't just India. As of 2014, the US and the UK had a gender wage gap of 17.5 percent and 17.4 percent respectively, according to the Organization for Economic Co-operation and Development, while the average gap within the EU is 16 percent. Across India, there are variations. Women in Uttarakhand earned 9 percent less than men, whereas women in Bihar earned 63 percent less than men in the formal sector from 2006-13.
The Monster Salary Index report states that some reasons behind this gap could be "preference for male employees over female employees, preference for promotion of male employees to supervisory positions (the glass ceiling), career breaks of women due to parenthood duties, and other socio-cultural factors". When you go to your cousin's house over the weekend and they ask you whether you'd like tea or coffee and you choose tea, it's a preference. When an employer chooses to pay a man more than a woman for the same work because of his special marvelous Y chromosome, it's just plain old-fashioned discrimination. We have a pandemic at hand that is in dire need of a cure.
We do seem to be progressing uphill, though. The gap has been reducing over the years. In the formal sector, the gap was 44.8 percent before 2007, according to the same people who carried out the Monster Scale Index study. In the informal sector, too, the NSSO data shows that the pay gap has come down from 29.2 percent in 2004-05 to 19.78 percent in 2011-12.
As Cyndi Lauper sings in her new hilarious, rousing anthem for equal pay, Girls Just Want Equal Funds: "And when the working day is done, oh girls, don't get too bummed, 'cause one day we'll get equal funds."
The Ladies Finger is a leading online women's magazine.
World
Despite its successes, Ukraine has only reclaimed 55 per cent of the territory taken by Russia since the February invasion
Explainers
According to the US State Department, the current wait time for an interview for B1/B2 applicants (business and tourism) is at 999 days in Mumbai, 994 days in Hyderabad, 961 days in Delhi, 948 in Chennai, and 904 in Kolkata. It is important to note that these are estimates and not a guarantee of an
Explainers
DNA profiling was first developed in 1984 by Alec Jeffreys in the UK. Several high-profile cases including the Rajiv Gandhi assassination and the 2012 Delhi gang rape have been cracked using it. Now, police are using it to build a case against Aftab Poonawala