GDP flop-show: Manmohan Singh has the last laugh in war of words with Narendra Modi over note ban
In his UP election rally in March this year, PM Modi had mocked Singh and 'Harvard economists' such as Amartya Sen who criticised demonetisation decision
If one purely compare the January-March quarter GDP growth of fiscal year 2017 and fiscal year 2016, former Prime Minister Manmohan Singh's prediction that demonetisation will shave off 2 percentage points of India's GDP has come true. In the January-March quarter of FY16, GDP grew by 9 percent, which has come down to 6.1 percent in the corresponding quarter this year— a near 3 percentage point difference. Even the full year GDP growth has come down to 7.1 percent in FY17 from 8 percent in the preceding year.
On 25 November last year, some two weeks after Prime Minister Narendra Modi launched demonetisation of Rs 500, Rs 1000 notes, Singh, also a former Reserve Bank of India (RBI) governor, had said in his Parliament speech that demonetisation will cause the GDP growth to fall by 2 percent. The former PM called the move as a 'monumental mismanagement', 'organized loot' and 'legalized plunder'. Singh, who is also a globally reputed economist, tore into Modi's currency ban alleging that it will cause massive job losses and economic slowdown. His predictions have seemingly come true.
In his UP election rally in March this year, PM Modi had mocked Singh and 'Harvard economists' such as Amartya Sen who criticised demonetisation decision saying it takes 'hard work' more than 'Harvard' to build the economy. "Kya kya bole. Parliament me bola, gaon, galliyon me jaakar chillaya, Bharat barbaad ho jayega. GDP 2 percent kam ho jayega, koi kehta kisan barbaad, fasal barbaad, berozgaari aajayegi.Daily ek jhoot" (What all they said: In Parliament they said; they shouted in the villages and streets that India will be ruined, GDP will reduce by 2 percent [points]; they said farmers and crops will be ruined and unemployment will increase. Daily one lie." – Modi at the Deoria rally (read a News18 report here). In hindsight, Manmohan Singh proves to be right.
In the fourth quarter, GDP fell to 6.1 percent from 8 percent from the year-ago quarter, with notable slowdown in construction, financing/real estate sectors which were directly impacted with the cash crunch. The fall in GVA was even sharper to 5.6 percent in the fourth quarter from 8.7 percent in the Q4 period of previous year. The manufacturing sector has taken a major beating with the growth slowing from 12.7 percent in Q4 of last year to 5.3 percent in the January-March period now.
Trade, hotels and transport sector growth is down to 6.5 percent from 12.8 percent in the comparable period of last year, construction sector growth down from 6 percent to a negative 3.7 percent and financing/insurance/real estate sector down to 2.2 percent from 9 percent in year-ago period. What saves the day for economy is growth in agriculture which improved to 5.2 percent in Q4 from 1.5 percent in fourth quarter of last year. Also, government consumption expenditures at constant prices has shot up to 32 percent from mere 2.4 percent while private consumption growth figure has declined to 7.3 percent from 11.8 percent. The gross fixed capital formation (GFCF) figures, which reflect the investment activity on ground, fell to a negative 2.1 percent in the fourth quarter from 3.9 percent in the comparable quarter of last year, causing big concern to the economy-watchers.
In a presser yesterday to list Modi government's 3-year achievements, union finance minister, Arun Jaitley defended the demonetisation move saying it is 'erroneous' to link note ban to economic slowdown. But, there may not be too many takers for Jaitley's argument since the sectors which have posted sharp decline such as construction, tourism and services were directly hit by the demonetisation-induced cash crunch. In a note on Thursday, rating agency Crisil said that Q4 GDP data confirms an economic slowdown and demonetisation is partly blamed for this.
"Contrary to the consensus expectation of a rise in real GDP growth – both on account of higher IIP and lower WPI in the new series – the real GDP growth for fiscal 2017 clocked 7.1 percent, unchanged from its earlier estimate. That's due to the impact of demonetisation and the fact that the deflator in Q4 had risen sharply," said Crisil in the note. There are other noted economists too who have attributed the poor show in GDP growth to the note ban.
The Modi government had gone to a celebratory mode when Q3 GDP numbers came in at 7 percent. "Kal GDP ke aankde aagaye aur aankdon ne phir ek baar keh diya ki saari duniya me, badi deshon me, tez gati se badhne waala Hindustan hai. Jaise aankde aaye, unki jhoot ka pol khul gaya." (The GDP figures were released yesterday and according to them India is still the fastest growing major economy in the world. Their lies have been exposed," said Modi in the UP rally after the release of Q3 numbers. But, the Q4 numbers indeed show a different picture and prove some of those "lies" to be true in hindsight.
In the war of words with PM Modi on demonetisation impact on GDP growth, Manmohan Singh has the last laugh.
Politics
The ECI failed most notably in issuing detailed guidelines for campaigning activities and making sure they were followed
Entertainment
"It was impossible to tell if the 2021 Oscars was meant to signal an acknowledgement of pandemic circumstances or a guarded return to normal," say NYT critics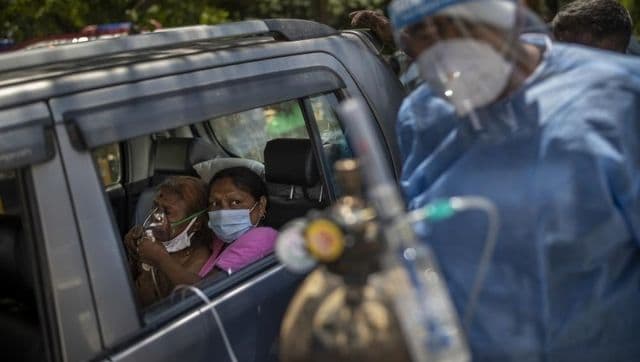 India
The systemic lapses that exacerbated the scale of the second COVID-19 wave would arguably not have happened in a country with a freer media that was doing the job it is meant to do.