Gauri Lankesh murder case: SIT arrests seventh suspect involved in journalist's killing; accused sent to 6-day custody
SIT has arrested the seventh suspect who is involved in the killing of journalist Gauri Lankesh. The suspect has been sent to a six-day custody
Bengaluru: The Special Investigation Team (SIT) probing the killing of journalist Gauri Lankesh has arrested the seventh suspect in the case, according a senior police official.
"A person identified as Mohan Nayak, 50, was arrested from Dakshin Kannada district of Karnataka," SIT investigating officer MN Ancheth told PTI in Bangalore.
Nayak was arrested on 18 July and produced in the Third Additional Chief Metropolitan Magistrate Court which sent him to six-day police custody, he added.
The sixth person arrested by the SIT was 26-year-old Parashuram Waghmare from Sindhagi in Vijaypura district of the state. He was held in June. Waghmare was said to have links with right wing groups.
The SIT previously arrested five people - KT Naveen Kumar alias Hotte Manja, Amol Kale, Manohar Edve, Sujeeth Kumar alias Praveen and Amit Degvekar. Naveen Kumar is from Maddur in Mandya district of Karnataka, while Kale and Degvekar are from Maharashtra. Edve and Sujeeth Kumar are also from Karnataka.
Naveen Kumar, who had founded the Hindu Yuva Sena, was the first to be caught in Bengaluru while attempting to sell ammunition. The other four were arrested for planning to kill Kannada writer KS Bhagawan, also known for his anti-Hindutva stand. It was while probing this case that the police suspected their role in Lankesh's killing.
Gauri, known for her strong anti-Hindutva stand, was shot dead in front of her house on 5 September, 2017, triggering a nationwide outrage.
India
Founder of the Maharashtra Andhashraddha Nirmoolan Samiti (MANS), Dabholkar was shot by bike-borne assailants while returning home from a morning walk in August 2013
India
"My client has agreed to undergo a narco analysis test to prove his innocence in the Gauri Lankesh murder case. We have applied for it in the city civil court," counsel A Vedamurthy told PTI.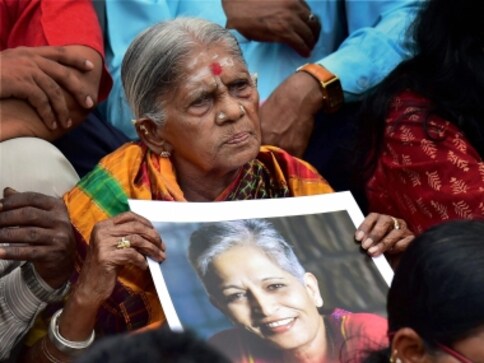 India
Lankesh, 55, was buried at a cemetery in Chamarajpet in central Bengaluru. Her eyes were donated to be used for the needy, the family said.