Gau rakshaks disappear as nearly 500 cow carcasses stink of hypocrisy in Rajasthan
Its claim to fame is a government-run cow shelter that houses nearly 8,000 cows. During the past two weeks, 500 cows died in the shelter. Most of the surviving cows are likely to die soon.
Several years ago, the inimitable Sahir Ludhianvi wrote his famous poem Chakley, whose immortal lines made many hypocrites squirm with shame.
'Jinhe naaz hai Hind par woh kahan hai?' Ludhianvi asked, seeking to question the conscience of the ''patriots" with his lyrical portrayal of women in brothels.
Zara mulk ke rahbaron ko bulao, ye kuche, ye galiyaan, ye manzar dikhao, Ludhianvi wrote. (Call the protectors of the nation, show them these corners and streets, these scenes).
Several decades later Ludhianvi's lines sounds like an apt call to another set of 'patriots': Gau rakshaks, millions of self-proclaimed sons and daughters of India's bovine mother.
Where are the vigilantes who take pride in their gau bhakti? Somebody call them to see the manzar (scene) in Rajasthan's capital Jaipur.
Hingonia is an urban village on the outskirts of Jaipur. Its claim to fame is a government-run cow shelter that houses nearly 8,000 cows. During the past two weeks, 500 cows died in the shelter. Most of the surviving cows are likely to die soon. Not because of any disease, but due to lack of nourishment and lack of care.
Hingonia has always been a concentration camp for cows. Two weeks ago, the staff went on a strike to demand salaries, which have been stuck for three months. This coincided with a period of heavy rains, turning the shelter into a killer swamp. Most of the cows got stuck in the slush formed because of rains. Waiting for help, water and nourishment in the trap, they died.
While carcasses were rotting in the shelter and more cows were dying every day, the BJP government did not take cognisance of the matter for several days. Only after the Rajasthan High Court issued notices to the state government did the official machinery move, sending rescue teams to the shelter to clear the slush and feed the dying gau matas.
Where are the gau rakshaks? They should rush to Rajasthan's capital, where they are guaranteed a lot of work and villains. If the punishment for allegedly eating beef, skinning a dead cow devoured by a tiger is death by lynching or shame by flogging, imagine how busy they would be avenging the death of 500 gau matas, in two weeks, in a shelter run by the government?
For a moment let us buy the standard argument of ''how much can the BJP do in just 3 years to clear Jawaharlal Nehru's mess" and absolve the Vasundhara Raje government of accountability, negligence and culpability.'
But, here is the question: Where were all the gau rakshaks when thousands of cows were crying for help in a Smart City like Jaipur? Where were all those vigilantes who seem eager to kill for beef? Were they not moved by the spectre of cows lying in those deathly traps, slowly turning into food for scavangers?
Hingonia is a cruel reminder of the Indian hypocrisy, especially of the Hindutva brigade. As pointed out by Firstpost earlier, while people fight over whether cattle can be turned into food, the poor gau mata struggles daily for nourishment.
We use them in every possible manner, squeeze every drop of milk out of them, inject them with chemicals and hormones to increase their output and then leave them on the roads, hoping some pious Hindu would throw food at them and reduce our cost of feeding them. We leave them out on the streets once they become dry to die, either because of hunger or disease. Like the vanaprastha stage of our lives, this is the inevitable roadprastha stage of bovine life! (Let's not even talk about the male calves and the ingenious schemes we adopt to get rid of them here.)
And, when they are put in shelters, corrupt staff embezzle funds meant for cows, gobbling up money meant for fooder, water and medicine.
Two days ago, social media warriors were pronouncing curses on Pakistanis for culling 700 stray dogs in Karachi. But, how about this: Just a few kilometres from a Smart City, a killer cocktail of official apathy, corruption and hypocrisy led to the death of hundreds of cows. And not a single gau bhakt rushed to their rescue.
It sounds a bit melodramatic. But, think about this: Jinhe naaz hai gau par woh kahan hai?
Here is a humble request to them: Go and save the dying cows of Hingonia. At least, donate some money to the state government to run the cow shelter. For a change, be a gau rakshak in deed, not just vacuous words.
India
The two IAF fighter aircraft - a Sukhoi-30 and a Mirage 2000 - which had taken off from the Gwalior air base in Madhya Pradesh, were taking part in an exercise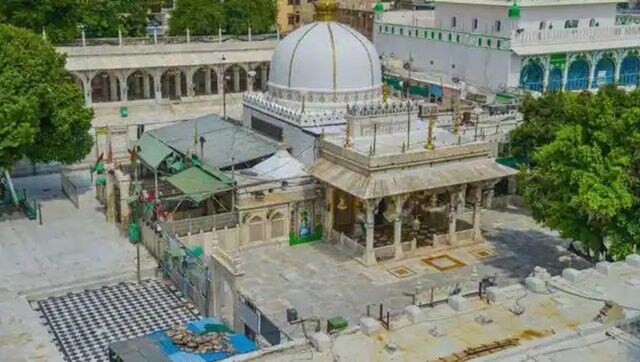 World
An official said that all the pilgrims have been informed to reach Lahore from where they will embark on a journey to India on Tuesday
Explainers
Bill Gates has financed Rumin8, an Australian startup, that is developing a seaweed-based nutritional supplement to prevent cows from releasing methane emissions. Methane can significantly increase the planet's heating as it is the most prevalent greenhouse gas after carbon dioxide