Gas leaks in India: These disasters are preventable, but political will needed to deal with them
Is India a safe country to live in? A spate of successive leaks of poisonous chemicals has once again raised the specter of the Bhopal gas tragedy, which saw thousands of Indians lose their lives in what is considered the world's worst industrial disaster.
Is India a safe country to live in? A spate of leaks of poisonous chemicals has once again raised the specter of the Bhopal gas tragedy, which saw thousands of Indians lose their lives in what is considered the world's worst industrial disaster.
In the first week of May, more than 475 students of the Rani Jhansi Sarvodya Kanya Vidyalaya girls' school and a government girls' senior secondary school, along with nine teachers, were hospitalised due to the poisonous gas chloro (methyl) diphensylsilance leaking.
The gas caused eye and throat irritation and acute dizziness. Thirty students fainted and had to be rushed to nearby hospitals.
The gas leaked from a container depot located in Tughlaqabad, close to both schools. A swift intervention by the National Disaster Response Force (NDRF) helped diffuse what could have turned into a very ugly situation.
This leak happened right after chlorine gas leaked at a water treatment plant in Karnataka in May. The staff of the Belur Municipal Corporation, Hassan district tried to plug the leak. They developed breathlessness, nausea and a burning sensation in their throats.
Around 25 people, including four employees of Belur Town Municipal Corporation (TMC), were affected. Some had to be hospitalised.
This isn't the first time Hassan district saw a leak. In 2016, an HPCL gas pipeline leaked in Ankapura village. This was caused by a hole in the pipeline that runs between Mangaluru-Hassan-Mysuru-Soluru. Once again, villagers who inhaled the gas had to be sent to hospital.
Earlier this year, 20 people were hospitalised after chlorine gas leaked from a cylinder in Por village, Vadodara district. The victims complained of irritation in their eyes and throat, and had to be sent to the state-run Sayajirao hospital.
Shivrajpur, Kanpur saw a horrific accident on 15 March, 2017. Ammonia leaked from the gas chamber of a cold storage facility, causing a huge explosion. The roof of the building collapsed, trapping over two dozen people. The NDRF had to be called in. Five labourers died immediately. Eight more suffered serious injuries, and four of them passed away in hospital.
"As a nation, we have no institutional memory," says Gopal Krishna of the Toxics Watch Alliance. "We have learnt no lessons from the Bhopal disaster, which is why our environmental laws remain the weakest in the world. To compound the problem, we have no political will to ensure that industrial accidents do not occur."
Krishna points to the example of the gas leaks that occurred in quick succession at the Steel Authority of India Ltd (SAIL) and the Gas Authority of India Ltd (GAIL). The first accident occurred at the Bhilai Steel Plant run by SAIL, followed by an explosion at a GAIL gas pipeline near Nagaram village, Andhra Pradesh.
The gas leak at the Bhilai Steel Plant injured 50 people and resulted in the death of deputy general managers BK Singh and NK Katariya, master technician A Samuel, senior operator Yarad Ram Sahu, assistant fire station officer Ramesh Kumar Sharma and two others.
Plant authorities claimed the accident occurred when a key pipe which supplied water to the gas cleaning plants of the blast furnaces ruptured. Loss in water pressure caused gas to enter the pipeline, adversely impacting the technical crew who were trying to rectify the fault, they claimed.
The plant authorities ordered the inquiry comprising some bureaucrats and experts from the steel industry, but the recurring leaks indicate that not enough attention is being paid to long-term preventive measures.
Krishna says SAIL has been witness to several accidents in the past few years. "SAIL management remains tight-lipped despite the death of 13 employees and another 26 receiving minor injuries. Two SAIL employees were sentenced to a year's imprisonment, but most of these accidents have been brushed under the carpet," Krishna alleges.
Dr Shashidhar Reddy, former chairman of the National Disaster Management Authority, blames lack of maintenance as the key reason for these disasters. Reddy is also apprehensive that many of these pipelines are being laid in heavily populated areas.
Reddy said that 12,144 kilometres of pipeline had been laid at the start of the 12th Five Year Plan which began in 2012, which will be expanded to 15,928 kilometres by the end of the plan.
"By 2020, we expect to lay 32,737 kilometres of pipelines across the length and breadth of the country," he said. "We need to comply with strict safety standards, especially since some of these pipes will go through densely populated areas. We will see pipelines from Bathinda to Srinagar, Surat to Paradeep, Chennai to Tuticorin, Kakinada to Haldia. Pipelines will criss-cross the length and breadth of the country," Reddy added.
India's safety record leaves much to be desired. In 2009, forty-five workers were killed due to a chimney collapse at the BALCO construction site in Korbe, Chattisgarh. An inquiry revealed the accident occurred because of failure to adhere to safety norms.
Other major accidents worth recounting: The massive fire at the state-run Hindustan Petroleum refinery-cum-petrochemical complex in Visakhapatnam in August 2013, which left nine workers dead and 34 injured. The fire at the Indian Oil terminal in Jaipur in 2009 killed 11 workers and caused a $60 million loss. This accident was attributed to a failure to follow standard operating procedures and poor upkeep of equipment.
The Bhopal gas leak saw over 500,000 people being exposed to methyl isocyanate gas and other toxic chemicals. However, convictions were few and no lessons were learnt. The National Disaster Management Authority and other safety experts repeatedly warned the government on the need to have strict safety measures in place, especially for people living in and around hazardous zones.
Environmental lawyer MC Mehta says: "I don't think we have learnt much from the Bhopal disaster. Most laws are poorly enforced. What the Bhopal disaster and the several industrial accidents that have followed it shows that we are all talk. However, the victims are not given compensation and no liability is fixed on erring companies. The government wants to give fast-track clearances to companies without looking at the environmental impact of their projects. If we can give fast-track clearances to companies, why can't we set up fast-track courts to deal with claims that may arise out of industrial accidents?"
But the government seems to be on a different track. In April, during a key UN meeting on hazardous waste, hazardous chemicals and hazardous substances, the Indian contingent claimed that India was in a position to handle hazardous waste products and was therefore in a position to deal with imported waste products from more industrialised countries.
For a country constantly on the receiving end of industrial accidents and gas leaks, such a claim, seems far-fetched indeed.
World
The Nord Stream 1 and 2 pipelines have been at the center of geopolitical tensions in recent months as Russia cut gas supplies to Europe in suspected retaliation against Western sanctions following its invasion of Ukraine
World
Germany's key future indicator, the IFO survey of business confidence, pointed down for the fourth month in a row as high inflation fed by astronomical natural gas prices undermines consumer pricing power and imposes heavy costs on businesses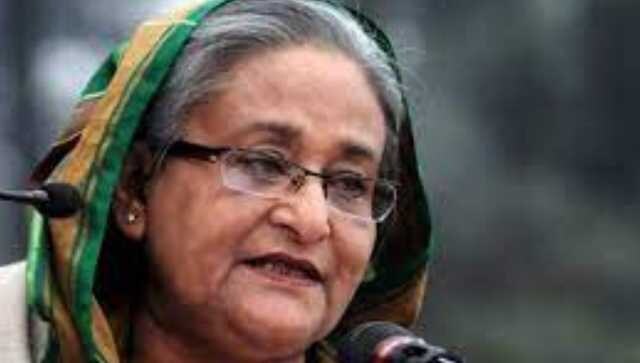 World
Bangladesh has produced a miniscule amount of the greenhouse gas emissions that have already contributed to the warming of the planet by an average of nearly 1.2 degrees Celsius above pre-industrial levels