Garbage crisis mounts as east Delhi's sanitation workers protest for salary enters second day
Garbage and civic problems seem to be mounting for the residents of east Delhi ahead of Diwali as the indefinite strike by a large section of municipal sanitation workers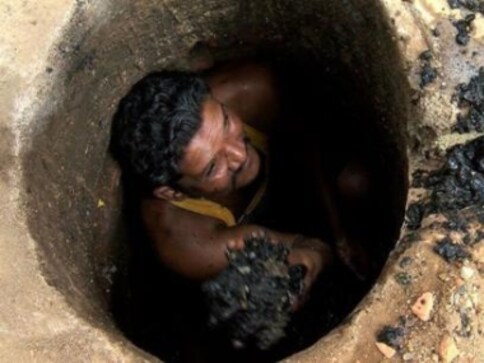 New Delhi: Garbage and civic problems seem to be mounting for the residents of east Delhi ahead of Diwali as the indefinite strike by a large section of municipal sanitation workers of the area entered its second day on Thursday.
Scores of EDMC sanitation workers, who are demanding payment of salaries due to them, clearance of arrears and medical cashless card, protested outside the residence of east Delhi Mayor Neema Bhagat in Geeta Colony.
"We burnt the mayor's effigy and dumped garbage in front of her house to symbolically lodge our protest and highlight our plight. From Centre to MCD, everyone talks about 'Swachh Bharat', but no one understands our problem," said Sanjay Gehlot, president of the MCD Swachhata Karmchari Union.
He claimed that the union has about 11,000 members, and most of them have joined the stir, effectively meaning that east Delhi was staring at a garbage crisis. "Some other unions are also joining us in solidarity. We know non-disposal of garbage would not mean a good Diwali for people. But, who thinks of us, and our family, who have to manage with a meagre salary, and yet that is not paid. We also want to celebrate Diwali with our family, but we have been left with no choice," Gehlot said.
Patparganj, Mayur Vihar, Gandhi Nagar are some of the most-densely populated areas of Delhi and several unauthorised colonies are located there.
The east Delhi municipal corporation (EDMC), one of the three civic bodies created in 2012 after the trifurcation of the erstwhile unified Municipal Corporation of Delhi (MCD), has been cash-strapped for a long time now. "Our demands include payment of salaries due to various employees, arrears and medical cashless card, retirement benefits and pension," Gehlot said.
A day ahead of the strike, the civic body said Mayor Bhagat met members of some of the unions and assured them that their "legitimate demands would be met". "Safai karmcharis are the backbone of the EDMC and the corporation would make all possible efforts to fulfil their demands, including the one about issuing a cashless card," she had said.
Find latest and upcoming tech gadgets online on Tech2 Gadgets. Get technology news, gadgets reviews & ratings. Popular gadgets including laptop, tablet and mobile specifications, features, prices, comparison.
India
The monkey injured Akshan so much that he had to dial 100 to be rescued.
India
Aavyan Tomar lives at Mayur Vihar in east Delhi and his father Rahul Tomar is an AAP supporter
India
Three people sustained critical injuries on Friday night after the car they were travelling in lost control and collided with a street light on the road divider in Delhi's Mayur Vihar