Ganesh Visarjan: Remember environmental crisis more critical than religious sentiment
Ganpati visarjan was started and popularised by social reformer and lawyer Bal Gangadhar Tilak in 1892 in an attempt to promote nationalism among people. It was meant to be a show of strength against the British.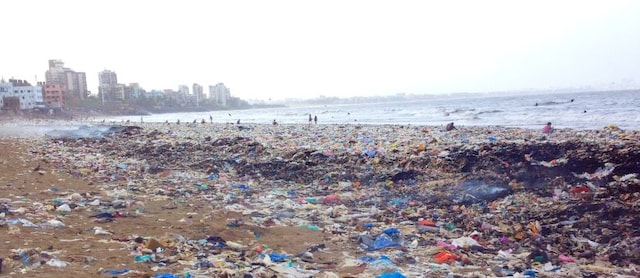 Editor's Note: This article was originally published on 5 September, 2016 and is being republished in light of Anant Chaturdashi, the 10th day of Ganeshotsav.
I think it's time to stop the Ganpati visarjan (immersion) in its current form — the ritual callously disregards our beaches and is apathetic towards our seas.
This thought occurred to me as I picked plastic from the Versova Jetty on a Saturday morning. I have joined a group of Versova residents, who pick plastic every weekend from the filthy beaches of the suburbs.
Afroz Shah, a lawyer with a vision and great tenacity, stumbled upon the Versova Jetty beach buried under four feet of plastic. This beach is barely a kilometer away from the fancy buildings that house Bollywood stars. This cleanup drive started off as a small project to clean the beaches around Versova. Today, it has grown to a strength of almost 200 people. The group picks over one lakh kilograms of plastic almost every week. The BMC helps with workers, bulldozers and trucks.
The Versova jetty is mostly accessed by the Koli community - that probably explains why it's been so ignored till date. The beaches at Girgaum and Juhu are cleaned regularly.
One day, as I was scoping the beach, to see how far the plastic deposits went, an angry fisherman came up to me and asked me angrily, "Where were you all these years? We've been living in this filth for ages." I felt so ashamed that I slunk away without answering his question.
On days that we go to the beach a bit early, it is not an uncommon sight to be greeted by people defecating on the seaside. Of course the sight is accompanied by the smell!
Our plastic and potty beaches are symptomatic of the colossal failure of urban living habits. As we pick garbage every weekend and the biggest festival of Maharashtra, Ganesh Chaturthi, approaches, my heart and the hearts of every person, who picks plastic from Mumbai's beaches, is filled with dread.
What is going to happen to the beaches during and after visarjan? People are going to immerse their Gods and their puja remains (all of course carefully packed in plastic bags) into the sea in the name of their favourite God and destroy the one thing that truly should be worshipped — our environment.
It is not like the government doesn't understand how urgently this issue needs to be looked at. The Central Pollution Control Board (CPCB), in an order, passed in June 2010 clearly states that, "Idols should be made from natural materials as described in the holy scripts. Use of traditional clay for idol making rather than baked clay, plaster of Paris, etc may be encouraged, allowed and promoted."
This is definitely not happening, as the reality on the ground is that plaster of Paris Ganeshas painted in toxic paint are being sold at every street corner. And they are getting bigger every year. The CPCB even specifies, "Painting of idols should be discouraged… Use of toxic and non-biodegradable chemical dyes for painting idols should be strictly prohibited." The Ganpati idols though seem to just get more colourful every year.
There is also a specific order on things to immerse: "Prior to immersion, worship material like, flowers, vastras (clothes), decorating material (made of paper and plastics), etc should be removed. Such material may be separately collected either for recycling or composting if bio-degradable or for disposal, if non bio-degradable."
The CPCB also says: "Through media, people should be educated about the ill effects of such activities on holy water bodies and encouraged to go for 'kar-sewa' in order to minimize, the adverse effects." The government clearly recognises there is a crisis but does not want to meddle with religion and has left the initiative to protect the environment to society.
For those who are not convinced that immersion in water bodies is harmful, there is evidence from an independent study done in 2014 by the International Journal of Scientific Research carried out in Malad Lake and Aarey Lake that clearly states that immersion is a major source of contamination and sedimentation.
Of course, there is the option of clay idols, but who is going to monitor whether idols are made of clay or not! That's why I feel a celebration that focuses on the community coming together and not on the act of the visarjan itself might be a possible consideration. This would also be in tandem with the Centre's Swachh Bharat campaign that we are all paying for.
At this point, I must state that the Prime Minister's office has been tagged on Twitter several times about the jetty cleanup, but Swachh Bharat has not reached Versova jetty yet. But the world has noticed and the United Nations Patron of the Oceans, Lewis Pugh, took part in the biggest plastic cleanup and joined this motley group of citizens (lawyers, chartered accountants, musicians, software engineers) to clean the beach in the first weekend of August.
Going back to forsaking visarjan and not the celebration of Ganesh Chaturthi, I feel political leaders and thinkers can play a huge role in this movement. It's time the state of Maharashtra - that I recently discovered was home to several progressive thinkers in the 19th century – leads India into the next century.
Our seas are choking and plastic lines the beaches instead of sand. We are soon going to suffocate in our own filth and faeces.
Maharashtra needs to remember how progressive they once were. They had heroes like Jotirao Phule and Tarabai Shinde – who respectively championed education of the lower classes and women. They were both astonishingly ahead of their times and the problems they pointed out in the education system and the mindset of society more than 150 years ago are prevalent even today. I was very impressed with Jotirao's thoughts because he saw clearly the problem ailing the education system that focused on the higher classes of society. The fact that Maharashtra did not choose to pay attention to his words has resulted in Maharastrians being a work force in their own state.
A young leader like Aditya Thackeray has the opportunity to herald a new way of thinking and actually take up issues that are going to be tomorrow's headlines. He can lead the way to making people aware how critical sea and beach pollution have become. Maharashtra actually needs a few progressive leaders to not get stuck to nonsense like cow slaughter bans and think ahead.
Also, it must not be forgotten that Ganpati visarjan was started and popularised by social reformer and lawyer Bal Gangadhar Tilak in 1892 in an attempt to promote nationalism among people. It was meant to be a show of strength against the British. The purpose was to gather people and celebrate; before this, the festival was a domestic affair for Maharastrians. But, 124 years later, the festival has moved outside the arena of promoting unity among Indians into the space of social and political sentimentality — while, there is nothing wrong with that, we must be acutely aware that the environment is under threat.
Our seas are choking and plastic lines the beaches instead of sand. We are soon going to suffocate in our own filth and faeces.
According to a study by the National Environmental Engineering Research Institute (NEERI), dated on its official website as 26 July, 2016, is headlined: Keep off Sand: Here's how Filthy Mumbai's Beaches are. The report says that faeces in the sea is 100 to 1000 times above the permissible amounts and swimming in the sea can be lethal and that one isn't "any safer standing on the shore."
In light of this, carrying out visarjan rituals is irresponsible. The environmental crisis is more critical than religious sentiment. Even Prime Minister Narendra Modi addressed this issue in his recent 'Mann Ki Baat' on 28 August — "Why should we not go back to our tradition of using clay for making idols? Eco-friendly Ganesh Festival is another form of social service." He has correctly pointed out that thinking of the environment is our social responsibility.
We need to figure out ways in which we can work with the government and municipal corporations to prevent open defecation and open discharge from drains instead of polluting the seas further in the name of religion.
Every era has a different crusade to fight. Ours is the environment and human rights; not nationalism and religion.
India
Citing an example of China on the issues, he said that the neighbouring country implemented 'one child policy' in 1979 and has developed itself
World
Research has shown restoring so-called 'keystone' species — those with an outsized impact on their environment — is vital for the health of ecosystems, and can come with unexpected benefits for humans
World
A significant polluter because it relies on coal to generate about 80 per cent of its electricity, South Africa plans to reduce that to 59 per cent by 2030 by phasing out some of its 15 coal-fired power stations and increasing its use of renewable energy