Ganesh Chaturthi: How social media expressed its love for modaks and Bappa
The ten day Hindu festival to celebrate Ganesh Chaturthi kick started across the country and social media users shared all the buzz around the festive occasion with traditional idols, delicious modaks and dhols dominating the news feed.
Celebrations for the ten-day long Hindu festival, Ganesh Chaturthi began on Monday. The newsfeed was dominated by users sharing their excitement around the festive occasion by sharing pictures of traditional idols, delicious modaks and dhols.
Politicians, cricketers and various other celebrities took to social media to express their love for Bappa.
Prime Minister Narendra Modi was first in line to wish the nation.
#GaneshChaturthi greetings to everyone. May the blessings of Lord Ganesh always remain with us. Ganpati Bappa Morya!

— Narendra Modi (@narendramodi) September 5, 2016
Andhra Pradesh CM Chandrababu Naidu also prayed for the "prosperity of all."
On the auspicious occasion of #GaneshChaturthi, I pray to Lord Ganesh for the well-being &prosperity of all. May you overcome all obstacles.

— N Chandrababu Naidu (@ncbn) September 5, 2016
Cricket favourites and stars, Sachin Tendulkar and Harbhajan Singh, shared their moments from the auspicious day.
Happy #GaneshChaturthi to you and your family. Stay blessed 😊 pic.twitter.com/1iei5xiIHE

— sachin tendulkar (@sachin_rt) September 5, 2016
Actor Akshay Kumar took to Twitter to wish and spread a different kind of message.
While visiting some1's house 4 darshan offer notebooks instead of sweets etc which can later be donated 2 municipal schools #GaneshChaturthi

— Akshay Kumar (@akshaykumar) September 5, 2016
Among other celebrities offering prayers were Anil Kapoor, Sophie Choudry and Sushanth Singh Rajput.
Starting my day by seeking blessings!! Happy #GaneshChaturthi    #GanpatiBappaMorya pic.twitter.com/HJmWcg3ltR

— Jai Singh Rathore (@AnilKapoor) September 5, 2016
Happy #GaneshChaturthi everyone.
And hey 'Life' #HappyTeachersDay .#Htcity pic.twitter.com/WzxUnlWHbU

— Dhoni (@itsSSR) September 5, 2016
Happy #GaneshChaturthi everyone! May u be blessed with peace, prosperity, luck & happiness❤️ #ganpatibappamorya pic.twitter.com/sCaUrUdb0n

— SOPHIE CHOUDRY (@Sophie_Choudry) September 5, 2016
Instead of only posting several colourful photos, users took their excitement to streets —  people danced their hearts away because Bappa is back!
Ganesh Chaturthi is rather incomplete without the delicious modaks. Here are different versions of the traditional delicacy — good luck trying contain the rumble in your stomach.
For at least the next few days, Ganesh is going to rule the streets. You shouldn't miss out on this festive occasion because Ganpati Bappa Moriya!
India
The word Ganesha is formed by combining two Sanskrit words, with 'gana' meaning a multitude of people and 'isha' meaning lord
News & Analysis
The Ganesh Chaturthi New Beginnings Missions are now live and will go on until 21 September.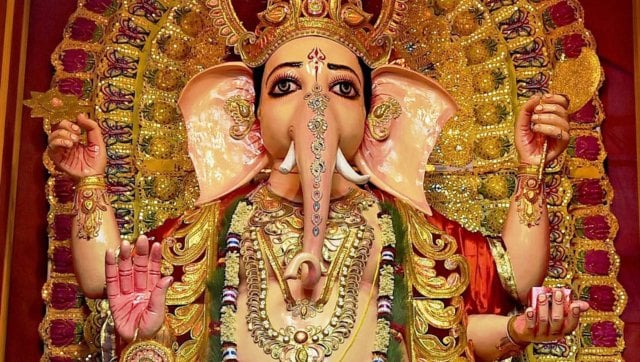 India
Narendra Modi wished the country, asking Lord Ganesh to bring "happiness, peace, good fortune and health" to everyone