Gandhinagar court orders inquiry into bribery allegation made by Patidar leader Narendra Patel
A court in Gandhinagar on Wednesday ordered inquiry into a complaint that BJP leaders offered a leader of the Patidar Anamat Andolan Samiti bribe to join the party.
Ahmedabad: A court in Gandhinagar on Wednesday ordered inquiry into a complaint by Narendra Patel, member of the Hardik Patel-led Patidar Anamat Andolan Samiti (PAAS), that BJP leaders offered him a bribe to join the party.
Additional Chief Judicial Magistrate R Trivedi ordered 'court inquiry' after hearing the PAAS leader's lawyer, and asked him to submit evidence on 3 November.
Last week, Narendra Patel claimed that the ruling party offered him Rs 1 crore to switch loyalties. He then filed a private complaint in the court seeking probe against five BJP leaders.
The BJP leaders tried to "purchase him like a slave" by giving him Rs 10 lakh and promising more money, he claimed.
The complaint names state BJP president Jitu Vaghani, state BJP youth wing president Rutvij Patel, party spokesperson Bharat Pandya as well as former PAAS leaders Varun Patel and Mahesh Patel who have joined the ruling party.
He has sought probe under IPC sections 171 (H) (illegal payment in connection with an election), 171 (C) (undue influence at election), 370 (buying or disposing of any person as a slave), 384 (extortion), 417 (cheating), 506 (2) (criminal intimidation) and 120 (B) (criminal conspiracy).
The BJP leaders also wanted him to approach other PAAS members and buy them off as they were speaking against the party, Narendra Patel claimed in the complaint.
Narendra Patel joined the BJP on Sunday. Few hours later he held a press conference and alleged that he had been offered Rs 1 crore for joining the party, and showed Rs 10 lakh in cash which he said he had received.
He joined the BJP only to expose it, he said.
In his plea, he said he was approaching the court with a private complaint as he didn't trust police.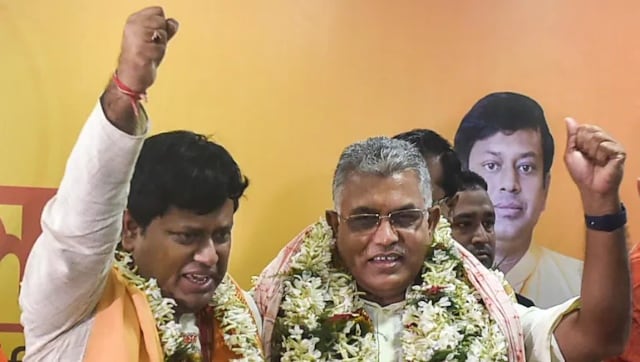 Politics
Like many BJP office bearers, Dilip Ghosh too was an RSS man. However, his relationship with the RSS deteriorated over time
Politics
Earlier on Saturday, the home ministry reduced Supriyo's security category from the 'Z' to 'Y' category
Politics
Addressing the foundation day of the All India Mahila Congress, Gandhi said that the ideology of the Congress was completely opposite of the BJP-RSS and only one of the two ideologies can rule the country.