On Tuesday Twitter India suspended the handle of a popular anonymous user's account @GabbbarSingh only to be restored later in the day. Known for his satirical take on a range of topics and funny one-liners, the handle was widely popular among Twitterati and was followed by over 4 lakh users. Whether it is about new film or country's political situation, @GabbbarSingh always had something or the other to add. The quips are popular and are often laced with political undertones. Twitter, however, has temporarily put a stop to this.
Gabbbar Singh spoke to Firstpost and requested anonymity on his real identity adding that the company has not yet offered an official reason behind the sudden suspension of his account. "Random suspension was uncalled for and only shows Twitter's algorithm is sloppy," Gabbbar told Firstpost.
His best guess for the suspension though is his tweet to Delhi Chief Minister Arvind Kejriwal, where Gabbbar pokes fun at Kejriwal.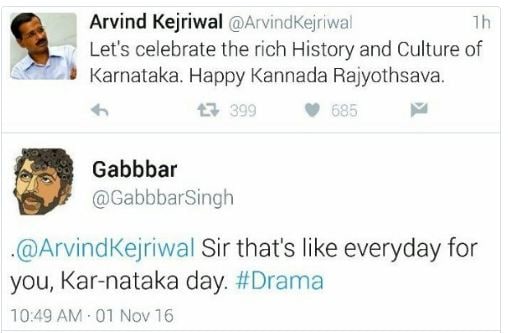 The tweet was a "harmless pun at the most and certainly couldn't be considered malicious or abusive," said Gabbbar.
One only needs to run through Twitter to find out a battery of rancid  abuses that people hurl at each other on the social media platform. Trolling, witty puns, and sarcasm is practically what keeps the show running on the micro blogging site. Besides this, people of all political dispensations have been poked fun at, tweeples barely spare anyone their barbs. This tweet, if it were indeed the reason behind suspension, was in no way any different from the Twitter traditions. However, Gabbbar blames it on the sheer number of AAP supporters on the site, who were miffed at his jibe and might have chosen to report his account.
A twitter user reproduced a snapshot of the tweet, that is supposedly behind the suspension.
@c_aashish this? pic.twitter.com/RGKyP7jRo6

— Na Mo (@Navneet_IC) November 1, 2016
On a second guess, Gabbbar thinks it could have been his tweet that showed a brief clip from the newly released film Ae Dil Hai Mushkil, where fans of the Shah Rukh Khan are celebrating Diwali and bursting crackers at the Malegaon theatre. The actor did a short cameo in the film, which apparently enthused his fans watching the film. "The tweet could have been considered as infringement of copyright," added Gabbbar.
Nonetheless, he says pulling down the whole account was uncalled for; a mere intimation to take down the single tweet would have been enough.
All this comes at a time when public criticism of Twitter's take down process is as high as it has ever been. As argued in this article on Forbes, that internet is increasingly shifting away from a space that was considered the "flag-bearer of free speech." The article points out how the ten-year-old "poster child of the freewheeling social media era" has consistently shifted away from its free speech policy as it comes to terms with the realities of commercialisation over the risks of brandishing free speech.
Another article in Motherboard maps the pragmatic shifts in Twitter's policy over time. "Changes in the rules over time reflect the pragmatic reality of running a business. Twitter talked some big talk, but it has buckled under both lawsuits and media outrage, tweaking and changing the Rules around speech whenever something threatened its bottom line. For a business, free speech can only be a meaningful value if it doesn't really cost anything," the article reads.
Similarly another write-up in Forbes,  points out how Tweeples have no ground to even meaningfully argue what must come under the company's globally-enforced free speech policy. If as per the policy, any content is deemed unfit, there is very little scope for an appeal.
While the real reason why @GabbbarSingh was pulled down remains unknown, Twitterati voiced their support for the satirist.
@c_aashish @TwitterIndia @GabbbarSingh what ? Why the hell twitter did that. Does it want to shut down ?bring back gabbar or else....

— Ruchir (@Ruchirdilse) November 1, 2016
So @twitter will allow abuse & hate speech, will not take action but will suspend the likes of @gabbarsingh .

— Shahnawaz Khan (@shahnawazk) November 1, 2016
Shameless act by @TwitterIndia @twitter again... Suspended a Harmless humour account @GabbarSingh. No place for Free-Thought....

— Nabanita (@nita1407) November 1, 2016
If @gabbarsingh 's account has been suspended for this then something is terribly wrong with this platform and it deserves to die faster. pic.twitter.com/tBiDYAeEEW

— Sumit Kashyap (@sumitkashyapjha) November 1, 2016
@TwitterIndia @twitter you need to unblock @gabbarsingh
Freedom of speech. We have silly politicians too! https://t.co/t4XDMd4gSa

— HarishV (@harishv) November 1, 2016
@sumitkashyapjha @gabbarsingh hahah such a good joke and twitter can't take it?!

— Prashanth Rao (@vprashanth) November 1, 2016
@GabbbarSingh on his part has sent an appeal to @TwitterIndia to reconsider their decision to pull down the account, and the company he says has reverted with the official response that the matter is being looked into.
He also added that he was not been given any official reason behind the suspension. "I'm assuming it will be restored soon as I had no malicious intent; my tweets were not offensive," he said.
Updated Date: Nov 01, 2016 19:47 PM