Fuel prices rise for second consecutive day; check current rates in metros here
In Chennai, petrol prices increased from Rs 92.55 on 4 May to Rs 92.70 on 5 May after a rise of 15 paise in its price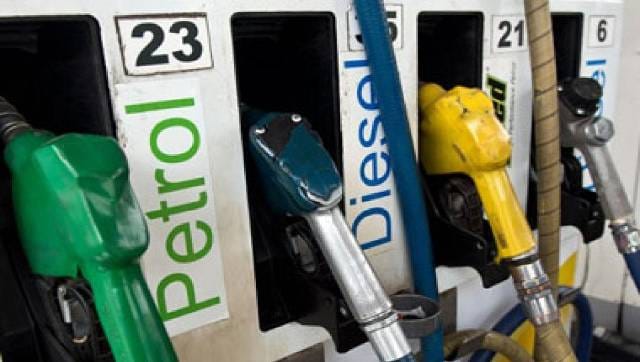 After the fuel rates were hiked by up to 18 paise on 4 May, the petrol and diesel prices have witnessed an increase again for the second consecutive day. On Wednesday, 5 May, the price of fuel increased by up to 21 paise.
The revised rates are decided by state-run oil marketing companies and are effective from 6 am every day. Companies like Indian Oil Corporation, Bharat Petroleum and Hindustan Petroleum decide the rates of fuel.
In Delhi, one litre of petrol now costs Rs 90.74 after the price increased by 19 paise from Rs 90.55. One litre of diesel can be bought at Rs 81.12 in the national capital after the price increased by 21 paise from Rs 80.91 per litre.
Mumbai has the highest fuel price among all the metro cities of the country. Today, the price of petrol in the city is Rs 97.12 per litre after getting increased by 0.17 paise. While Diesel costs Rs 88.19 per litre after a hike of 21 paise.
In Chennai, petrol prices increased from Rs 92.55 on 4 May to Rs 92.70 on 5 May after a rise of 15 paise in its price. On the other hand, with a hike of 19 paise, diesel in the city costs Rs 86.09 today.
The price of one litre of petrol has increased in Kolkata by 16 paise. It now costs Rs 90.92 per litre in the city. Similarly, diesel price also increased by 20 paise now can be bought at Rs 83.98 per litre.
Previously, fuel prices remained constant for 18 days but have increased for two days consecutively.
India
The fuel pump owner launched the three-month awareness campaign on 15 July and has found support from Saras Dairy, a dairy brand in the state, Bhilwara district administration and the pollution control board
India
The allocation for city gas operators like Indraprastha Gas Ltd in Delhi and Mahanagar Gas Ltd of Mumbai has been increased from 17.5 million standard cubic meters per day to 20.78 mmscmd, officials said
Sports
A standalone net loss of Rs 10,196.94 crore during April-June compares with a net profit of Rs 1,795 crore in the same period a year back