FTII: On Gajendra Chauhan's first day in office, cops lathicharge, detain 40 students
Seven months after his controversial appointment, Gajendra Chauhan took charge as FTII chairman on Thursday, even as Pune police detained more than 20 students for protesting against his appointment.
Seven months after his controversial appointment as the chairman of Film and Television Institute of India (FTII), BJP member Gajendra Chauhan was welcomed by protesting FTII students in Pune on Thursday as he took charge as chairman. Pune police detained more than 40 students for protesting against Chauhan's appointment, reports said.
Police used force to disperse and round up the group of students protesting against Chauhan on Thursday. Notwithstanding a warning issued by police on Wednesday to maintain peace on the eve of the first meeting of the new FTII Society headed by Chauhan, members of FTII Students Federation (FSA) staged a protest demonstration at the institute's gate, shouting, "Gajendra Chauhan go back" which led to a scuffle between the students and police.
The meeting was expected to be attended by, among others, Anagha Ghaisas, Rahul Solapurkar, Shailesh Gupta and Narendra Pathak — the members whose appointments have been objected to by the FTII Students Association (FSA) for being political and allegedly lacking in merit and stature for the post.
"We have been brutally targeted by police who lathi-charged us with the knowledge of FTII administration," alleged one of the students as he was put in a police van and whisked away.
A woman student of the FTII, Shimi told PTI, "We were protesting peacefully to register our dissent because political appointees are taking charge as members of the FTII Society. We got beaten up without provocation and taken to police station. Our protest and resistance will continue."
However, Pune's Deputy Commissioner of Police Tushar Joshi, who was on the spot, said, "We had asked the students to demonstrate peacefully, but we had to use force because they wanted to block the way to the institute and therefore we had to detain them. We used minimum force."
The students continued to raise anti-Chauhan slogans even as his car entered the FTII premises.
On his part, Chauhan remained unfazed on Wednesday, saying, "It's about fulfilling the responsibility... I have been ordered by the government, and I will do my job. Let me go there and see. I can't comment on what they will do, but I am ready to do my job."
Quoting the official statement by the students association, CNN-IBN reported saying, "We still have problem with these appointments and will continue to resist it unless the concerned authorities put the society in abeyance and set a process for the further appointments, since it is the question of our academics."
The students had been on an unprecedented 139-day strike demanding Chauhan's removal. They have been on a strike opposing Chauhan's appointment since 12 June, 2015 and called it off on 28 October, 2015 after repeated negotiations with the government and returned to the classes.
However, the students on Wednesday said that this did not mean they had given up. "We still have problem with these appointments and will continue to resist it unless concerned authorities put the FTII Society (which governs the institute) in abeyance. Higher education in the country should be free from all political interference. Pahlaj Nihalani's presence in the Society for holding an unjust post in CBFC is also unacceptable," the FSA said.
A tough posture by the Information and Broadcasting Ministry which steadfastly refused to accept the FSA demand for removal of Chauhan, a crackdown on some students and their arrest following a gherao of the institute director Prashant Pathrabe ultimately saw the long drawn out agitation by the students fizzle out, as they returned to academics.
A clean-up drive continued at the campus to remove graffiti on the walls and protest paraphernalia and slogans painted all around the various buildings by the students during their stir.
With inputs from PTI and IANS
Subscribe to Moneycontrol Pro at ₹499 for the first year. Use code PRO499. Limited period offer. *T&C apply
World
Crown Prince Mohammed bin Salman had cultivated a climate of fear that made it unlikely for aides to act without his consent, according to the report
World
In mainland China, major events have been largely erased from public memory by censorship. Critics fear that model is being imported to Hong Kong.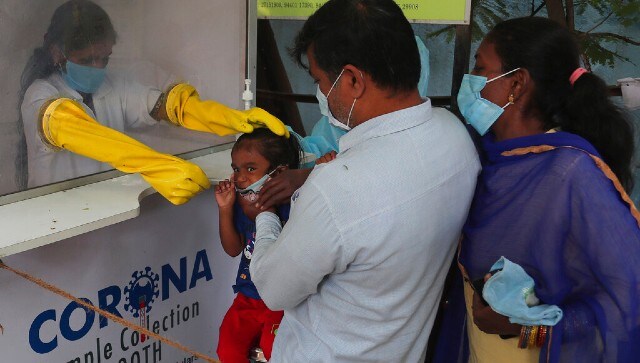 India
It is important to reiterate that the argument of 'natural herd immunity' remains largely a thereotical one, and cannot be relied on to mitigate the disease, especially with millions of vaccine doses ready