From temples to dargah: Trupti Desai to lead movement for equal rights at Haji Ali on 28 April
After entering Trimbakeshwar temple, Trupti Desai to lead movement for equal rights at Mumbai's Haji Ali on 28 April
Trupti Desai of Bhumata Brigade, who successfully spearheaded the agitation seeking entry of women in Shani Shingnapur's sanctum, will now lead a forum – Haji Ali Sabke Liye – to peacefully campaign against the ban on entry of women into the interiors of the 15th century Sufi shrine located in Mumbai on 28 April, reports DNA.
The forum also stated that they are also planning similar movements in mosques across the country where women are banned from entering the shrines, states the report.
Earlier on Friday, Desai long with other women activists, offered prayers at the inner sanctum of the Trimbakeshwar temple in Nashik, where the entry of women was forbidden for ages. Although they were stopped at the gate of the temple for a brief moment, they were later allowed inside to worship.
This significant development of permitting women in one of the 12 Jyotirlingas, a devotional object representing Lord Shiva in the country, came 13 days after women were allowed to enter the Shani Shingnapur temple in Ahmednagar district on 8 April.
Desai was reported as saying that she will take the movement to the national level and will  meet Prime Minister Narendra Modi next month in this regard.
Desai says she is aware that gaining entry into temples is not the only fight. The key is to create awareness — "there are many who do not know about the concept of equality, or that it is guaranteed by our Constitution. Our organisation is working towards this and perhaps this is how we can consistently keep the momentum of the movement alive," Desai had told Firstpost.
"We are not against tradition, but against wrong practices. Take for example, the Sati Pratha or Kesh Mundan, we have done away with those," Desai had said.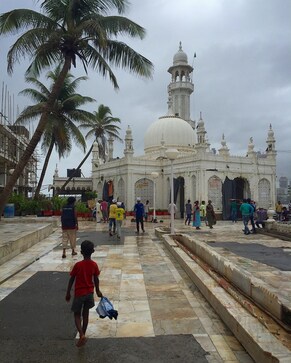 India
A Public Interest Litigation filed on 28 July, by women activists Noorjehan Niaz and Zakia Soman from the NGO Bharatiya Muslim Mahila Andolan, challenged the ban on the entry of women into the inner sanctum of the city's Haji Ali Dargah.
India
Activists from Bhumata Brigade and under the leadership of activist Trupti Desai on Monday announced that they will march to the Trimbakeshwar temple.
India
Gender rights activist Trupti Desai on Friday visited the Trimbakeshwar temple and offered prayers inside the sanctum sanctorum of Trimbakeshwar