From Kanhaiya Kumar to Shehla Rashid Shora: What prominent JNUSU office-bearers are doing today
At look at some prominent JNUSU office bearers of the recent past and what they are doing today.
Jawaharlal Nehru University Students Union elections have often in the past thrown up leaders who would go on to become major politicians in the national political sphere. SitaramYechury, DP Tripathi, Prakash Karat and Kavita Krishnan are some examples.
This piece looks at some prominent JNUSU office bearers of the recent past and traces what they are doing today.
Shehla Rashid Shora had first contested the GSCASH election unsuccessfully in 2014. She became AlSA's vice presidential candidate in 2015 and won, in an election that saw AISA lose the presidential and joint secretary posts to AISF's Kanhaiya Kumar and ABVP's Saurabh Sharma respectively. In the wake of the arrest of JNUSU president Kanhaiya Kumar in February, she served as the leader of the students union, and played an assertive role in the 'Stand With JNU' movement and on highlighting violations of human rights in Kashmir (though belonging to a party that takes a constitutional position on Kashmir). She has an upcoming book being published by Penguin Random House India.
Sucheta De was the JNUSU president in 2011, the first year that elections were held after five years of Lyngdoh boycott. She is currently the national president of AISA. She directs the day to day activities of AISA and recently had made a trip to Una in support of the Dalit agitation.
Kanhaiya Kumar was the JNUSU president in 2015-16, who is a member of AISF and is pursuing a PhD from the School of International Studies. He won an upset victory of AISA's Vijay Kumar and ABVP's Gaurav Jha, primarily on the basis of anti-incumbency sentiments feeling against AISA and the fiery nature of his speech on the floor of the presidential debate. The results showed a substantial cut in AISA and SFI votes in favor of Kanhaiya. In February 2016, on the basis of a complaint filed by ABVP regarding a programme titled Country Without A Post Office — Kanhaiya was arrested by the Delhi Police despite having had no role in organising the event. It later turned out that he had been booked on the basis of azaadi slogans being shouted in a doctored video. On his return to campus after the granting of bail, he made a rousing speech telecasted live by all major news channels, that challenged the national political status quo and the right-wing political agenda of PM Narendra Modi. Failing to achieve what he considered "Left unity" by having excluded DSF, his party withdrew from the Left alliance this year, leaving only AISA and SFI.
Anubhuti Agnes Bara was vice president of JNUSU in 2013, who is presently doing a PhD at the Centre for Historical Studies, working on tribal history. She was an AISA candidate. One major achievement during her tenure was the prevention of delinking of BA and MA in language courses. She took charge of the union in the wake of the resignations of the then-president and joint secretary due to a sexual harassment case filed in the GSCASH. After her tenure ended, she developed differences with her party. She is no longer an AISA member, though she says she still occasionally votes for them and is still engaged in other political activism.
Akbar Chowdhury was JNUSU president in 2013. He hails from Meerut and was the AISA candidate. He was embroiled in a sexual harassment case filed against him and his fellow Joint Secretary and was made to resign by his party. He remains an active member and leader of his party after the GSCASH Panel cleared him.
Shafqat Hussain Butt was the joint secretary of JNUSU in 2014, from AISA. He is pursuing a PhD in Persian Studies from the School of Languages. Being a Kashmiri, he played a role in providing and ferrying flood relief materials to Jammu and Kashmir on behalf of the JNUSU during his tenure. His research required him to spend some months of his tenure in Iran. He remains an active AISA member.
Lenin Kumar was JNUSU president in 2012, from DSF. He had been a leading member of SFI for many years, like many of his current colleagues. He had been an office holder of the JNU SFI unit and a State Committee member of the Delhi SFI when he and several of his comrades were expelled from the party for passing a resolution dissenting with CPM support of Pranab Mukherjee as President of India. The breakaway JNU unit developed into DSF, and Lenin as a presidential candidate was able to run without the political baggage of Nandigram and Singur that CPM brought — winning his election decisively.
Saurabh Sharma was JNUSU joint secretary in 2015. He belongs to ABVP, and won an upset victory over the AISA candidate. His tenure involved him being at loggerheads with his ideologically opposed office bearer colleagues, often bringing out contradictory posters and pamphlets stamped with the JNUSU name. He played a role in scapegoating students during the sedition case against the organisers of a program held in February 2016.
World
To overthrow Hamas, Israel would need to reoccupy Gaza in a prolonged and bloody operation that would provoke international condemnation. By the same token, Hamas has no expectation of lifting the Israeli-Egyptian blockade imposed on Gaza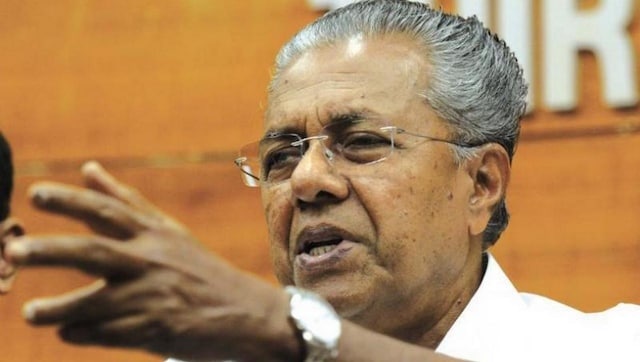 Politics
Along with welfare politics, the Left has also benefited from the significant shift in Kerala's political landscape with the rise of Hindu nationalism
Politics
In the recently-held West Bengal assembly polls, Byapari's remarkable story took another twist.