From Bazaar to art colleges: 'The Printed Picture' traces four centuries of printmaking in India
An exhibition titled The Printed Picture: Four Centuries of Indian Printmaking, showing at Punjab Lalit Kala Akademi, Chandigarh, in collaboration with Delhi Art Gallery, documents exotic India's vivid history in rare images, produced in the little recognised visual art medium.
There is no documentation of the history of printmaking in Indian art history. Printmaking or graphic art, as it was commonly known, followed a different trajectory from painting and sculpture. An exhibition titled The Printed Picture: Four Centuries of Indian Printmaking, showing at Punjab Lalit Kala Akademi, Chandigarh, in collaboration with Delhi Art Gallery, documents exotic India's vivid history in rare images, produced in the little recognised visual art medium. Curated by artist and art historian Paula Sengupta, it offers a comprehensive overview of the many facets of this art form, documenting its evolution.
Unlike paintings, affordable only to the elite few,  prints, due to availability of their multiple copies, are meant for art loving masses. Printmaking, often confused with printed copies of artworks, is a creative art form, like painting or sculpture.
Prints are created by transferring ink from a matrix or through a prepared screen to a sheet of paper or other material. Common types of matrices include — metal plates, usually copper or zinc, or polymer plates for engraving or etching; stone, aluminium, or polymer for lithography; blocks of wood for woodcuts and wood engravings; and linoleum for linocuts. Screens made of silk or synthetic fabrics are used for the screen printing process.
M F Husain
Almost all famous artists experimented with printmaking in their creative journey, from Rembrandt to MF Hussain.
In India, printing, in which lies the technology of printmaking, was introduced by Portuguese settlers in Goa, in the 16th century. The Jesuits needed an abundance of Christian texts and though many of these had illustrations and embellishments, it was not until the arrival of the European artist and adventurers 1769 onwards, that the notion of using this medium to create an independent work of art entered India. Before the advent of photography, lithography, intaglio and relief printmaking came to be used for documenting the exotic men and women by the European artists for their audience back home. William Daniell and W Carpenter's prints of Indian landscapes and mosques and temples were trailblazers for the art of printmaking, in colonial India.
The Bazaar art
Being labour intensive, the workforce who manned the machines for printmaking was Indian. Gradually, these local people set up their own printmaking machines in Calcutta, Lahore, Amritsar, Lucknow, Pune etc, their prints came to be known as Bazaar School.  In the 19th century, the Bazaar schools of printmaking constitute the first indigenous evidence of printmaking, as we know it today. They derive their origins from Indian classical and folk traditions, peppered with the undeniable influence, of state and technology, of the European in India. This 'new' art of amalgamation was born of the social and political milieu of these artisan printmakers with print representing folk, religious, social and political themes. Among the most prolific of Bazaar schools was Bat-tala School of Calcutta, and lithographs of Amritsar and Lahore. Myriad forms of printmaking illustrations flooded the markets in vernacular texts, product labels like matchbox covers and calendars etc.
The art schools 
Following the recommendations of the select committee in 1835, five schools of art were set up in major cities of India. Printmaking was taught as Industrial Art in these schools which remained imprisoned with the rigid confines of a curriculum aimed at producing skilled draughtsmen and technicians for employment purpose. In these art schools, for the first time,  Indians — trained in the art of printmaking — started to have artistic aspiration; to produce original works of art in the medium, in their own studios. Bamapada Banerjee and Raja Ravi Varma soon transformed this Indo-Anglian model of art into accepted practice, spawning innumerable clones countrywide. Chromolithography and oleography were used to produce oil paintings of gods, goddesses and myths, thus making the beginning of calendar art.
Modernism enters printmaking
Gaganendranath Tagore was the first modern Indian artist who tried to transform printmaking from a mere economic activity to a cultural activity and to communicate his social responses as caricatures. His lithographic album Adbhut lok, published in 1917, is considered to be the first artistic print. A new era began with the establishment of Kala Bhavan in Shantiniketan in 1919, where Nandalal Bose took charge in 1921 and introduced graphic art in the curriculum. Creative printmaking received a new energy in this period. Various graphic media like wood-cut, lino-cut, etching, dry-point, lithographs and non-traditional matrix such as cement blocks were used by Bose, Binode Behari Mukherjee, Ramendranath Chakravarty, Manindra Bhusan Gupta and Biswarup Bose, new techniques from China and Japan were also adopted in prints. Mukul Day returned from the United States in 1916, as India's first trained printmaker, marking the birth of modern Indian printmaking as we know it today.
Professional and flourishing Bengali printmaking artists were transforming the urban centre of art, Calcutta. Around 1920 to 1940, the relationship between individualism and collectivity, urban, modern, rural and traditional, were represented and negotiated through prints. With the rise of Swadeshi movement, printmaking was used as a political tool. "Artists like Chittaprosad, Zainul Abedin and Somnath Hore used printmaking as a medium of protest during the freedom struggle," says Sengupta. The cataclysmic circumstances of the Bengal famine of 1943, offered a context manifested with a sense of urgency in their works. These artists explored the limits of the medium, which was taken to poetic heights by their inheritors like Suranjan Basu, Pinaki Barua, Zarina Hashmi et al.
The quest for a new, confident voice
Krishna Reddy, though never lived in India, influenced the approach to printmaking from narrative to 'a living process', radically different from the trends followed. He took workshops across the country, introducing the technique of viscosity. Most printmakers of the modernist era are influenced by his approach of spiritual abstraction to the art of printmaking.
Post-Independence, artists were sorting their dilemmas of coming out of western influences to find their own voice. Unapologetic of mastering their coloniser's technology, they were seeking a new idiom, though lack of infrastructure — materials, technical virtuosity and proper instruction remained a daunting task. Several groups of printmakers came into being, Madras gave fine printmakers like AP Paneer Selvam, RB Bhaskaran, Dakshinamoorthy et al. 'Shilalekh' of Bombay, attempted to sell original artworks at a minimal price, emulating the highly successful example of Raja Ravi Varma, but they failed. Cooperative attempts were made in Hyderabad, by P Gauri Shanker, Laxma Goud and DLN Reddy, who set up a press in a garage. The Society of Contemporary Artists, Calcutta, gave artists like Sanat Kar, Lalu Prasad Shaw, Shyamal Dutta Ray and Amitabh Banerjee, while Jagmohan Chopra started Group 8 in Delhi with his students Anupam Sud, Jagdish Dey, Prashant Vichitra, Paramjit Singh, Krishan Ahuja et al. Their works defined and enriched Indian printmaking, in multiplicity.
In the 1990s, the Garhi Studio, established by Lalit Kala Akademi, in Delhi, offered a vibrant space with facilities of printmaking. Some of those who used the space created Indian Printmakers Guild to bridge the gap between contemporary and modern art. Not deterred by the proliferation of telephone cameras as a tool of instant documentation and continuous appropriation of technology in printmaking notwithstanding, the technology of 1800 is used as an artistic tool by artists to express the complex realities of our times, artistically.
All images courtesy: Lalit Kala Academy, Chandigarh
Life
After spending years restoring several barracks within the Red Fort, The Archaeological Survey of India (ASI) has opened the multistorey barracks to the public.
Entertainment
In a blow to makers of Bollywood movie 'Rang Rasiya', claimed to be based on the life of legendary 19th century Indian painter Raja Ravi Varma, a Kerala court has stayed the release of the film which was due to hit theatres on Friday.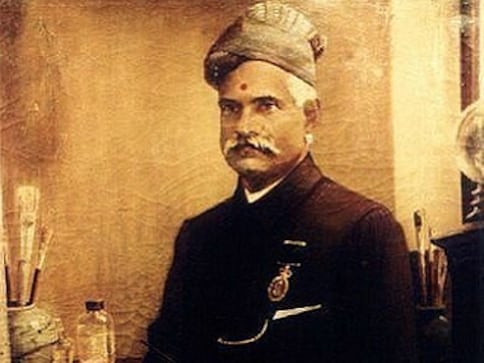 Life
Rukmini Varma, the great-great-granddaughter of Raja Ravi Varma, has written about what the painter was like outside the world of art in her book Hidden Truth