Four years of Narendra Modi govt: A pithy and cool micro-site tells and sells 48-month success story
Overhauling the government's image has been a key focus area of Modi. The micro-site turns on its head the concept of government websites in its basic parameters of presentation, information and engagement and shows how data can be used to tell and sell a story of success.
MyGov.in, a micro-site that presents the National Democratic Alliance (NDA) government's achievements over 48 months, is creating waves in online space. The reasons gives us a peek into Narendra Modi's style of functioning.
Government websites are meant for informing the citizens and carrying out online services but these carried such an ill-repute of inefficiency and dullness that none except the dogged or desperate dared venture its corridors. Navigating the bad form, dreary content, outdated information, missing data or broken links tested the limits of patience.
Overhauling the government's image has been a key focus area of Modi. The micro-site turns on its head the concept of government websites in its basic parameters of presentation, information and engagement and shows how data can be used to tell and sell a story of success.
The UPA released its annual report cards through the Press Information Bureau, which was the online concept of handing those who wanted to know about the government, a sheaf of papers and then leaving them to their fate. It indicated the government's fatalism that no one would be interested in knowing its progress reports. Modi not only believes that he has a story to tell, he also seeks active engagement from citizens. He reckons they would be interested in knowing exactly what he has done and achieved over 48 months.
The micro-site catches this fundamental difference in thinking by focusing on easy navigation (not too many boxes, links and sidebars), sleek interface and stunning info-graphics. Consequently, MyGov.in has less clutter, no dead links or irritating pop-ups. Users have the option of viewing info-tiles in English or Hindi via a drop-down menu that reflects attention to detail.
The showstopper, however, is the Performance Dashboard that shows the impact of various Central schemes and initiatives through figures that seemingly update in real time. The prime minister's aim is to tell the citizens in a nutshell what he has done and achieved over a period of four years in the areas of Direct Benefit Transfer (DBT), Jan Dhan Yojana, Ujjwala Yojana, Atal Pension Yojana, Mudra Yojana, PM Awas Yojana, LED distribution scheme, length of road constructed (in km) under the Gram Sadak Yojana since fiscal 2013-14, etc, with one tile mentioning a 'zero' to denote the number of un-electrified villages.
Apart from the visual effect which catches immediate attention, the Performance Dashboard in MyGov.in serves two purposes. One, it is Modi's way of letting the electorate know that he has not wasted his mandate and has used resources judiciously to effect structural reforms. Two, it reveals the prime minister's conviction that media will not convey to people the work that he has done, and therefore he must take it upon himself to share the story.
The government's focus areas clearly defined on top in form of Accelerating Growth, Commitment to Social Justice, Development for All, Eliminating Corruption, Harnessing Yuva Shakti, Healthy India, Infrastructure for New India, Putting Farmers First, Speed and Scale of Transformation, The World Sees a New India, and Women Led Development.
Clicking on these tabs open a page where blogs by Union ministers are displayed along with relevant infographics. For instance, while 'Eliminating Corruption' leads to 'Use of Technology to Boost Transparency', 'Greater Formalization for a Healthier Economy', etc., 'Putting Farmers First' opens to 'Fertilizer Units to Boost Production', etc.
While these are hardly groundbreaking navigation tools, it is a welcome change to see the method being applied in a government website.
Some of the minister who have contributed blogs include Maneka Gandhi, Radha Mohan Singh, Harsimrat Kaur Badal, DV Sadananda Gowda, Suresh Prabhu and others. This lends a personal touch and an informality which is further reinforced with video testimonials from beneficiaries of flagship government schemes. In one of the clips, for instance, Karthik Chandrashekar of AIC-Sangam Innovation Foundations talks about Atal Innovation Mission and how it is helping entreprenuers.
The download centre has e-books, flyers, images, print ads, and clips that may be shared and downloaded. The focus remains on key achievements in 48 months.
The site is pithy, sexy, colorful and takes an unconventional way to sharing statistics. It works on a concept that bombarding the user with too many data at starting point might make it confusing and counterproductive. The user might feel disinterested or overwhelmed. Here, the minimalistic yet sleek design attracts the casual as well as serious users.
People who have a short attention span might still feel interested to browse the information since it is presented in an appealing way (and may feel encouraged to explore more) while researchers, journalists, policymakers and other interested citizens may feel relieved at the clutter-free presentation that allows them to dig deep and access data without wasting huge amount of time in navigation.
Sports
Competing in his debut Paralympics, Kumar (18) set a new Asian record with a 2.07-metre jump to finish behind Great Britain's Jonathan Broom-Edwards, who notched up his season's best of 2.10 metre for the gold.
India
States are being asked to maintain a buffer stock for drugs used in management of COVID-19, mucormycosis, MIS-C at the district level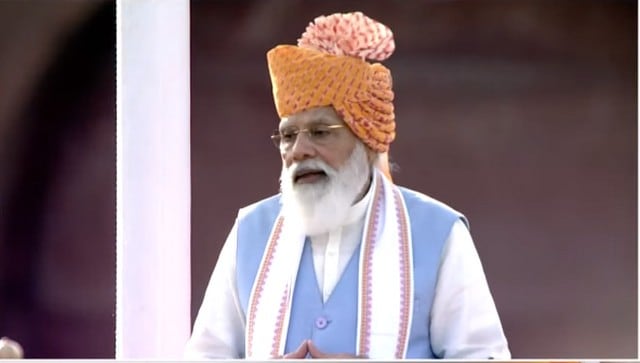 India
At the same time, Modi said, we should not forget the mantra of "Davai Bhi, Karai Bhi' (get vaccinated, strictly follow COVID protocols).'