Attack on African nationals: Delhi police arrest five; Rajnath Singh asks for strict action
Four persons were arrested and five detained by Delhi police in connection with the alleged attack on African nationals in Delhi
New Delhi: Five people were arrested on Sunday in connection with the alleged assault on six African nationals in South Delhi's Mehrauli area.
Amid outrage over more attacks on Africans in the national capital, eight people were held today for their involvement, with Home Minister Rajnath Singh directing the police to take strict action against the attackers and step up patrolling in the areas inhabited by the community.
Besides these eight persons, a juvenile has also been detained, as investigators stepped up probe into three separate incidents of assault on African Nationals, after External Affairs Minister Sushma Swaraj took up the issue with Singh and Lieutenant Governor Najeeb Jung.
"Four accused identified as Babu, Om Prakash, Ajay and Rahul have been arrested and the fifth accused, who turned out to be a minor, has been apprehended on charges of causing hurt and wrongful confinement," DCP (South) Ishwar Singh said about Thursday's incident in South Delhi's Mehrauli in which six Africans were injured.
At least six African nationals had sustained injuries in the incidents. Police attributed two of the incidents to a dispute over African nationals playing loud music and other to a scuffle over public drinking.
The incidents came amid the outrage over the killing of 23-year-old Congolese national MK Oliver in South Delhi's Vasant Kunj area last week, with envoys of African nations openly voicing their unhappiness.
The African Heads of Mission in New Delhi responded to that attack by urging India's government to address "racism and Afro-phobia" in the country.
India promised quick punishment for the assailants.
Indian External Affairs Minister Sushma Swaraj tweeted on Sunday that "a sensitization campaign will be launched in areas where African nationals reside." India had assured the African envoys of safety and security of all African nationals.
Earlier, the Home Minister Rajnath Singh condemned the attack and called Delhi Police chief Alok Kumar Verma to his residence to express concern over the attacks.
"Spoke to Commissioner of Police, Delhi regarding the incidents of physical assault against certain African nationals. Such incidents are condemnable," Singh tweeted.
"Instructed CP Delhi to take strict action against the attackers and increase patrolling in these areas to ensure security of everyone," he said in another tweet.
Three separate cases have already been registered by the police in connection with the incident that took place at Mehrauli on Thursday night.
Meanwhile, since Saturday, the police has held several meetings with various resident associations in the area.
Addressing one such gathering, DCP Ishwar said, "they have come to our country, they are our guests and friends. They have come here just because they trust us. The way you behave with them will have repercussions on our brothers living outside. An example is the way Indians were attacked after the murder of a Congolese youth," he said.
The victims in Thursday's cases include two women — one from Uganda and the other from South Africa — and at least two Nigerian men who alleged they were abused on racial lines.
While two of the cases have been registered under the charge of criminal intimidation, the third has been for alleged offences of causing hurt and wrongful confinement, police had said.
The police officials had also claimed no African national was seriously injured and police had registered cases taking suo motu cognisance.
"No African national was seriously injured. A Nigerian national, identified as Leuchy, sustained minor injuries on his nose and he was taken to AIIMS Trauma Centre," police said.
"None of the African Nationals agreed to give a complaint. However, the local police acting on their own have registered criminal cases. The accused persons involved in the incidents have been identified and efforts are on to arrest them," it added.
Separately, External Affairs Ministry spokesperson Vikas Swarup said government will transport back home the mortal remains of Congolese youth Masunda Kitanda Oliver who was killed earlier this month in a south Delhi area.
"In the unfortunate death of Masunda Oliver, the government will assist his family to travel to India to receive his mortal remains. We will also arrange for his mortal remains to be transported to DR Congo at our expense," he said.
After retaliatory attacks were reported against Indians in the Congolese capital, Kinshasa, Swarup, said the Indian diplomatic mission in Kinshasa learned that some Indian establishments and shops in the commercial area were attacked on 23 and 25 May "as a reaction perhaps to the killing of a Congolese national in New Delhi. It has also been reported that there were some gunshots fired, injuring a couple of Indians living in the area. Our ambassador took up the matter immediately with the Congolese Ministry of Foreign Affairs," Swarup said on Friday, adding that the situation had calmed down.
With inputs from agencies
India
Those protesting the Central Vista's redevelopment seem unaware that the process of encroaching on Rajpath's greenery began long ago
India
The court directed Narwal, Kalita and Tanha to surrender their passports and not to offer any inducement to prosecution witnesses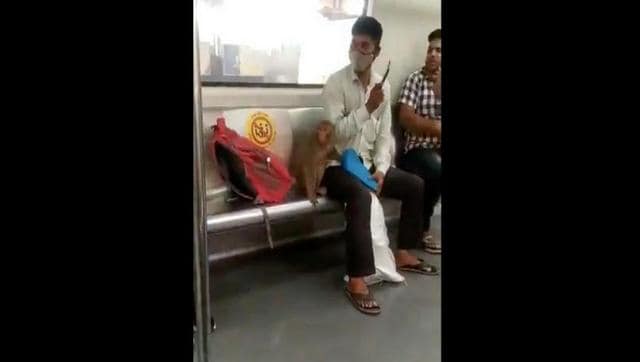 India
The video purportedly shows the monkey sitting quietly for some time and even resting his limb on the thigh of the commuter. Later, he begins to curiously look outside as the train gathers speed