First sqaudron of India's indigenous jet Tejas to fly before Diwali
Production of Tejas was stuck for 32 years but now two planes have been supplied and a few more will be supplied in a couple of months.
New Delhi: The first squadron of Tejas fighter jets will be flying before Diwali this year as a step towards taking the fighter formations the Indian Air Force (IAF) closer to the sanctioned strength, Defence Minister Manohar Parrikar said.
In an interview to All India Radio, the minister also said that the share of imports in defence will go down to 30-35 percent in next five to eight years.
"In the air force, a new fighter has not been inducted since 1994. Tejas was stuck for 32 years. Now two planes have been supplied and a few more will be supplied in a couple of months," Parrikar said.
"The first squadron of Tejas will be ready by September-October and it be flying before Diwali," the minister said.
On the dip in number of squadrons in the IAF, the defence minister said the gap will be bridged soon.
"The sanctioned strength of fighter squadrons is 42, but 100 percent is never reached. We have 34 squadrons at present. In next three to four years, four to five squadrons of Tejas will be added; a few more squadrons of Sukhoi will also come. By then two squadrons of Rafale jets will also come," Parrikar said.
Asked about the plans to manufacture multirole fighter jets in the country, Parrikar said: "By the end of this year, a decision will be taken on which fighter aircraft will be made in India. We have not decided yet whether we will make the F-18, Eurofighter, Rafale or Griffin."
On making India self-sufficient in defence and reducing import, Parrikar said reducing imported component in defence to 30-35 percent will be a good figure, as there are certain articles which may be cheaper to import.
The minister said the ratio of import in military hardware has come down from 70 percent to 63 percent at present.
"If every year the decrease is five to ten percent, in next five years it can come under 40 percent. When it comes under 30 percent, we will be more or less self-dependent. Some items are such that manufacturing them in the country is not profitable. It is better to buy because the cost and numbers do not justify domestic production," he said.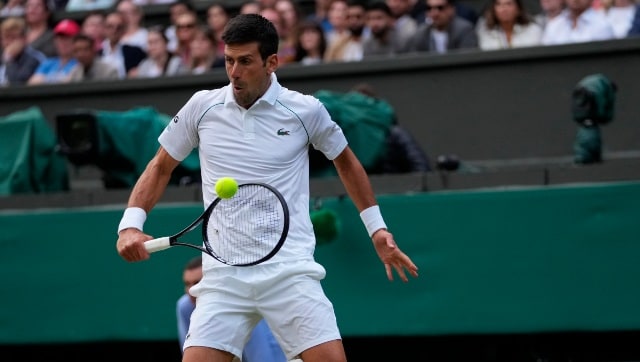 Sports
History beckons for the Serb after victories at the Australian Open, Roland Garros and Wimbledon, with Djokovic seeking to emulate Steffi Graf's unrivalled achievement from 1988 when she swept all four majors and took gold in the women's singles in Seoul.
Sports
The 32-year old Brazilian, who captained CFC in 2020-21, was ruled out for almost half the season after suffering an ankle injury during a game against ATK Mohun Bagan.
Sports
The 18-year-old Carlos Alcaraz swept past 35-year-old Richard Gasquet of France 6-2, 6-2 in the final in Umag.