Fire engulfs army camp in Jammu and Kashmir's Kupwara district; three soldiers injured, loss of property feared
The fire at the army camp in Jammu and Kashmir's Kupwara reportedly gutted eight barracks as well as the office building, a police officer said.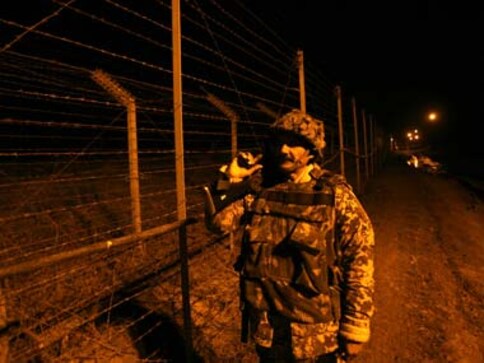 A massive fire engulfed an army camp along the Line of Control (LoC) in Machhil in Jammu and Kashmir's Kupwara district on Tuesday. The blaze, Kashmir Observer reported, is believed to have started around 1 pm because of a short circuit.
Three soldiers reportedly sustained minor burns in the fire, which broke out in the Indian Army's 45 Rashtriya Rifles' headquarters in Hamar Gali. Authorities fear huge loss of property. Efforts are underway to douse the flames.
A police officer was quoted as saying by the Greater Kashmir that a few blasts were also heard inside the camp. Eight barracks have been gutted completely along with the office building, the officer added.
In April, two Insaas rifles were gutted in a fire in a guard post at an army camp in Jammu and Kashmir's Rajouri district. "An incident of sudden electric short circuit took place in a sentry post located inside the campus of a brigade in Rajouri," a senior police official had said, adding that there was no loss of life and damage to other properties.
With inputs from PTI
India
As per sources, the terrorist belonged to Lashkar-e-Taiba (LeT) and was planning to carry out attacks on security forces in the coming days. His aim was to cause major disruption during Amarnath Yatra
India
This year, the tourism sector in Jammu and Kashmir also got a major boost as the government made a record budgetary allocation of Rs 786 crore, an increase of 184 per cent over the allocation for the previous year
India
The security forces had received information about presence of militants at Wanigam Bala in Kreeri area of the district, following which a cordon and search operation was launched there