Fire breaks out in Pune's Patil Estate near Shivajinagar; 30 fire tenders rushed to spot
Though the exact cause of fire is yet to be ascertained, officials suspect that it could have spread due to LPG gas cylinder explosions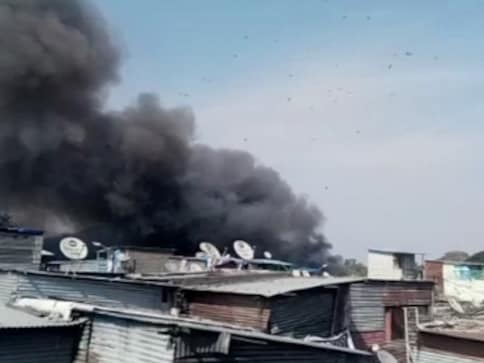 A major fire broke out at Patil Estate lane near Shivajinagar in Pune on Wednesday afternoon, media reports said on Wednesday.
At least 30 fire tenders were rushed to the spot to douse the flames. No casualties have been reported so far but several houses were damaged in the inferno. The blaze could not be brought under control for nearly three hours. Though the exact cause of fire is yet to be ascertained, officials suspect that it could have spread due to LPG gas cylinder explosions.
A huge cloud of smoke was seen billowing out of the lane where the fire engulfed some houses.
Quoting fire brigade officials, Hindustan Times reported the fire first broke out in lane number 3 of the slum area and then spread to other parts. The report further said that the road traffic was affected in the area due to the presence of fire tenders. Vehicular movement was stopped on the Wakdewadi bridge towards Pune railway station.
This is the second such incident to have taken place in Maharashtra this week. On Tuesday, three people, including a fire official, were injured after a fire broke out in a slum in Shashtri Nagar area in Mumbai. In October this year, two people were killed when a fire broke out in another slum area of Pune. That time it was caused due to a gas cylinder explosion in a shanty located at Dalvinagar in Pimpri Chinchwad area on the city's outskirts.
With inputs from ANI
also read
Opinion
Indian democracy is in danger. Not from the so-called 'fascist' Modi government or the BJP and RSS, but from those who most vociferously say that India's democracy is in danger
Explainers
The Maharashtra government will hold large-scale celebrations to mark the 350th coronation anniversary of Chhatrapati Shivaji Maharaj on 2 and 6 June. The inaugural event will be held at Raigad Fort from where the Maratha warrior was enthroned in 1674
India
Maharashtra CM Eknath Shinde has announced that the city of Ahmednagar will now be renamed Ahilyanagar after the Maratha warrior Ahilyabai Holkar. The Malwa queen was known to be a great ruler and a learned politician. Her contributions to women's empowerment and education are unforgettable