Filmmaker Divya Bharathi's movie on Cyclone Ockhi blames wilful political ignorance for deaths: Cops raid director's home without warrant
Police wanted the source of the footage and the DVDs of 'Orutharum Varela', a documentary on Cyclone Ockhi directed by Divya Bharathi — a film on the politics behind why timely help was not provided to the fisherfolk in southern Tamil Nadu and Kerala in December 2017 when Cyclone Ockhi struck.
At the crack of dawn on 3 July — at 5:45 am to be precise — at least, 20 from the police force landed at the doorstep of documentary filmmaker Divya Bharathi's home in Madurai. Barring one policeman, everyone was in plainclothes. Thirteen of them were women constables. Divya was not at home when the three police vehicles arrived. She was visiting a friend near Trichy.
"My father and my partner were at home. The team had no search warrant or no summons for me. The police team did not reply to my family's questions or that of an advocate who is our neighbour, as to what they were looking for. They searched every nook and corner of the house, even getting inside the water tank on the terrace," says Divya Bharathi.
It was soon clear what they were looking for. They wanted the source of the footage and the DVDs of 'Orutharum Varela' (Nobody came), a documentary on Cyclone Ockhi directed by Divya — a film on the politics behind why timely help was not provided to the fisherfolk in southern Tamil Nadu and Kerala in December 2017 when Cyclone Ockhi struck. At least, 218 people were killed while 551 went missing, most of them being fisherfolk from Kerala and Tamil Nadu.
The trailer was released on 28 June and has garnered over 40,000 views so far. It is easy to see why the governments — both in Tamil Nadu and New Delhi — will be upset with it. The grief-stricken locals, who lost their loved ones in the cyclone, are extremely critical of how the rescue effort was conducted and have made direct attacks at the NDA dispensation at the Centre. The defence ministry and the Navy was criticised for reacting late and locals alleged that they did not do enough to save the fisherfolk who were stranded at sea.
Rushing back home on hearing the news of the illegal raid, Divya approached, both, the Madurai bench of the Madras High court and the district court, to apply for anticipatory bail the same day. She was wiser from experience, having faced similar harassment from the authorities who had arrested her in 2017 when her film 'Kakkoos' (toilet), a hard-hitting documentary on life of manual scavengers and the caste system, had released on YouTube.
"If they could arrest me for Kakkoos and slap me with charges of cyber terrorism, I expected this reaction for Orutharum Varela," Divya said. When she stepped out for lunch around 2 pm, Divya claimed she continued to be harassed with an inspector pulling her bike and snatching the ignition key.
"He claimed to be from Madurai police while his identity card said Salem city police. Inside the court, the public prosecutor said the policeman was from Ooty. The inspector had no answer when I asked him which Madurai city police station he worked at. To pull my hand in public, saying let us go to your home, with no arrest or search warrant, was a clear attempt to scare me,'' said Divya.
The court has passed an interim order preventing her arrest till Friday. But the attempt to intimidate has come in for criticism. Classical musician and activist TM Krishna said, "An important artistic voice is once again being threatened in Tamil Nadu," calling Kakkoos a "must watch for every Indian". Political commentator A Shankar wondered whether this was a knee-jerk reaction to any voice of criticism against the political dispensation.
The DMK said that it is evident that the Tamil Nadu government has developed cold feet at the criticism from people affected by the cyclone. "The state government which is an extension of the Centre, does not want to be exposed. This incident or the arrest of activists protesting against the Salem-Chennai expressway is a clear attempt to intimidate,'' said A Saravanan, DMK spokesperson.
But the BJP is not amused at the criticism being placed at its door. The Tamil Nadu unit of the party said that there is a pattern — from Jallikattu, NEET, cyclone Ockhi, Sterlite and Salem-Chennai highway — to blame the BJP government. "In fact, while the Tamil Nadu government took time to react, the Centre reacted faster. Our defence minister rushed to the area, the Coast Guard conducted searches. This kind of false propaganda is not fair. There are many forces who are operating and conspiring against the BJP government. One of them could be Divya Bharathi,'' said Narayanan Thirupathy, spokesperson of the BJP.
Divya said she still has about two weeks work of post-production left on the film and hopes to release it by the end of the month on YouTube. But for that, she will have to first get past the hurdles that are being put in her path.
Find latest and upcoming tech gadgets online on Tech2 Gadgets. Get technology news, gadgets reviews & ratings. Popular gadgets including laptop, tablet and mobile specifications, features, prices, comparison.
India
With millions out of work and many being forced to explore new avenues, it remains to be seen how much success these ventures have.
India
Digitised and updated maps of land use, as well as data on population density, building density, road networks, etc can help cities prepare better for situations as the present one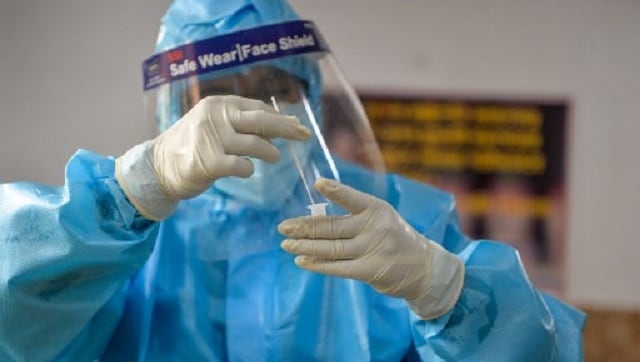 India
Elected from Tirupur South in 2011, he championed labour welfare in the state Assembly and "distinguished himself as a trade union leader"