Fatwa against Nida Khan: Maulanas custodians of radical thought, paint false image of Islam, says triple talaq activist
Nida Khan was recently ostracised from Islam because of a fatwa issued by Shahar Imam Mufti Khurshid Alam of the Ala Hazrat Dargah.
Bareilly's Shamatganj, where tiny bylanes see rickshaws, pedestrians and an occasional car compete for space, and edges of poorly-contructed flyovers graze the roofs of adjacent houses, is home to Nida Khan, a known anti-triple talaq crusader.
Nida was recently ostracised in her community and from Islam because of a fatwa issued by Shahar Imam Mufti Khurshid Alam of the Ala Hazrat Dargah. "No medicines will be provided if she falls ill. If she dies, no one is allowed to offer 'namaz' (prayers) on her 'zanaja' (funeral procession)," the fatwa read. "She cannot be buried in a kabristan (graveyard) after her death."
When Firstpost reached out to her, by visiting her house on the afternoon of a 'Jumma' (Friday), to hear her side of the story, Nida was not home. She had a court hearing while her brother and father were at the local mosque for namaz. When her mother opened the door, holding on to her phone, she looked worried. She told us she had received a phone call from a relative, who had told her that her husband and son had been barred from offering prayers at the mosque. This was the first Friday since the fatwa was issued.
However, when Nida's father and brother returned, an hour later, they told her that it was just a rumour. The man said he reached right when the prayer were about to start and left before the rest of crowd.
To learn the other side of the story, Firstpost went to the Jama Masjid. At first, the Maulana, who had issued the fatwa, refused to talk and complained against the nonchalance and arrogance of media-persons to chase only one side of the story. After assuring him that he will be given a chance to speak, he asked us to meet the nearly hundred women gathered inside the mosque first.
When we entered the mosque, a woman named Rafia Shabnam was addressing the crowd. She was talking about a campaign called 'Sabki Awaaz' in which she was taking signatures of one lakh Muslim women against the questions raised on Shariat's law.
She also made it a point to mention, multiple times, that some women were giving a bad name to her religion. "Do you people know that 'nikah halala' is to make divorce difficult for men? The question is, what's the point in going back to a man who has divorced/left you? This is against your self-respect. Shariat permits you that once a man divorces you, you have all the right to move ahead in life and marry again. Then how does Halala amount to rape?," she said.
Referring to the recent Sabina Halala case from Bareilly, she said, "Today, a woman from our town has accused a 60-year-old man of rape, a man of her father's age. Didn't she feel ashamed while making such claims publicly? Just because five or say 10 percent women think that 'nikah halala' is wrong, will a law from the Shariat become invalid? What our 'Huzoor' has written 1400 years ago, will that become wrong? Nida has questioned the Shariat for personal gain."
When asked if she was okay with what happened to Nida, Rafia said that is was Nida's personal matter. "We've had divorce victims in society since ages. There is no need to attack religion over personal feuds."
When Firstpost questioned the women standing behind her, if they found anything wrong with talaq-e-biddat, the format of talaq banned by the Supreme Court last year, most of them shied away and didn't reply. One of them gave an awkward smile, while another started looking at Rafia, as if to seek her approval to talk.
Then, a woman standing behind in the crowd, said, "We have complete faith in Quran and Hadith. Our constitution has given us the right to preach the religion of our choice and if the Constitution goes against our Quran or Hadith, we will go against the Constitution."
Soon after, we met the Maulana and asked him that if Nida was fighting for her rights, then why was she ostracised and who gave him the authority to do this?
The Maulana, aggravated by our question, said: "Who am I to ostracise her from Islam? One who dares to go against the Quran and the Hadith, will be expunged. We are here to reiterate the tenets of the religion. It's mentioned, if someone has made a mistake of going against Quran he/she should repent, apologise and then only can he/she be a Muslim as before."
The Maulana went on to add that a rumour is making rounds that there isn't any evidence of halala in the Quran, and that the age old practise is nothing but oppression against women. "Then, I must tell you that halala is Khuda's command. It isn't, in any shape of form, a matter of force," he said.
On being asked if he was against the pattern of divorce talaq-e-biddat, on which a ban was imposed by the Supreme Court, the Maulana said that the SC is only saying what the Shariat has already said. "Talaq-e-biddat or triple talaq in one go is wrong, it's a gunah (crime) but if a husband has said this, divorce is a must. He is a 'gunahgar' (criminial) who has given three divorces together."
But when Shariat also says it is wrong, then why is it wrong to rally against it? He replied that Nida is already divorced and that the religious heads don't have any problem with Nida fighting for her rights. "But in her battle of rights, she should not target the Shariat, she should not go against Quran or Hadith. These lines of fatwa are quoted from the Hadith. The fatwa is not just against Nida... it is written in Quran. Anyone who denies the law of Hadith, this law of Islam will be applied to him/her."
Why then has the All India Muslim Personal Board not endorsed your fatwa, and condemned it instead? He said that it is his responsibility to warn and make people aware of the law of Hadith. "He whose faith is in the Quran, in the Hadith, will never say that Islam is discredited by these fatwas. Rather, the fatwas are a mercy towards believers and are issued by the order of city Kazi."
When we drew his attention to a 2014 Supreme Court ruling, which states that there is no legitimacy of the fatwa and nothing is above the constitution, he replied, "First we will see the Quran, then the law of the Supreme Court."
On returning to Nida's house after meetin the Maulan, we found her sitting in the balcony, counselling the mother of a victim of domestic violence, who had been evicted from her house after the death of her husband. Nida, while consoling her, said that they will fight against this, legally.
Nida runs an organisation called Al Hazrat Helping Society, that helps women suffering because of the practices of  triple talaq, nikah halala, polygamy, domestic violence etc.
Speaking on the recent court decision in her triple talaq case, in which the Bareilly court had held her divorce as  'invalid', Nida said that she was content. "The fatwas have always been used to circumvent the law. They are unconstitutional and irrelevant. It can be used for counseling, not to disgrace or disrespect anyone. The kind of things written in the Fatwa (issued against her) is a violation of my Fundamental Rights. And I am better off not responding to this fatwa... I should take action against him," Nida told Firstpost.
"There is one law, one Constitution... how can there be parallel constitutions/courts/laws? My constitution gives me the right to preach whatever religion I want to and no fatwa can stop me from doing so. I will take this fatwa to the Supreme Court and will fight this battle until the end," she added.
Responding to the Maulana's claims, she said, "The sad thing is that the Maulanas, who have been given the responsibility of representing Islam, offer such false picture of Islam with such fatwas. What message they want to convey to the society at large? They will ostracise/reject from Islam anyone fighting for his/her rights. I think triple talaq or talaq-e-biddat is a sad reality in our society, and its end is significant."
Talking about the practice of nikah halala, Nida said, "... according to the Shariat, halala was a punishment for men, but women have to bear the real punishment in this. It has been made a business in today's time."
When asked what she wants from the present day government, Nida said, "This is the first and the only government that has raised the issue of triple talaq and perhaps, for the first time, women suffering from it are raising their voice against it. So far, triple talaq was happening in the name of Shariat, but now, when the Supreme Court has banned it, now what? We have a law for rape too, but does that stop rapes in the society? It is fine that these will improve the status of Muslim women, but only when that law is properly implemented. Reform for any society is essential."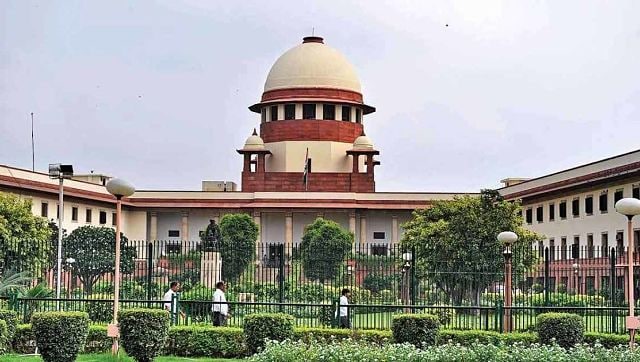 India
The former judge, in the letter, said, I find it embarrassing to continue as a member of the Tribunal and the Claimant can't alone be asked to pay a fee decided by the Tribunal
India
The Centre said all other construction activities being carried out by CPWD in Delhi and NCR were stopped in compliance with the order of the Commission for Air Quality Management
Politics
The home minister addressing the Hindustan Times Leadership Summit on its final day emphasised that India was in a state of 'policy paralysis' before 2014, and it was changed by the present dispensation