Farmers' protests: Delhi Police detains freelance journalist Mandeep Punia at Singhu, claims he 'misbehaved' with cops
The Delhi Police has filed cases against several journalists covering the two-month-long farmers' protest since the violence that broke out on Republic Day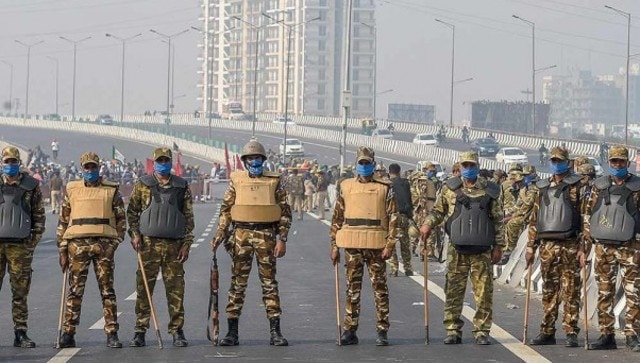 The Delhi Police detained Mandeep Punia, a freelance journalist, at the Singhu border protest site on Saturday. The police alleged that Punia had "misbehaved" with a station house officer (SHO) at Singhu, reports said.
Punia has written for The Caravan and Junputh. Citing purported videos of the detention, reports said that "police personnel in riot gear (were seen) dragging Punia away".
The Indian Express quoted police officials as saying that another journalist, Dharmender Singh, was also "briefly picked up and later let go after he showed his press ID".
"Punia was standing with the protesters and he didn't have a press ID card. He was trying to move through the barricades which were kept to segregate and secure the area. An altercation broke out between police personnel and him. He misbehaved… there was some manhandling as well. He was then detained," the report further quoted a police official as saying.
An editor at The Caravan, Hartosh Singh Bal, tweeted that an FIR has been filed against Punia at the Alipur police station.
Prominent journalists and activists raised the issue of Punia's arrest on Twitter, demanding that he be freed from police custody.
The Delhi Police has filed cases against several journalists covering the two-month-long farmers' protest since the violence that broke out on Republic Day. Politicians like Congress MP Shashi Tharoor have also been booked for various charges, including sedition.
On Saturday, the Delhi Police filed a case against senior journalist Rajdeep Sardesai, The Caravan magazine, and Tharoor for allegedly misleading the public about the death of a protester at the ITO during the violence on Republic Day. The case has been registered at the IP Estate police station under relevant sections of the Indian Penal Code, PTI reported.
Earlier in the week, six journalists were booked by the Noida Police for sedition, among other charges, over the violence during farmers' tractor rally. The FIR was lodged at the Sector 20 police station in Noida following a complaint by a resident who alleged that "digital broadcast" and "social media posts" by these people were responsible for the violence.
The journalists named in the FIR are Mrinal Pande, Rajdeep Sardesai, Vinod Jose, Zafar Agha, Paresh Nath and Anant Nath. An unidentified person has also been named in the FIR.
With inputs from PTI
Education
SSC will conduct the Combined Higher Secondary Level Examination 2021 Tier II on 18 September 2022 while the Recruitment of Head Constable in Delhi Police Examination 2022 will be held from 10 October to 20 October 2022
India
Around 100-150 workers, including the terminated staff, gathered at the Raj Niwas Marg here and raised slogans against the L-G and the Delhi government
India
Ahead of the Independence Day, the Delhi Police has recovered around 2,000 cartridges and arrested six people for their alleged role in smuggling arms and ammunition into the national capital, officials said.