Farmers' march in New Delhi: A cultivator from Telangana highlights need to protest to secure children's future
Through the march, farmers are seeking their dignity of life. The agitators are asking why the plight of farmers does not evoke a response from the government.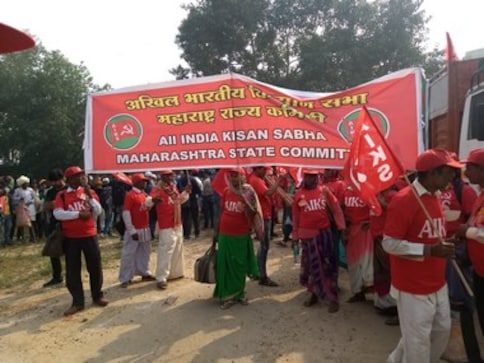 It was four in the morning and she was narrating her story as we made our way from the Nizamuddin railway station to a gurudwara where a large number of farmers are gathering for the march scheduled to take place on Thursday. The gurudwara was housing and providing food for farmers coming from different states such as Karnataka, Telangana, Andhra Pradesh, Maharashtra and Kerala.
Kavitha, who seems to be in her mid-30s, spoke about why this march is important to her. She said, "This is a march for my children. I need to know that if something happens to me tomorrow, both my children will be looked after. I want to ensure that they are at least able to live off our land."
She will be marching with about 5,000 other farmers, who hail from different states, to the Ramlila Maidan on Thursday.
Kavitha hails from the mandal of Mallepally from the district of Nalgonda. Her husband committed suicide about three years ago because of burgeoning debt. At the time, Kavitha did not have an idea about the crisis her husband was dealing with. Today, she's not merely fighting to end farmer suicides, but is also marching for a larger fight for farmers' rights to the country's resources, and for drawing the government's attention to the declining state of agriculture in the country. She demands the same rights as any other farmer.
Kavitha still hasn't received any compensation for her husband's death. She lives with her mother-in-law and her two young sons. She has four acres of land of her own now.
Being a woman farmer, she faces the worst side of the bureaucracy. Even banks have treated her with utter disregard. She narrated her experience of trying to get a loan from the bank after her husband's death. Her husband's loan, which was availed with a surety of the land patta, had already amounted to around Rs 1 lakh.
When she applied for a new loan to meet her daily expenses, the bank rejected it citing the non-payment of the existing loan. Although the remaining installments of the existing loan were later repaid, her application for a loan was again rejected as the land patta was not in her name. When she sought a loan in her mother-in-law's name, the same was rejected due to her mother-in-law's age.
Left with no other option, Kavitha began to protest against the bank officers. "It is because of such rules and the attitude of the bank officials that my husband was forced to commit suicide. I protested and made sure that I got the loan that I deserved. But what about all those women who don't know what to do, women who are desperate and fall prey to this bureaucracy?," asked Kavitha. She also spoke about the importance of providing a year's worth of investment for farmers.
"Someone who works for 8 hours a day gets paid around Rs 30,000. Why is it that the farmer who nurtures the land day and night is made to starve by society? My demand is that we should also get some sort of income from the government," she asserts.
Kavitha's story is similar to that of many farmers in Telangana. Farmers are not entitled to any kind of security from the government. While most farmers deal with monetary challenges on a daily basis, the struggle faced by those like Kavitha is a larger one.
Through the march, farmers are seeking their dignity of life. The agitators are asking why the plight of farmers does not evoke a response from the government, despite many incidences of suicide.
Explainers
In 1999, lawyer Tungnath Chaturvedi was charged Rs 20 extra by a clerk at Mathura cantonment railway station. Now, 22 years and more than 100 hearings later, a consumer court has ruled that the Indian Railways must pay him Rs 15,000 and refund his money with interest
Explainers
The aim of the strategy, also known as 'asymmetrical warfare', is to make Taiwan's defence so secure that any attacker faces a ruinous cost. It also focuses on weapons that are easily concealed such as portable Javelin and Stinger missiles over expensive and easy-to-hit tanks, warships and naval ves
Explainers
The Indian Army takes in Nepalese soldiers under the tripartite treaty signed between Nepal, India and Britain in 1947. India currently has 43 Gorkha battalions serving in seven regiments