Farmers have suffered the most under BJP's rule, says Congress leader Manish Tiwari
The Congress on Wednesday said, whenever a BJP-led government comes to power, the farmers and the agriculture sector suffer the most, along with the poor
New Delhi: Stepping up its attack on the ruling party, the Congress on Wednesday said, whenever a BJP-led government comes to power, the farmers and the agriculture sector suffer the most, along with the poor and the downtrodden.
Congress spokesperson Manish Tewari accused Agriculture Minister Radha Mohan Singh of being "insensitive" to the problems of farmers after Singh claimed no state has done as much for farmers as Madhya Pradesh.
"There can't be more insensitivity than this. It should be condemned in the strongest of words," he said, adding, "If this is good, we do not know what bad is then".
Tewari said the Agriculture Minister did not have time to go to Mandsaur and express condolences to the families of farmers killed in police firing but is giving such statements.
He also claimed, as many as 6,076 farmers have committed suicide during the NDA government, and 1,600 of them in Madhya Pradesh alone.
He said the agriculture sector saw a negative growth (of -2.2 percent) in 2001-02 when the BJP-led NDA was in power. The second time it recorded a very low growth was in 2015-16 (1.2 percent) when it's again an NDA government, he said.
"The BJP has been a party under which farmers and agriculture sector have suffered the most. The BJP government in Rajasthan and in other states are anti-dalit, anti-poor and only committed to the welfare of the rich and influential," he said.
Tewari also said, the BJP government in Rajasthan is playing a "crude joke" on the poor by painting outside their houses they are poor and are thus entitled to ration.
He said, getting ration from the government is their right and is not a charity being doled out by the BJP regime.
To a question on VHP allegedly arranging bricks for a Ram temple in Ayodhya, he said, the BJP has always tried to rake up the issue before the election, but the issue was sub-judice.
To a question on the film Indu Sarkar, the Congress leader said he has been consistent with his view that "the CBFC is an institution which has gone way beyond its expiry date and it needs to go".
India
The BJP leaders have termed the MVA government in the state as brutal for booking Lok Sabha MP Navneet Rana and her MLA husband Ravi Rana in a sedition case
India
The Prime Minister said that the BJP-led government, after taking over in 2014, revived the spirit of innovation in India's youth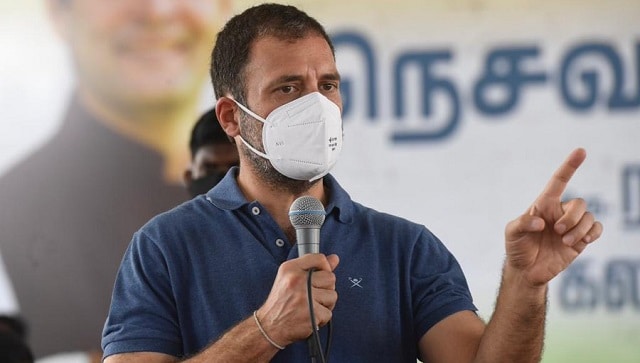 India
Congress leader Rahul Gandhi said there is a fight between two ideologies in the country