False FIRs, untrue claims haunt Thoothukudi citizens: Sterlite plant shut, but residents have no faith in system
After continuous protests starting in the month of February and 13 people losing their lives to police firing on 22 May in Thoothukudi, the Tamil Nadu government ordered the permanent closure of the Sterlite plant at Thoothukudi on Monday.
It was not just another morning at Thoothukudi (also referred to as Tuticorin). The residents woke up to headlines which read:
"TN State Government moves to shut Sterlite, victory for the people"
But for 23-year-old Sermaraj and 18-year-old Raja Singh who've been at the Thoothukudi Government Hospital since 22 May, it was time for their first surgery. Three bullets had pierced Sermaraj's left thigh whereas Raja still had deep gashes from the two bullets that had ripped open his right ankle. Both were injured in the police firing which took place outside the Collector's Office on 22 May. The tensed faces of their parents reflected anything but 'victory for the people'.
The Tamil Nadu government's move to shut down Vedanta Sterlite's Copper Smelter plant, in addition to celebrations, has raised several questions. The fear that many seem to share is — what if 2013 repeats itself? The plant was ordered to be shut down by the Madras High Court for legal and environmental violations in 2010 following which the order was stayed by the Supreme Court. After a gas leak, the Tamil Nadu Pollution Control Board again ordered for its closure. Eventually, the Supreme Court set aside the 2010 high court's closure order in 2013, with a direction that Vedanta pays a fine of Rs 100 crores to make up for the harm it had caused the environment.
After continuous protests starting in the month of February and 13 people losing their lives to police firing on 22 May, the Tamil Nadu government ordered the permanent closure of the Sterlite plant at Thoothukudi on Monday.
Both the TNPCBS orders, dated 9 April and 26 May, one rejecting request for renewal of license and other with a direction to cut off electricity at the plant, as well as the Government Order from Tamil Nadu government are bound to be opposed legally by Vedanta.
"All these hurried acts by the government make me think that they are doing this only to manage the situation. Everybody has refused to claim their kin's body unless Sterlite is shut. Despite of the actions of the police, people are resilient. O Panneerselvam then hands us a cheque in the morning and his government passes an order in the evening. It is hard for me to believe that this government is doing this out of concern for us, because if there was such concern, I wouldn't be lying here, with a bullet in my leg", says Raja, a 37-year-old auto driver from Muthammal Colony.
Santhosh Raj, a resident from Pandrampati, who is in the same ward as Raja echoed his views. "I've no trust in the intentions of this government. Even though this government has passed this order, the central government is always ready to go against our interests. Sterlite CEO Ramnath is saying with so much confidence that they'll resume work soon, what does he mean by that then", Santosh said.
"How is one to believe anything? Today they are saying this, I don't know what they'll say tomorrow. Will the government give us back our sister? Instead look what they've done, they've manipulated the FIR", says Sagayarani, sister of Jhansi. Jhansi was killed in the firing which took place at Threspuram. Sagayarani is referring to an FIR that was registered at the Thoothukudi North Police Station.
The FIR said that at 3.30 pm, around 500 armed men and women entered the premises of the police quarters on Beach Road and started attacking those present. The complaint mentions that after warnings were issued on a loudspeaker by the DSP, a shooting order was issued by the sub inspector to a police officer. Following this, the police officer fired thrice leading to the death of Jhansi. On the contrary, eyewitnesses mention that police forces entered Theresepuram at 1.30 pm. After lathicharge, an altercation broke out at the junction between Beach Road and East Coast Road, when residents demanded that the police leave the area. Without any warning, the police started shooting at the residents. Jhansi, who was on her way to her daughter's place with the fish that her husband had brought from the sea, was hit by three bullets squarely on her head.
The police immediately wrapped her body in a flex banner, put it in a van and drove away. Rosamma, Jhansi's sister was at the spot when it happened but since there were too many people blocking her view, she didn't recognise her sister. She ran back to her house only to be called back by those who had noticed that it was her sister Jhansi. A group of them then rushed to the mortuary where they were told that the only woman who was killed was an old woman and wasn't Jhansi.
After an hour of argument, Rosamma and Sagayarani were shown the body of her sister. A slip which was given to them said, "Unknown, 40/F, Bd on 22.05.2018, 3 40 PM".
On the contrary, the FIR alleged that the events started unfolding at the Police Quarters only at 3.30 pm whereas Jhansi was shot at almost 200 meters away, inside Therespuram, and much earlier.
"This FIR will now ensure that I go to jail from this hospital ward. On one side, the Tamil Nadu government says it is closing Sterlite, on the other these false charges are being foisted on us. It doesn't look like our woes will end," laments Selvam who was also shot at inside Therespuram, at the same junction where Jhansi was killed. Many have been detained from Therespuram since.
Naresh and Editson are among those who were arrested from Therespuram on 23 May. Their fears are the same as Selvam's. Both of them were taken to Thoothukudi South Police Station where they were severely beaten. Then they were taken to Vallanadu Shooting Range, instead of being produced in front of a magistrate, where they were subjected to more abuse. A complaint of illegal detentions by the Public Prosecutor before the Chief Judicial Magistrate Bagavathi Ammal led to her directing Vilathikulam Judicial Magistrate Kalimuthuvel to immediately visit Vallanadu Shooting Range and check if the complaint is true. When he reached the range, he found Naresh, Editson and 93 others were illegally detained there.
The judge immediately directed the police to either remand them or release them. The police frantically registered the aforementioned FIR after this. "This kind of vindictive behaviour, for opposing a company which was killing people here, tells us whats the government stands for. Interests of corporate giants like Vedanta are protected whereas the people aren't. Governments have come and gone in Tamil Nadu but looks like they were waiting for bodies to role to do something about this. I still don't think we are done though, knowing how powerful Vedanta is. Vedanta has political allies here including the ruling party at the Centre", remarks Grace Bhanu, a transwoman activist and native of Thoothukudi.
Selvam, on the other hand, though injured and facing charges believes that no political party from Tamil Nadu will let Sterlite resume work. "They know that people have given their lives for this, they won't dare do it. But I also hope the government recognises that all those they are trying to put in jail were fighting for their lives. They cannot torture us for this", said Selvam.
Many have been quick to dub this a win but while that might be the case for now, the FIRs that are piling up indicate that the residents of Thoothukudi have a long haul ahead of them.
also read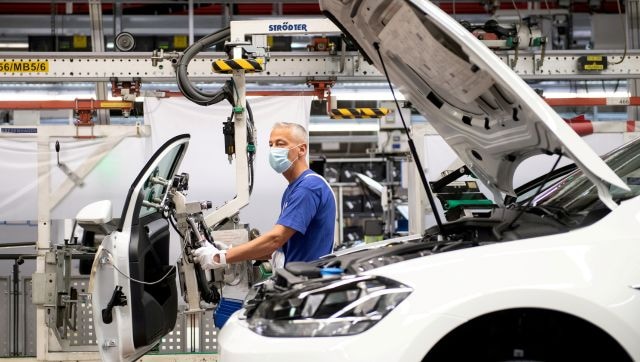 Explainers
Germany's GDP fell .3 per cent in the first quarter of 2023 following a .5 per cent decline in the last quarter of 2022. Though Chancellor Olaf Scholz described the outlook for the economy as 'very good' experts say this is a rude awakening for the country and the entire continent
Explainers
Elon Musk's brain-computer interface company Neuralink has received approval from the FDA to conduct its first in-human clinical study. The firm wants to put coin-sized implants into human beings, which will allow people with paralysis regain motor function, restore vision, and treat brain diseases
Explainers
Tipu Sultan, the 18th Century Mysore ruler, slept in a hammock suspended from the ceiling of his locked bedchamber with this sword by his side. Found in his private apartments after his defeat at the battle of Seringapatam in May 1799, it was previously owned by Vijay Mallya